Total Nerd
All Of The Easter Eggs In Childish Gambino's "Feels Like Summer" Music Video

Updated October 13, 2018
4.7k views
21 items
Donald Glover's hip-hop alter ego dropped the animated video for "Feels Like Summer" in September 2018, and it's full of eye candy for people who love hip hop. Easter eggs in "Feels Like Summer" reference some of the biggest acts in rap and hip hop, mixing Soundcloud rappers who blew up in 2018 with music industry veterans who've spent decades in the game. "Feels Like Summer" cameos are mixed in with winks, nods, and maybe even slight disses toward the state of modern music, beefs that have taken over social media, and influential artists who are no longer with us.
"Feels Like Summer" is an homage to the ever-expanding world of hip hop. In the video, Glover as Childish Gambino imagines a neighborhood that's teeming with a diversity of artists. As an animated Glover walks through the summer heat, he listens to jams on his headphones as everyone goes about their day. Like the video to his previous single, "This Is America," "Feels Like Summer" is filled with hidden messages.
Trippie Redd And Lil Pump Are Up In 21 Savage's Business
Aside from Glover, the first rappers the audience sees are Trippie Redd and Lil Pump, two young rappers who've racked up huge amounts of listens on Soundcloud. In "Feels Like Summer," they're presented as children running around a neighborhood populated by older and more accomplished artists. It's not necessarily a dig at the two rappers, but it's certainly telling when the duo runs up to a car where 21 Savage is smoking with producer Metro and they're quickly shooed away.
21 Savage doesn't get a lot of time in the video, but he's definitely in Glover's crew. 21 is one of the many rappers who ad-libs on "This Is America," Gambino's other internet-breaking video from 2018. 21 didn't just drop in for the track; while recording, he and Glover reportedly stayed up and "talked the whole night."
Kodak Black Relaxes In His House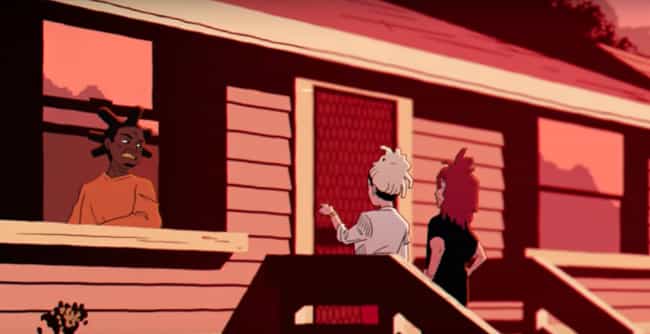 After being rebuffed by 21 Savage, Trippie Redd and Lil Pump make a beeline for Kodak Black's house. The two Soundcloud rappers knock on his door but he can't join them outside. Keep a close eye on Black's outfit and you'll see why he's staying inside. He's wearing an orange prison jumpsuit, a reference to the fact that he recently got out of prison after violating probation. Prior to that, he was arrested for driving with a suspended license and "[associating] with people engaged in criminal activity." It's no wonder Kodak Black wants to stay and inside and bask in the AC.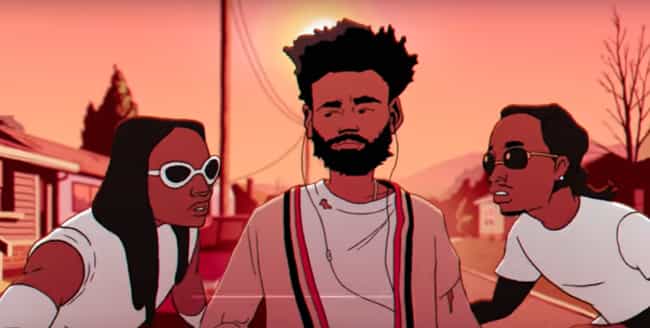 Migos, the Atlanta rap trio behind "Bad & Boujee," pop into "Feels Like Summer" while playing a game of pick-up basketball. The group frequently collaborate with Glover; they appear in Season 1 of Atlanta as themselves, and Glover has used their songs throughout the FX series. Glover even thanked the group when he picked up his Golden Globe for best comedy series in 2017. After Glover thanked the group, he compared them to the Beatles, saying:
They don't get a lot of respect... Not that they don't get respect, but there's a generation, sort of like the YouTube generation that I kind of came up with. There's a generation of kids that are growing up on something that's completely separate from a whole group of people.
Birdman, Jaden Smith, And Chance The Rapper Break Out The Barbecue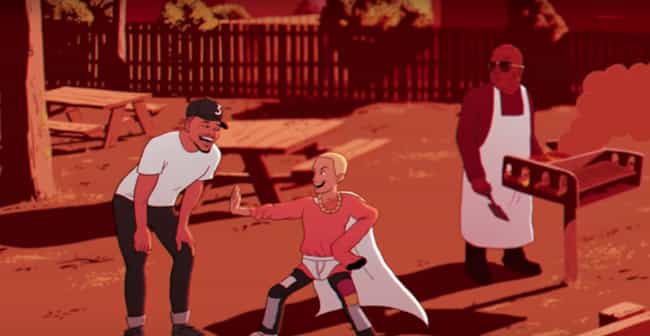 One of the odder couplings in the video is Chance the Rapper and Birdman, with a fly-by by Jaden Smith. Chance and Glover have been friends since 2012, and they're supposedly working on a collaborative album together. However, there's not much real-life connection between Birdman and Glover, or Birdman and Chance. Chance is friends with Lil Wayne, Birdman's former protege, so the appearance could be a vague reference to that.
Before the viewer has time to figure out if there's a deeper meaning to what these two are doing together, Jaden Smith runs through the scene in a superhero costume, perhaps as a nod to his attire at Kim and Kanye's nuptials. But his presence seems a little weird, specifically because in early 2018, Smith told Complex Glover stopped talking to him after the younger artist began work on an album.