Total Nerd
All Of The Easter Eggs In Childish Gambino's "Feels Like Summer" Music Video

Updated October 13, 2018
4.7k views
21 items
Donald Glover's hip-hop alter ego dropped the animated video for "Feels Like Summer" in September 2018, and it's full of eye candy for people who love hip hop. Easter eggs in "Feels Like Summer" reference some of the biggest acts in rap and hip hop, mixing Soundcloud rappers who blew up in 2018 with music industry veterans who've spent decades in the game. "Feels Like Summer" cameos are mixed in with winks, nods, and maybe even slight disses toward the state of modern music, beefs that have taken over social media, and influential artists who are no longer with us.
"Feels Like Summer" is an homage to the ever-expanding world of hip hop. In the video, Glover as Childish Gambino imagines a neighborhood that's teeming with a diversity of artists. As an animated Glover walks through the summer heat, he listens to jams on his headphones as everyone goes about their day. Like the video to his previous single, "This Is America," "Feels Like Summer" is filled with hidden messages.
back to page 1
Will Smith Washes His Car While Azealia Banks Watches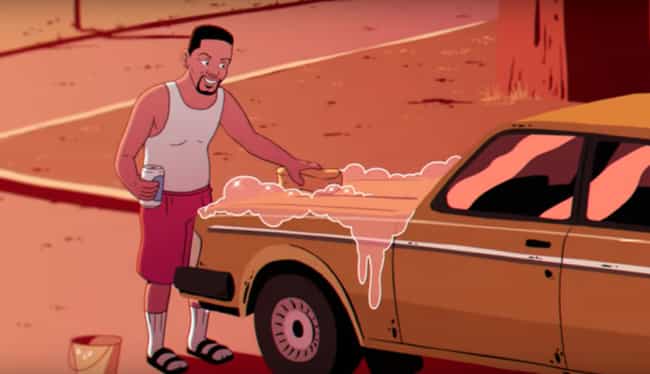 After Jaden Smith busts up Birdman and Chance the Rapper's barbecue of two, the animation pans over to none other than Will Smith, who's portrayed as a regular dad washing car while drinking a beer – the most fatherly and Fresh Prince-ish of summer pastimes. After that, the animation tilts up to show Azealia Banks just chilling in the top of tree, which some believe symbolizes her ostracization in the music industry.
Banks later responded to the shoutout on Instagram, thanking Glover for including her in the video. She wrote, "You really showed the entire hip hop culture love in this video. Especially when you know how left out I feel sometimes. I'm so happy to be included in this."
Nicki Minaj And Travis Scott Play On The Lawn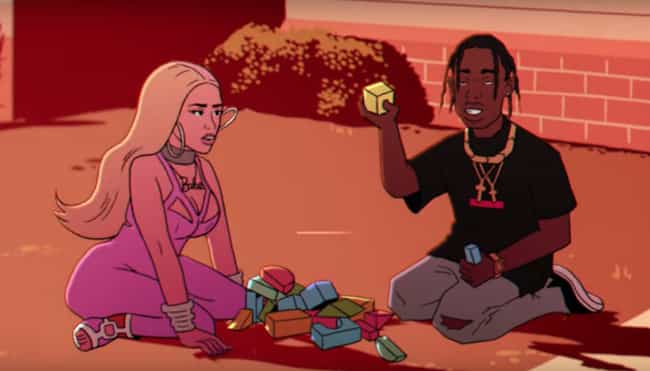 One scene that's absolutely packed with meaning features Nicki Minaj and Travis Scott playing with blocks in the front yard of a house. Minaj sets up an intricate house, but all it takes is for Scott to pull out one piece for the entire thing to tumble down. This likely references Minaj's 2018 album Queen, which failed to debut at number one, coming in behind Scott's Astroworld. Despite still having the number two album in America, Minaj spoke out on Twitter and her podcast. She accused Scott of bundling his albums with tour merchandise and using his girlfriend Kylie Jenner to boost sales – though she did that as well, and it's unclear whether or not those free albums actually counted towards his number one status.
Glover sort of gets these two to get along, if only for a song.
The Weeknd And Friends Engage In A Tug Of War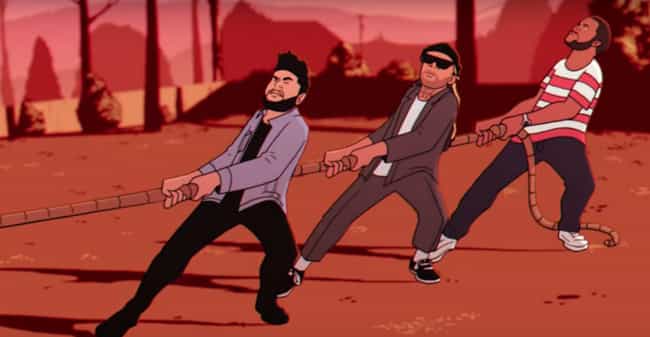 Glover shares a quick series of Easter eggs thanks to a game of tug of war played by a group of his contemporaries. The Weeknd, Ty Dolla $ign, and Frank Ocean face off against A$AP Rocky, Solange, and Willow Smith. Glover's worked with most of the artists in this scene, most notably A$AP, who appeared at the end of an SNL digital sketch where he was hanging out in a therapist's waiting room.
Aside from Smith, Glover bumped into the rest of these artists at the 2018 Met Gala. It's unclear whether or not anyone played tug of war that night.
Soulja Boy Dispenses Advice To Lil Pump And Trippie Redd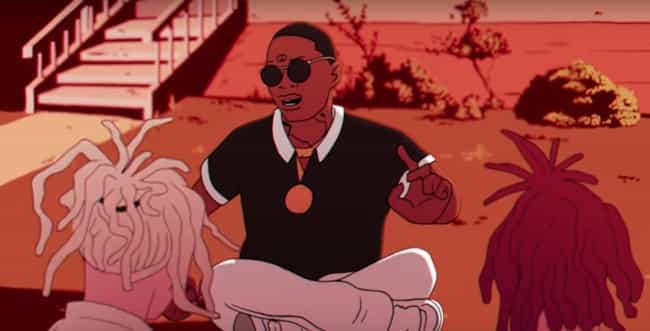 Lil Pump and Trippie Redd make another appearance in "Feels Like Summer." However, this time they've been taken under the wing of another rapper who achieved wild viral success: Soulja Boy. Soulja Boy's big break came in 2007 with the release of "Crank That," a self-released track that took over the airwaves. He never recaptured the success of his first single, although he did manage to have beef with Ice-T.
It's telling that this scene appears when Glover sings the line "children slow down," as if Soulja Boy is providing insight for the two up-and-coming artists.