Watchworthy
Your Favorite Movie Casts, Reunited

Updated July 22, 2020
13.5M views
59 items
How can you tell when a movie is truly great? Likely when the actors finish the film, and you just want to see them back together as if they were a real family or really close friends. You want to check in with them over the years to see if the celebs are still hanging out, keeping their signature looks, and saying the same catchphrases. ("Inconceivable!")
Well, thank goodness for three things: Entertainment Weekly, Good Morning America, and social media. Because without them, we may never see these film cast reunions. Each year, Entertainment Weekly puts together a reunion issue, which Good Morning America usually covers on air. And for the ones that slip through the cracks - sometimes they just get together, hang out, and post their reunions themselves on Instagram and Twitter.
This list has some of your favorite classics, from The Goonies and The Way We Were to Forrest Gump and Clueless. Granted, there's usually at least one person who opts out of the reunion photo op, but who needs Joe Pesci when you've got Goodfellas like Ray Liotta, Robert DeNiro, and Lorraine Bracco. Check out this list of movie cast reunions to see pictures of some of your favorite movie casts back together again years later. Reunited and it feels so good.
Data-driven recommendations based on voting from over 40 million monthly visits to Ranker.
Try the free app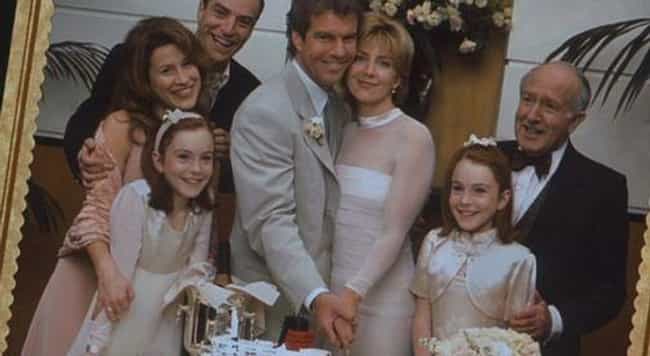 In the 1998 Walt Disney film The Parent Trap, a remake of the 1961 version starring Hayley Mills, Lindsey Lohan made her big-screen debut as separated-from-birth twins Hallie Parker and Annie James.
The identical tweens meet for the first time at camp and decide to switch places when they go back home to get their divorced mom and dad (played by Dennis Quaid and Natasha Richardson) back together.
The film was part of Lohan's three-film contract with Disney.
Actors: Lindsay Lohan, Dennis Quaid, Kat Graham, Dina Lohan, Natasha Richardson, + more
Released: 1998
Directed by: Nancy Meyers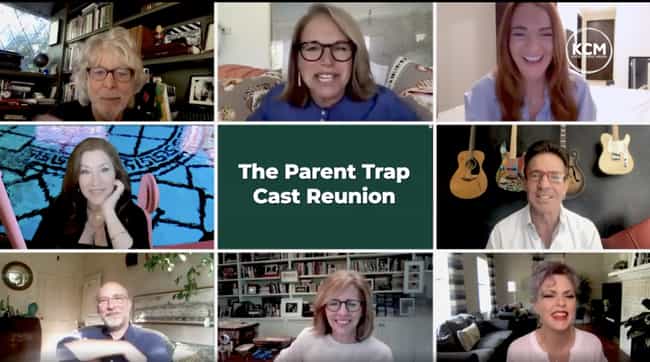 In July 2020, Katie Couric brought together members of The Parent Trap cast along with director-writer Nancy Meyers and producer-writer Charles Shyer for a virtual reunion via Instagram. Cast participants were Lindsay Lohan (Hallie Parker/Annie James), Dennis Quaid (the girls' dad, Nick Parker), Elaine Hendrix (Nick's fiancee, Meredith Blake), Lisa Ann Walter (Hallie's nanny, Chessy), and Simon Kunz (Annie's butler, Martin).
Shyer said he and Myers knew "within two or three minutes" Lohan was the right actress for the film when she auditioned. 'She had that quality that just sort of leapt up to you and pulled you in," Meyers said.
Hendrix talked about the online "#JusticeForMeredithBlake" campaign for her much-maligned character.
Natasha Richardson, who played Hallie and Annie's mom Elizabeth James, perished in 2009 after a ski incident, and several of the participants recalled her fondly. "Natasha had such an elegance and grace, and she was so maternal to me," Lohan said.
The reunion served as a fundraiser for World Central Kitchen.
Talk about a perfect comedy. Starring Bill Murray and Dan Aykroyd, this ghost hunter slime-filled movie, directed by Ivan Reitman in 1984, was nominated for Oscars, Golden Globes, Grammys, and more. It quickly became a cult classic.
Did you know Eddie Murphy was initially offered the role of Winston, but he turned it down?
Actors: Bill Murray, Sigourney Weaver, Dan Aykroyd, Bill Walton, Ron Jeremy, + more
Released: 1984
Directed by: Ivan Reitman
Ghostbusters - 2014, 2020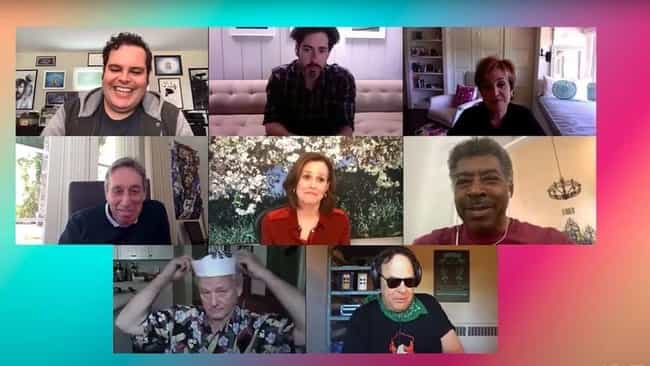 The original Ghostbusters cast (minus Harold Ramis, who has since passed), graced the cover of Entertainment Weekly's reunion issue in 2014. "I knew it was gonna be a huge movie," Bill Murray said at the cover shoot. "At that point, we were still watching Yankee Doodle Dandy on TV, so I thought we had a shot."
Then, in 2020, Murray, Dan Aykroyd, Ernie Hudson, Sigourney Weaver, Annie Potts, and director Ivan Reitman virtually came together for Josh Gad's Reunited Apart YouTube series. They spent time reminiscing about their favorite parts of filming the original blockbuster hit, and how Murray knew early on the movie was going to be big.