Weird History
How 'Bohemian Rhapsody' Recreated Queen's Legendary Live Aid Performance

Updated August 20, 2019
39.8k views
11 items
Arguably the most stunning part of Bohemian Rhapsody, the Live Aid sequence in the movie truly took audiences' breath away. The realism, the energy, and the musical power on screen transport viewers back to 1985 with an amazing recreation of Queen's epic performance.
Queen's set at Live Aid in 1985 stole the show back then, and once again in Bohemian Rhapsody. Behind-the-scenes stories about recreating the event speak to how much respect the makers of Bohemian Rhapsody had for Queen, for Freddie Mercury, and for the legacy of the performance. The cast and crew of Bohemian Rhapsody knew they had to get the details of Live Aid just right and took meticulous steps to do so. They brought in experts, studied film, and even built a set to match the original stage. The result was an incredibly accurate recreation of a magical, once-in-a-lifetime event.
The Cast Filmed The Live Aid Scene First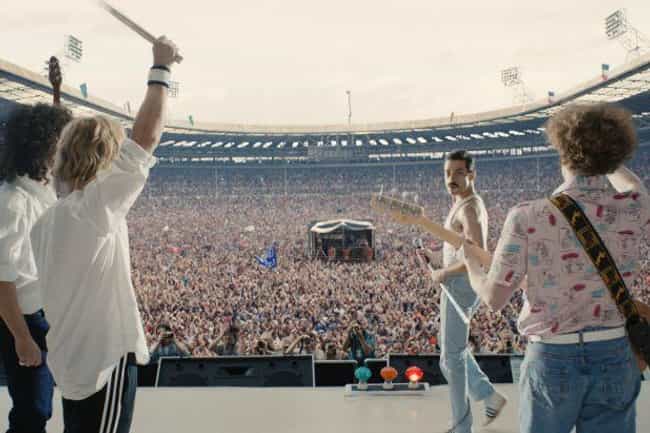 As the event that bookends Bohemian Rhapsody, the pivotal Live Aid performance was the first sequence the cast and crew shot. From the perspective of the film's cinematographer Newton Thomas Sigel, the decision "allowed the cast to come together early and create their chemistry." Sigel said, "I remember watching them rehearse three days before the shoot. They didn't know each other, and those four guys really jelled, just like a rock 'n' roll band would."
Gwilym Lee, who played Brian May, recalled the fear and adrenaline he felt running onstage: "You either sink or swim in that situation, it's a real baptism of fire, but it forged us together as a unit."
Over the course of a week, Lee, Rami Malek (Freddie Mercury), Ben Hardy (Roger Taylor), and Joe Mazzello (John Deacon) filmed one song from the Live Aid sequence each day. On the final day of shooting, they ran through the entire concert three times. Shooting the entire sequence in one shot was important to all involved. They didn't want to chop it up, lose momentum, or do a disservice to the integrity of Queen's performance.
Everyone that watched felt emotion and excitement throughout the shoot. Malek said, "Doing the entire run-through of that concert, you feel the peaks and valleys of where the adrenaline is kicking in. You're so high off adrenaline that you realize that's exactly how they were able to do what they were doing. It's that quality that makes you feel, even just for a moment, that you're superhuman."
Filmmakers Built A Stage That Looked Exactly Like Wembley Stadium Circa 1985
When the makers of Bohemian Rhapsody considered their options for representing Wembley Stadium, they knew the actual stadium wasn't an option. In 1985, Wembley Stadium included two large towers that were destroyed during the venue's redesign in 2003. Filmmakers also needed access to the site for multiple weeks, which Wembley's schedule wouldn't allow.
With these restrictions in mind, location scouts looked around and settled on Bovingdon Airfield northwest of London for the site of their own Wembley Stadium. They wanted a location near London but large enough to accommodate their needs.
When they started building the Wembley Stadium set used in Bohemian Rhapsody, they consulted pictures from the day of the Live Aid. Meticulous detail went into building the stage to scale. Cameras on mounts flew through the air as spectators watched the cast perform. CGI was later used to make it look like there were more than 70,000 screaming fans enjoying the show, just as they had in July 1985.
Members Of Queen Consulted On The Live Aid Scene
Brian May and Roger Taylor, both executive music producers on the film, consulted often on set. May visited the recreated Wembley Stadium at Bovington Airfield, and tweeted pictures of the set in August 2017. May's caption conveyed his excitement: "LIVE AID LIVES AGAIN. It's a miracle. Bo Rhap the movie. We are on."
Both May and Taylor were able to provide insights into what Live Aid was really like. Rami Malek said of the scene, "It was quite surreal...I'd be talking to Brian May as Freddie and future Brian May would show up. It was like being in a sci-fi novel."
Live Aid organizer and producer Bob Geldof was also on set.
Rami Malek Practiced Singing With A Prosthetic Mouthpiece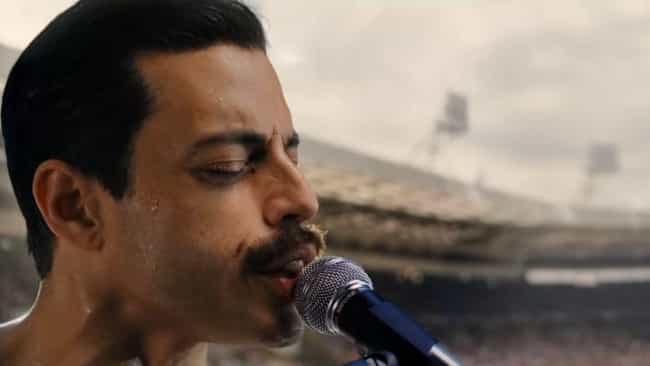 To accurately represent Freddie Mercury, Rami Malek had to adopt his physical characteristics. Malek donned fake teeth, which he carried around with him in a plastic container during shooting. He also practiced singing with them every night.
For Malek, it was important not only to closely resemble Mercury singing, but also to embrace the vulnerabilities of Mercury's unique appearance. For the Live Aid scene, Malek "watched the way his lips moved while he was singing... and everything that's happening in his throat and his vocal cords." By combining practice and observation, Malek mastered Mercury's mannerisms.