Photo: Walt Disney Studios
Pixar
Finding Dory Movie Quotes

Updated November 6, 2017
146 votes
77 voters
8.6k views
Finding Dory movie quotes bring the beloved story which began in the 2003 animated film Finding Nemo back to theaters for another installment. The Disney Pixar film was directed by Andrew Stanton using a screenplay he co-wrote with Victoria Strouse. Finding Dory opened in theaters on June 8, 2016.
In Finding Dory, Pacific blue regal tang fish Dory (voiced by Ellen DeGeneres) is lost in the sea and, due to her short term memory issues, has little idea how to get back home to reunite with her parents. She does, however, recognize old friends Marlin (voiced by Albert Brooks) and Nemo (voiced by Hayden Rolence), a father and son clownfish team. So when Dory finds Marlin and Nemo, she has hope to make it back home.
But just as soon as they are reunited, Dory is scooped up by humans and taken to the Marine Life Institute. While Dory does meet new and old friends inside the institute, including whale shark Destiny (voiced by Kaitlin Olson), beluga whale Bailey (voiced by Ty Burrell) and octopus Hank (voiced by Ed O'Neill), she is still trapped with little hope of getting back home. Thankfully, Marlin and Nemo spring into action to rescue Dory and help her get back to her parents.
Finding Dory
is just one of several top 2016 summer movies along with
Central Intelligence
,
Genius
,
Now You See Me 2
and
Me Before You
.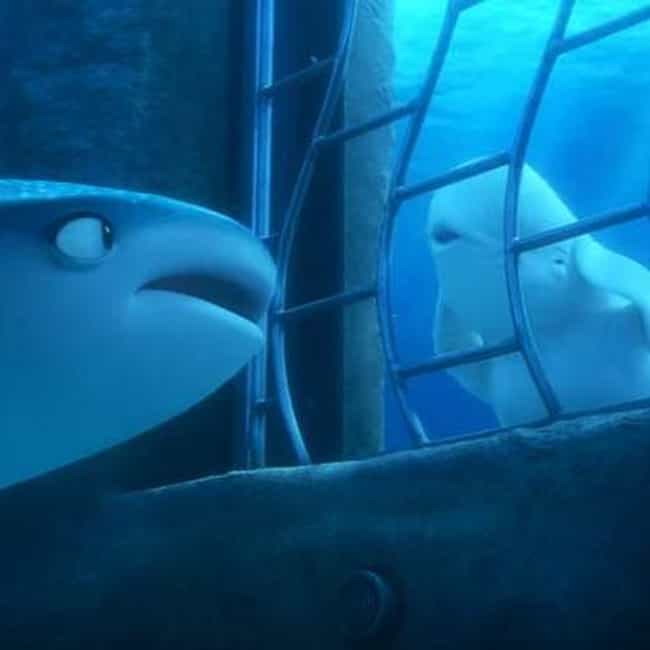 Dory: I lost my family.
Destiny: That is so sad!
...
Destiny: Bailey, you've gotta use your echolocation!
Bailey: Ooooh, I feel stupid.
Dory reunites with old friend Destiny, a whale shark whose eyesight isn't the best. Destiny, however, does have an idea on how Dory can find her family, namely Bailey the beluga whale's echolocation.
Should this be higher or lower?
Nemo: I trust Becky.
Marlin: You trust Becky? Becky is eating a cup!
When Nemo mentions that he trusts Becky, father Marlin questions Nemo's judgement. Considering Becky, a not-so-smart common loon, is eating a cup, perhaps Marlin is right.
Should this be higher or lower?
Hank: Name's Hank
Dory: I have to find my family!
Hank: That's a hard one, kid.
Dory meets Hank, a Pacific red octopus who is missing a tentacle. She explains to Hank that she's looking for her family, but Hank doesn't seem to have a lot of interest in helping.
Should this be higher or lower?
Dory: Hello
Inez: Did you hear that?
Stan: What's that? Hear what?
Inez: Stanley, I just, I heard someone say hello.
Stan: Yeah, there's a lot of fish here. Anybody, literally anybody, could have just said hello.
Dory: Hello
Inez: There
Stan: Where am I looking?
Inez: There!
Stan: Oh
Dory: Hi, I'm Dory.
Stan: Yeah, well where are your parents?
...
Dory: Hi, I lost my family.
Sunfish: Where did you see them last?
Dory: I forgot.
...
Dory: I was looking for something and I, okay, totally get it, date night.
Lost in the sea without her parents, Dory tries to get someone to help her get back home. Unfortunately for her, she has no memory of her folks or where home is and no clue how to remember.
Should this be higher or lower?