Weird History
People From Whittier, AK, Describe What It's Like Living In The Same Building As Their Entire Town

Moving to anywhere in Alaska takes a special type of personality, but Whittier is an experience all its own. Whittier is a small town, surrounded by mountains and water, and the whole place is overshadowed by an old condominium block called Begich Tower. In Whittier, 80-90% of the town's full-time population live in this one building - hence its nickname, "The Town Under One Roof."
Begich Tower residents have to make some unusual adaptations because nearly everyone in town is an elevator ride away and the nearest city is 60 miles northwest. The Whittier, AK, building is a dream come true for some, a nightmare for others, and absolutely bizarre for most.
And lucky for us, residents and visitors are keen to comment on the experience of living in Whittier.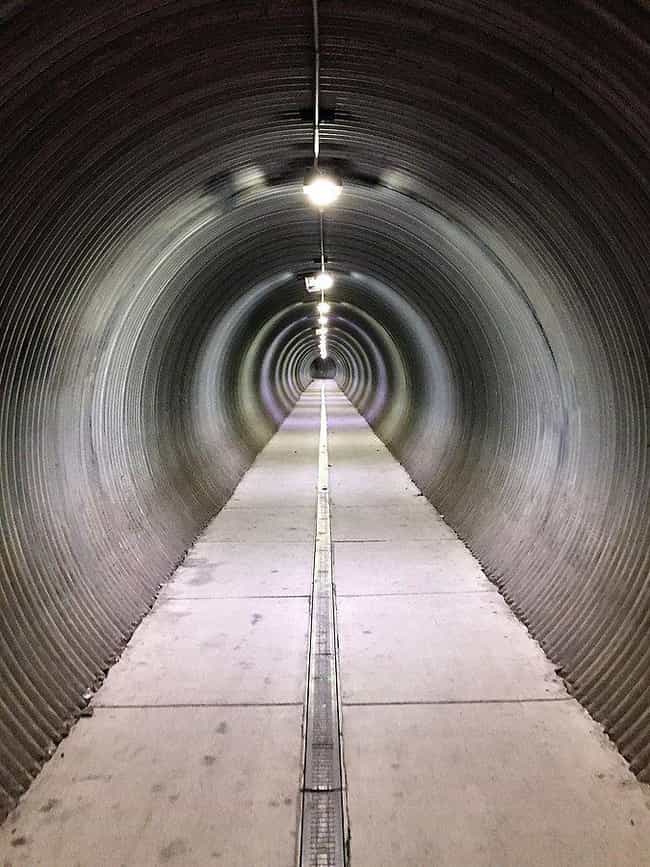 The Only Road In And Out Of Town Is One Way
The only way into Whittier is by tunnel or by boat. From 11 pm to 5 am, the tunnel shuts down, and the entrance closes. Redditor /u/HyruleanHero1988 describes what it's like to rely on an hourly tunnel to leave town, saying, "The 2.5-mile tunnel that you have to pass through to enter the town is one lane only - they switch the direction of travel every 30 minutes."
What happens if you get there in between? "You have to wait at these lights until they let you go," he says.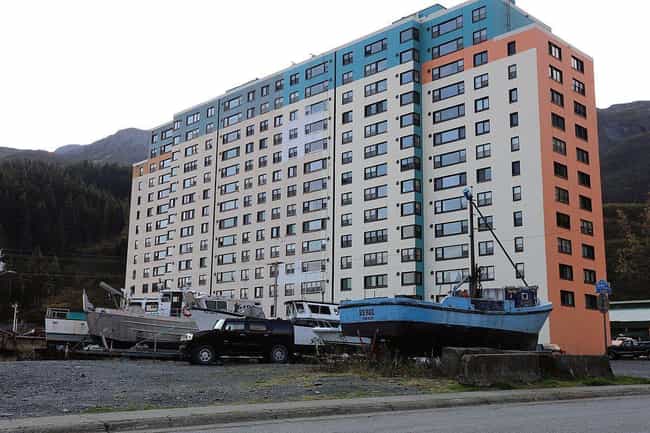 One Resident Says Some People Are Too 'Squeamish' For Whittier Life
The US military built Begich Tower in 1956. The 14-story structure was meant to house 1,000 soldiers and their dependents, and provide for them in the Alaskan wilderness. As of 2019, the aging building has only a couple hundred occupants.
As Begich Tower resident June Miller told Smithsonian in 2017:
Because [Begich is] historical, some people don't know if they want to be in the building. They don't even like the tunnel. It's not for the weak and the squeamish, but it's for the adventurous, happy and ready-for-anything type people.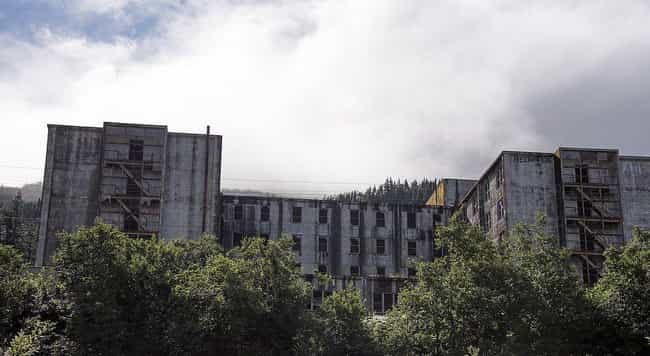 Some Find The Town Creepy 
Resident Brenda Tolman describes her first impressions of the city: "I was terrified when I first came out of that tunnel. The town looks like it should be in a horror movie." The tunnel isn't the only reason some people find Whittier creepy.
There is another sizeable military structure called the Buckner Building that was built alongside Begich Tower and was abandoned in the '50s.
While visiting Whittier, Redditor /u/HyruleanHero1988 noticed the Buckner Building and said, "[It] was once the largest building in the state of Alaska - now it is abandoned... It looks pretty creepy as the sun starts to go down... It gives off a kind of Silent Hill vibe."
Residents Often Feel Social Boundaries Are Blurred  
The Begich Tower contains the town's government offices, a playground, a church, a small market, a clinic, and a post office, among other necessities and conveniences. Whittier resident Frankie Graham told CNN that when an avalanche damaged other Alaska towns, "the only thing [they] needed [in Whittier] was baby food."
With everything in town readily available, teacher Erika Thompson says some boundaries are blurred. Thompson notes:
The student-teacher relationship is very different because you live among your students... I take the garbage out, I see my students. I do my laundry, I see my students... I like to create a separation from work and home.