Airplanes
List of Focke-Wulf Airplanes and Aircrafts

Updated June 8, 2017
4k views
20 items
List of all Focke-Wulf airplanes and aircraft types, with images, specs, and other information. These active and retired Focke-Wulf planes are listed in alphabetical order, but if you're looking for a particular aircraft you can look for it using the "search" bar. The Focke-Wulf aircrafts on this list include all planes, jets, helicopters, and other flying vehicles ever made by Focke-Wulf. Unless you're an aviation expert you probably can't think of every aircraft made by Focke-Wulf, so use this list to find a few popular Focke-Wulf planes and helicopters that have been used a lot in the course of history.
List ranges from Focke-Wulf Fw 190 to Focke-Wulf Fw 58, plus much more.
This list answers the question, "What aircrafts are made by Focke-Wulf?
The Albatros L 84 was a German tandem two-seat, single-bay fighter biplane first flown in 1931. Four of the five examples produced were built by Focke-Wulf Flugzeugbau, into which Albatros Flugzeugwerke was amalgamated in that year. Powered by a water-cooled 490 kW BMW VIu 7.3Z V12 engine, the L 84 had a fabric-covered fuselage constructed of welded steel tubes, and wooden wings skinned with plywood. Its armament comprised three 7.92 mm machine guns, two in fixed forward-firing positions and the third ring-mounted in the aft cockpit. Only the first prototype was completed before Albatros became part of Focke-Wulf, and this was destroyed during flight testing. A second example was flown in ...more on Wikipedia
Type: Fighter aircraft
Manufacturer: Albatros Flugzeugwerke, Focke-Wulf
Maiden Flight: Jan 01 1931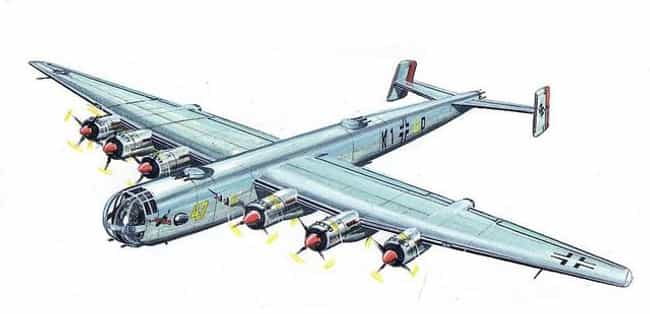 The Focke-Wulf Ta 400 was a large six-engined bomber design developed in Nazi Germany in 1943 by Focke-Wulf as a serious contender for the Amerika Bomber project. One of the first aircraft to be developed from components from multiple countries, it was also one of the most advanced Focke-Wulf designs of World War II, though it never progressed beyond a wind tunnel model. Designed as a bomber and long-range reconnaissance plane by Kurt Tank, the Ta 400 had a shoulder-mounted wing with 4° dihedral. One of the most striking features was the six BMW 801D radial engines, to which two Jumo 004 jet engines were later added. ...more on Wikipedia
Manufacturer: Focke-Wulf
Designer: Kurt Tank
Length (m): 28.7
Wingspan (m): 45.8
The Focke-Wulf A 20 Habicht was an airliner developed in Germany in the late 1920s. It was a high-wing cantilever monoplane with fixed tailskid undercarriage. The fuselage was deep and seated four passengers in a fully enclosed cabin. The type was not bought by the airlines and only a few examples were built. ...more on Wikipedia
Manufacturer: Focke-Wulf
Length (m): 10.0
Wingspan (m): 16.0
Maiden Flight: Jan 01 1927
The Focke-Wulf A 32 Bussard was a small airliner produced in Germany in the early 1930s. It was developed rapidly at the request of NOBA when Messerschmitt was unable to deliver aircraft on schedule. Based closely on the A 20, the A 32 had a revised fuselage with greater seating capacity, and an engine of over twice the power. The two examples operated by NOBA became part of Deutsche Luft Hansa's fleet in 1934. The flight deck was enclosed on the A.32 and was incorporated into the fuselage below and ahead of the high-mounted thick wing. The passenger cabin was under and aft of the wing. The tailskid undercarriage featured a wider tread on the mainwheels, and those wheels were supported by ...more on Wikipedia
Manufacturer: Focke-Wulf
Maiden Flight: Jan 01 1930