Sports
NFL Players with the Most Kids

Several famous football players have four or more children. This list contains information on famous NFL players with the most kids, loosely ranked by fame and popularity. Some famous NFL athletes have had all their kids with the same partner while other celebrity football players have had children with multiple partners. A few famous NFL players have even adopted children.
Who will you find on this list of famous NFL players with the most kids? Dan Marino is near the top. The top Dolphins quarterback of the '80s has seven children with two different women. He has four biological kids and two adopted children with his wife Claire as well as a daughter with Donna Savattere with whom he had an affair in the mid-2000s. With seven children in his brood, Kurt Warner is also one of the NFL's busiest dads.
Derrick Thomas had seven children with five different women. Other famous NFL stars with a lot of kids include Antonio Cromartie, Travis Henry, and Ray Lewis. Both Antonio Cromartie and Travis Henry each have enough children to have a football team of just their kids!
Did you know so many NFL stars were dads with lots of kids?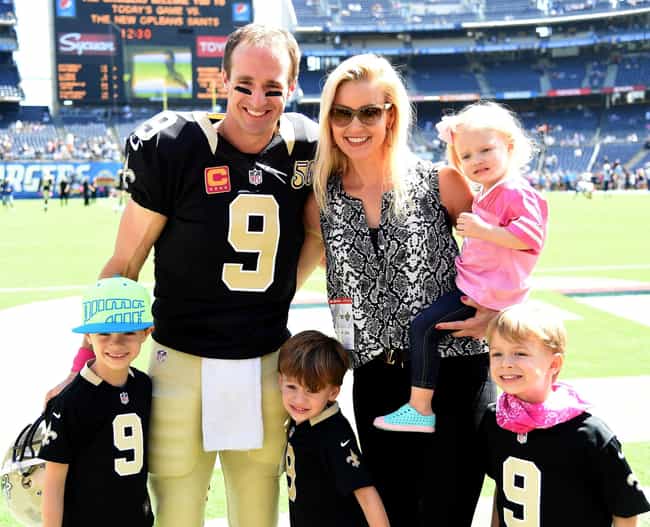 Drew Brees has four children with Brittany Dudchenko: Baylen (2009), Bowen (2007), and Callen (2012), and Rylen (2014)
Drew Christopher Brees (/briːz/; born January 15, 1979) is an American football quarterback for the New Orleans Saints of the National Football League (NFL). After a successful college football career at Purdue University, he was chosen by the San Diego Chargers with the first pick in the second round of the 2001 NFL Draft. He left college as one of the most decorated players in Purdue and Big Ten Conference history, establishing two NCAA records, 13 Big Ten Conference records, and 19 Purdue University records. As of 2018, he remains the Big Ten record-holder in several passing categories, including completions (1,026), attempts (1,678), and yards (11,792). For his many career ...more on Wikipedia
Age: 40
Birthplace: Austin, Texas, United States of America
see more on Drew Brees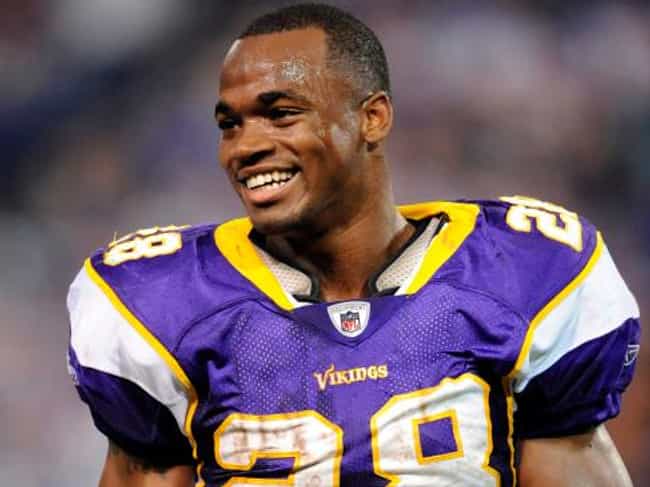 Adrian Peterson has six children with multiple different women.
Adrian Lewis Peterson (born March 21, 1985) is an American football running back for the Washington Redskins of the National Football League (NFL). He played college football at Oklahoma and was drafted by the Minnesota Vikings seventh overall in the 2007 NFL Draft. Peterson set the NCAA freshman rushing record with 1,925 yards as a true freshman during the 2004 season. As a unanimous first-team All-American, he became the first freshman to finish as the runner-up in the Heisman Trophy balloting. Peterson finished his college football career as the Sooners' third all-time leading rusher. ...more on Wikipedia
Age: 30
Birthplace: Texas, USA, Palestine
see more on Adrian Peterson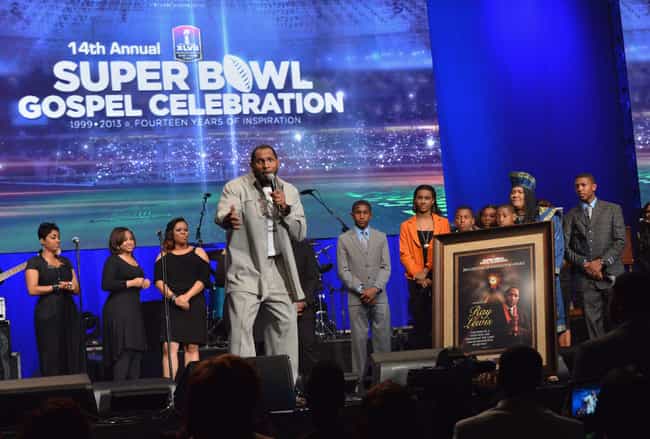 Ray Lewis has six children with four different women:
With Tatyana McCall:

Ray Lewis III, Rayshad, and Rahsaan

With other women:

Ralin, Kaitlin, Diaymon Desiree
Raymond Anthony Lewis, Jr. is a former American football linebacker who played his entire 17-year career for the Baltimore Ravens of the National Football League. He played college football for the University of Miami, and earned All-American honors. Drafted by the Ravens in 1996, Lewis was the last player remaining from the inaugural team at the start of the 2012–13 season. Playing middle linebacker his entire career, Lewis is considered one of the greatest ever to play the position. Lewis was selected to 13 Pro Bowls and named an Associated Press All-Pro 10 times. He is also thought to be the greatest Baltimore Ravens player of all time. ...more on Wikipedia
Age: 40
Birthplace: Bartow, Florida, United States of America
see more on Ray Lewis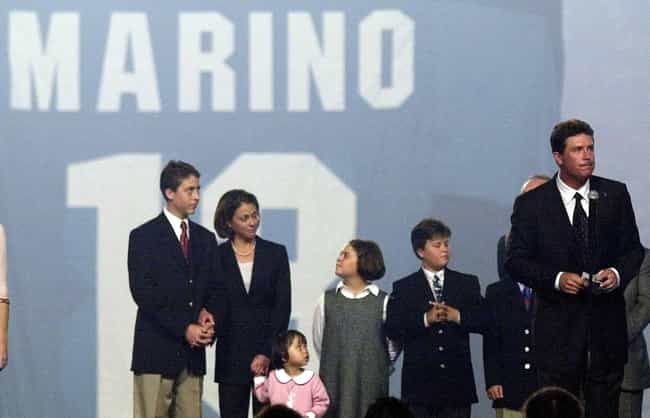 Dan Marino has seven children with two different women:
With Claire Marino:

Daniel Charles (1986), Michael Joseph (1988), Joseph Donald (1989), Alexandria Claire (1992), Niki Lin (1999, adopted), Lia (2001, adopted)

With Donna Savattere:

Chloe (2005)
Daniel Constantine "Dan" Marino, Jr. is an American former football player who was a quarterback for the Miami Dolphins of the National Football League. The last quarterback of the Quarterback Class of 1983 to be taken in the first round, Marino held or currently holds dozens of NFL records associated with the quarterback position. Despite never being on a Super Bowl-winning team, he is recognized as one of the greatest quarterbacks in football history. Best remembered for his quick release and powerful arm, Marino led the Dolphins to the playoffs ten times in his seventeen-season career. He was inducted into the Pro Football Hall of Fame in 2005. He led the Miami Dolphins to an AFC ...more on Wikipedia
Age: 54
Birthplace: Pittsburgh, Pennsylvania, United States of America
see more on Dan Marino