Entertainment
Frank Movie Quotes

Updated November 6, 2017
85 votes
49 voters
24.1k views
8 items
"Frank" movie quotes tell the story of one aspiring band who is fronted by a man who never removes his papier-mâché head. The comedy-drama film was written by Jon Ronson and Peter Straughan and directed by Lenny Abrahamson. After premiering at the 2014 Sundance Film Festival, "Frank" opened in theaters on May 9, 2014, in the United Kingdom and on August 15, 2014, in the United States.
In "Frank," the title character (Michael Fassbender) is the singer and frontman for an eccentric band. He enlists a new bandmate Jon (Domhnall Gleeson) and takes the band to Ireland to record an album. While Jon doesn't have a lot of musical skills, he is good with the Internet and his video entices the attention of South by Southwest organizers who invite the band to perform at their festival.
While Jon is starting to get his hopes up about the band hitting it big, Frank's abrasive friend Clara (Maggie Gyllenhaal) isn't keen on Jon giving Frank false hope. This all amounts to perhaps a little bit for Jon to handle, especially as Frank wears a papier-mâché head always, never ever taking it off for any reason.
"Frank" hits theaters already roaring with other hits such as
"The Expendables 3,"
"Let's Be Cops,"
"Life After Beth,"
"Teenage Mutant Ninja Turtles,"
"The Hundred-Foot Journey
"Guardians of the Galaxy,"
"Get On Up,"
"Hercules,"
"Lucy,"
"Magic in the Moonlight,"
"A Most Wanted Man,"
"Happy Christmas,"
"Planes: Fire & Rescue,"
"Sex Tape,"
"Wish I Was Here,
"And So It Goes,
and
"Dawn of Planet of the Apes."
Why Cover Anything Up, Right?
Frank: "I say, tell everyone everything. Why cover anything up, right?"
Frank remarks about his opinions about transparency noting that there's no reason to hide anything. Coming from someone who never takes off his papier-mâché head, these words don't hold much water.
Should this be higher or lower?
Stop Saying Your Facial Expressions Out Loud
Frank: "Would it help if I said my facial expressions out loud? Welcoming smile"
Jon: "Delighted look"
…
Jon: "Frank, people should know about you. You should be famous."
Frank: "Flattered grin followed by bashful half smile"
Clara: "Stop saying your facial expressions out loud. It's extremely annoying."
To make Jon more comfortable with the papier-mâché head, Frank starts saying his facial expressions out loud. Clara is easily annoyed by this behavior.
Should this be higher or lower?
Jon: "How to describe Frank? Well, there's the head, of course. He never takes it off. Now what goes on inside the head inside that head? His music"
Jon describes his bandmate Frank. While Jon knows little about what really happens inside the papier-mâché head Frank wears, he does know that inside there, beautiful music is made.
Should this be higher or lower?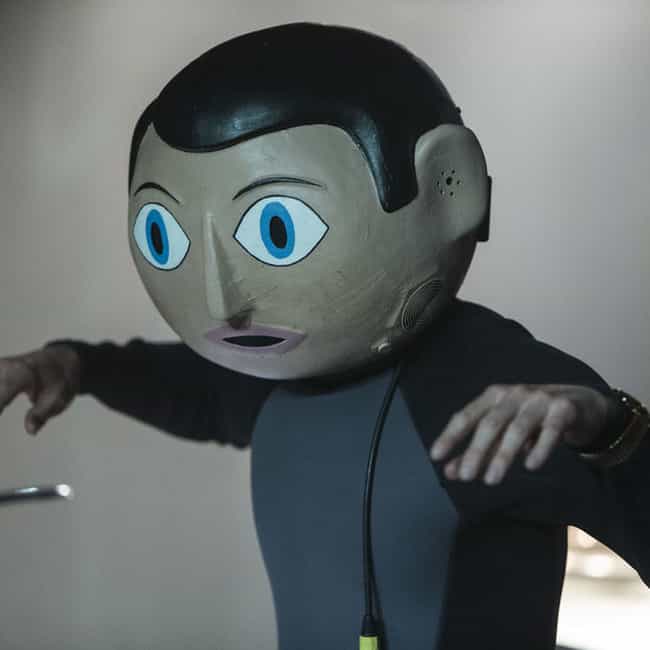 Jon: "The head, take it off."
Frank: "I have a certificate."
Jon: "Take it off!"
Jon's frustration with Frank comes to a head and he demands that Frank remove his papier-mâché head. Frank does not abide by the request.
Should this be higher or lower?