Weird History
Historians Don't Actually Believe Frank Sheeran Killed Jimmy Hoffa

Updated December 5, 2019
11.8k views
10 items
Based on former prosecutor Charles Brandt's nonfiction narrative I Heard You Paint Houses: Frank "The Irishman" Sheeran & Closing The Case On Jimmy Hoffa, Martin Scorcese's Netflix original, The Irishman, purports to tell Frank Sheeran's true story about what happened to Jimmy Hoffa, played by Robert De Niro and Al Pacino, respectively.
The book and the movie alike intertwine Sheeran's account of Hoffa's demise with some of what is known about the Mafioso's mysterious disappearance in 1975. Similarly, they both put forth a lot of ideas as facts that have not - and likely cannot - be substantiated. As a result, most historians and observers don't actually think Sheeran, despite his claims, actually took out the most well-known Teamsters' leader in American history.
What about Frank Sheeran's story doesn't ring true? Issues of credibility, a lack of evidence, and allegations of profit-seeking all shroud Sheeran's account, as do countless rumors and theories about what actually happened to Hoffa. When it comes to The Irishman, facts are difficult to find and Sheeran's story seems to border the line between truth and fiction.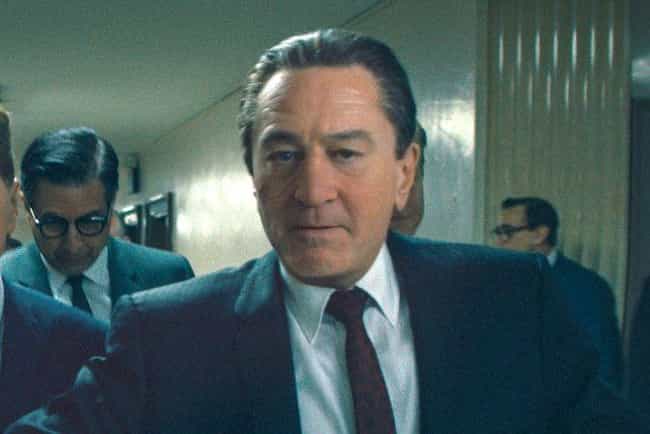 Publication Of Sheeran's Book Was Temporarily Canceled Due To His Credibility Problems
Frank Sheeran's potential involvement in Jimmy Hoffa's disappearance was mentioned in Dan Moldea's 1978 book, The Hoffa Wars and again in Steven Brill's The Teamsters. As Sheeran's story unfolded, however, the contradictions and confusion reached their breaking points.
Author Charles Brandt worked closely with Sheeran to tell his truth, writing I Hear You Paint Houses, in the process. Due to questions about Sheeran's credibility, Brandt's literary agent, Frank Weimann, and initial publishing company balked. Brandt's one-time editor told him, "If you can't trust a man who [ended] one of his best friends, who can you trust?" as he walked away from the project.
After the book was canceled, Weimann, "told Sheeran over the phone that if he wanted to get another publisher he would have to come clean and stand behind the book."
Sheeran was at a crossroads and, as a result, contacted his lawyer, Emmett Fitzpatrick. It was Fitzpatrick who, according to Moldea, "convinced Sheeran to be filmed, accepting the credit for [taking out] Hoffa."
In an interview with Brandt, Sheeran went on to say that he stood "behind what's written," the party-line he touted until he perished in 2003. He was, in fact, responsible for Jimmy Hoffa's disappearance on July 30, 1975. The following year, Steerforth Press in Hanover, NH, published Brandt's book.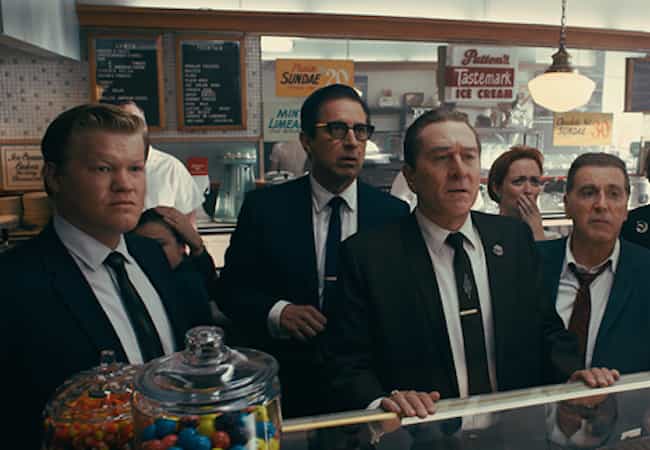 In Reality, Chuckie O'Brien Appeared Much More Suspicious To Police Than He Does In The Film
In The Irishman, Charles "Chuckie" O'Brien (Jesse Plemons) is portrayed as an unaware accomplice, driving his adopted-father-of-sorts, Hoffa, to meet his end. This holds true with Sheeran's story that, "Chuckie was an innocent bystander."
Chuckie O'Brien was friends with Jimmy Hoffa's son, James, from a young age. After O'Brien's own father passed, the elder Hoffa more or less took the young boy in. Essentially family, Sheeran claims O'Brien was present on July 30, 1975, to keep Jimmy Hoffa at ease. In reality, O'Brien was highly integrated into organized crime in his own right and had parted ways with Hoffa in 1974.
After Hoffa disappeared, the FBI were much more interested in O'Brien as a suspect than the movie would have you believe. O'Brien's mother, Sylvia, worked for Anthony Giacalone (Patrick Gallo), and served as a go-between for Hoffa and the Detroit boss. Giacalone was supposed to have been at the lunch with Hoffa on July 30 to make help make peace between the Teamster and New Jersey boss Anthony Provenzano (Stephen Graham). It's been theorized Giacalone was involved in Hoffa's disappearance instead, perhaps ordering O'Brien to carry out the hit.
O'Brien's own actions also aroused suspicion. He claimed that he was running errands on July 30, and after "fish blood and slime got all over the back seat" of Giacalone's car - the one Sheeran alleged transported Hoffa - he "went to a nearby carwash to get the stains wiped off." Having the car cleaned was a courtesy, according to O'Brien but it was also convenient given events that were said to have taken place earlier on July 30.
Experts Think Sheeran Was More Likely The Witness Than The Offender
That Frank Sheeran was somehow involved in Jimmy Hoffa's disappearance has, more or less, been accepted by experts who have researched the event. In The Hoffa Wars, Dan E. Moldea places Sheeran with associates of Anthony Provenzano, the man he believes ordered the hit.
Moldea believes the actual hitman was Sal Briguglio, a subordinate of Provenzano. Briguglio, along with his brother, Gabe, Thomas Andretta, and Frank Sheeran, were there when Hoffa disappeared but Sheeran was not the trigger-man.
Jack L. Goldsmith, a law professor at Harvard, stepson to Chuckie O'Brien, and author of In Hoffa's Shadow: A Stepfather, A Disappearance in Detroit, and My Search for the Truth, is willing to acknowledge that Sheeran may have been involved in some way.
Alongside FBI agent Andrew Sluss (head of the Hoffa investigation in 2004) and journalists Andy Petepiece and Bill Tonelli (both men who have investigated Sheeran's claims in detail), Goldsmith finds little to substantiate Sheeran's confession.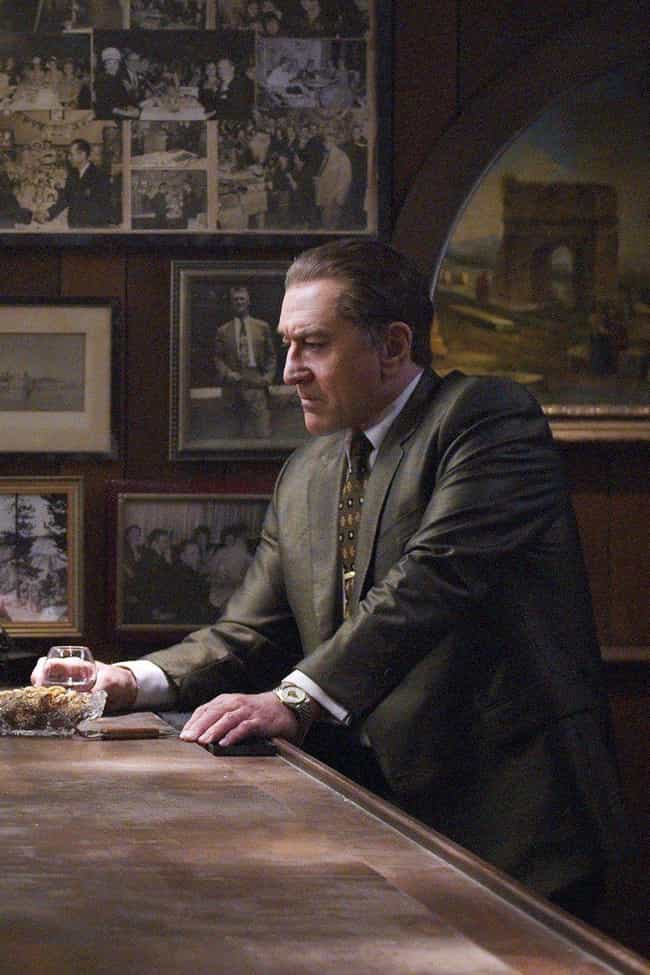 DNA Tests Of The Confessed-To Crime Scene Turned Up Inconclusive
In the aftermath of Brandt's book - and Sheeran's confession - police officers and medical examiners in Bloomfield Township, MI, searched the home Hoffa was allegedly confronted in.
On July 30, 1975, after arriving at the small, suburban home, Sheeran insists he fired at Hoffa twice in the back of the head. According to Sheeran, he'd driven with Hoffa to the house after a meal at the Machus Red Fox Restaurant in Detroit, MI, with Detroit syndicate member, Anthony Giacolone, and New Jersey Teamster boss, Anthony Provenzano.
DNA evidence from the car Sheeran and Charles "Chuckie" O'Brien (Hoffa's "foster-son") transported Hoffa in that day, a hair pulled from the headrest, did match Jimmy Hoffa, although it wasn't tested until 2001.
In 2004, despite a 30-year time gap, authorities also found blood in the house where Sheeran claimed he ended Hoffa. They conducted DNA tests, "but Jimmy Hoffa was excluded from that sample... We're exactly where we were a day before."