Entertainment
Behind-The-Scenes Stories From The Making Of 'Full Metal Jacket'

June 16, 2020
169.6k views
13 items
The making of Full Metal Jacket - like all of Stanley Kubrick's movies - was a wild and trying time for everyone involved. But also like most of the auteur's films, the 1987 epic received rave critical reviews. It is also widely regarded as one of the greatest and most realistic war movies ever made. These Full Metal Jacket facts will take you behind the scenes of a production so intense, it nearly caused a mutiny on the set.
Sgt. Hartman's devastating put-downs have become so popular, they've worked their way into legendary movie-quote status: "What is your major malfunction, numbnuts? Didn't Mommy and Daddy show you enough attention when you were a child?"
But did you know that the Vietnam-veteran-turned-actor, R. Lee Ermey, who played the drill instructor basically stole the part from another actor? Find out how Ermey really got the role of Hartman, and how he came up with all of his mostly unscripted, sadistic dialogue.
What was the film's original ending? How did Kubrick make the UK look like the tropical forests of Vietnam? What pushed actor Matthew Modine to the point that he threatened to cut open his hand? How did the crew shoot Pvt. Pyle's devastating final scene?
Find out all the answers to those Full Metal Jacket behind-the-scenes questions and more in our roundup below.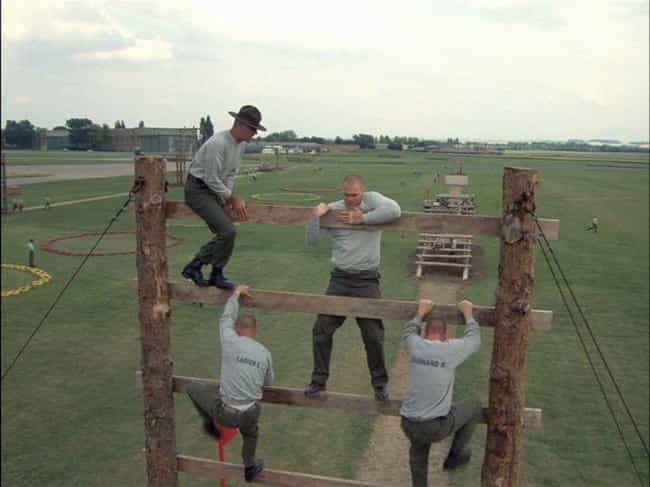 Vincent D'Onofrio Gained A Record 70 Pounds - But The Weight Caused Him To Tear Ligaments In His Legs On The Film's Obstacle Course
Prior to making Full Metal Jacket, Vincent D'Onofrio was an unknown actor with just a couple of bit parts on his filmography. He was an attractive, athletic, and fit young man. Kubrick cast D'Onofrio for the role of Private Leonard "Gomer Pyle" Lawrence - an overweight and clumsy Marine recruit who would be the central character in one of the film's most disturbing scenes.
In order to become Pyle for his big-screen debut, the actor put on 70 pounds. D'Onofrio's physical transformation set the record for the most weight gained by an actor for a movie role.
''It changed my life,'' he said. ''Women didn`t look at me; most of the time I was looking at their backs as they were running away. People used to say things to me twice, because they thought I was stupid.''
The extra weight also put a strain on D'Onofrio's bloated 280-pound body. During one of the boot camp obstacle course scenes, the actor injured his left knee so badly that he would later require major surgery.
It took D'Onofrio one year to take off the weight. But the actor knows that it was totally worth it in the end:
I gained weight everywhere. My thighs were tremendous, my arms were tremendous, even my nose was fat. I had a tough time tying my shoelaces, but this was the only way I could play Leonard, because I had to be weak-minded in the same way. Because of the weight and the fact that he was totally out of his element, Leonard's mind became weak.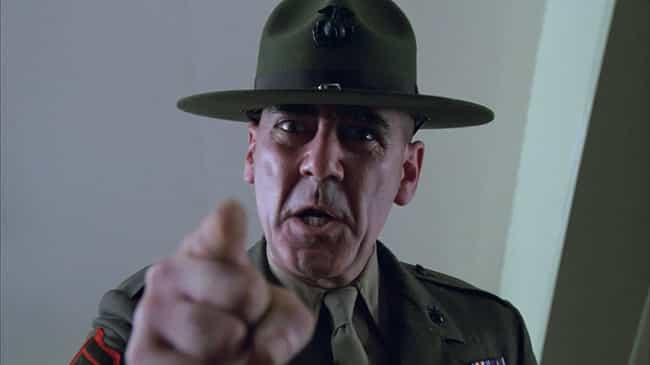 R. Lee Ermey, A Former Drill Instructor In Vietnam, Improvised His Boot Camp Insults
R. Lee Ermey was a former Marine Corps drill instructor and Vietnam veteran. He was so experienced that he could make up his own clever, rapid-fire, devastating, boot-camp training put-downs. Kubrick said that about 50% of Ermey's improvisational dialogue worked its way into the final script.
Kubrick added that Ermey came up with about 150 pages of insults. However, the veteran was just repeating the things he learned during his time in the military.
"My main objective was basically to just play the drill instructor the way the drill instructor was and let the chips fall where they may," Ermey said. "You can ask any drill instructor who was down there in 1965 or 1966, that's exactly how the drill instructor's demeanor was. There were no punches pulled."
Even more impressive was that the green actor was an immediate natural. He usually only needed a few takes to get through each of his scenes, which was rare for a Kubrick actor.
"Lee Ermey, for instance, would spend every spare second with the dialogue coach, and he always knew his lines," said Kubrick. "I suppose Lee averaged eight or nine takes. He sometimes did it in three. Because he was prepared."
Ermey earned rave reviews for his work as the cruel drill instructor. He also received a Golden Globe nomination for best supporting actor. Ermey went on to have an impressive career as a character actor in Hollywood, amassing over 120 credits on his filmography.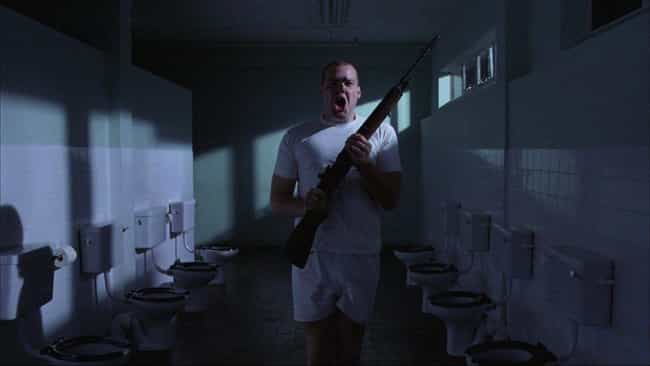 A 3-Foot Pipe Full Of Pasta And Fake Blood Was Used To Create The Film's Violent Gunshot Bursts
There's no doubt that the scene in which Pyle finally snaps and kills his oppressor, drill instructor Hartman, and then himself is one of the most memorable in the film. It's a graphic and difficult scene to watch.
In order to re-create the result of Pyle putting the rifle in his mouth and pulling the trigger, the crew needed to show his brains being blasted onto the white bathroom wall behind him. Actor Matthew Modine told Kubrick how director William Friedkin filmed a similar scene in To Live and Die in L.A. Kubrick and his team got a copy of the film and watched the scene repeatedly in slow motion.
Based on Friedkin's editing and gut-slinging method, Kubrick constructed a 3-foot pipe. The vessel tossed a combination of fake blood and pasta at the white wall behind D'Onofrio by using pressurized air. A simple edit in post-production made the tragic scene appear as realistic as possible.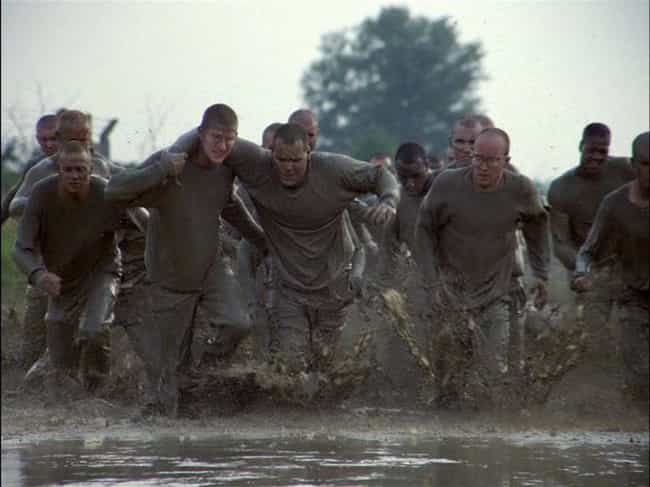 Typical Of Kubrick, The Film Went 21 Weeks Over Schedule
Kubrick had a reputation for being an obsessive perfectionist. He often made actors do scenes over and over again - often dozens of times, sometimes over 100 times - in order to achieve his creative vision.
He once made Sydney Pollack do hundreds of takes during an Eyes Wide Shut scene in which the actor simply had to walk across the room and answer the door. For the same film, Kubrick made Tom Cruise walk through a door 95 different times.
The production for Full Metal Jacket was only supposed to be 18 weeks. The filming instead lasted for 39 weeks.
Modine talked about what it was like to be on the set for such a prolonged period of time:
I described it as Gilligan's Island. The ship set sail on what was supposed to be a three-hour tour and they end up trapped on this island. In our case, it was another of shooting, another day, another day. You begin to wonder what you have to do to complete this?