Total Nerd
15 of the Funniest Moments from Spider-Man Comics

25.4k votes
6.3k voters
620.2k views
15 items
List Rules Vote up the funniest, most outrageous moments in Spider-Man comics.
As the 21st century began to loom over the world, everyone's favorite Auntie's boy seemed to have lost his sense of humor. Spider-Man jokes almost seemed like a thing of the past. He wasn't as dour as The Punisher, but he cut out a lot of his silly quips, joined The Avengers (snooze), and died a couple of times - which is bound to kill anyone's sense of humor. Thanks to Marvel's desire to bring young readers into the fold, they've once again started writing your friendly neighborhood web slinger as a happy-go-lucky protagonist who would rather get a free lunch with She-Hulk than fight the Green Goblin for the 700th time.
Some of the jokes Spider-Man tells are very on brand for the wall crawler, while others seem like they were cooked up by comic book writers who had a chance to write for their favorite web head and didn't want to waste the dialogue by having him pine for Mary Jane. These choice quips and funny spider-themed banter span Peter Parker's 50-plus years as a superhero, and they prove that the wall crawler is at his best when he's goofing off. Whether your favorite Spider-Man is Peter Parker, Miles Morales, Ben Reilly, or Doc Ock (long story), there's a quip on here just for you.
back to page 1
Not Your Normal Fruit of the Loom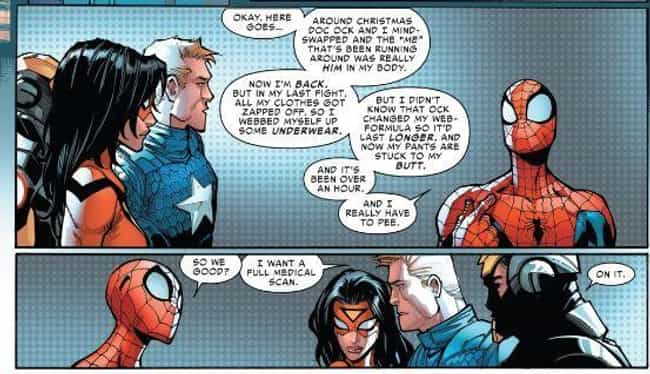 It can be hard putting your life back together after a mad scientist swaps your consciousness for his in an attempt to further his existence while getting rid of his greatest nemesis. Not only do you have to explain that to your friends, but sometimes you also end up wearing web underwear that last for an indefinite amount of time. Those are just a few cons of being Spider-Man.
Is this funny?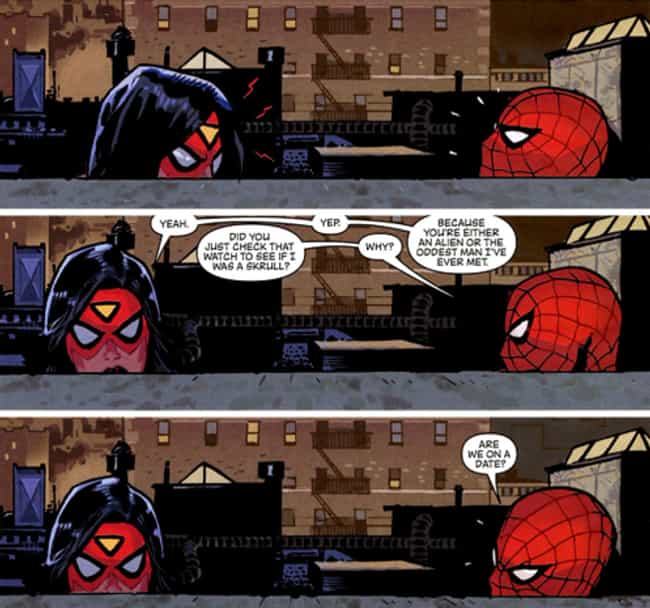 There's a lot going on in the New Avengers storyline "Siege," but to try and put it succinctly: Norman Osbourne, Loki, and the Sentry want to take over Asgard (which is floating over Oklahoma), while also rebuilding Osbourne's public persona as a helpful billionaire. While most of the Avengers are fighting the Sentry and Norman above the panhandle state, Spider-Man and Spider-Woman are staking out Osbourne's office and bantering away like crazy.
Spider-Man, being the dork he is, delivers most of his lines like he's at a renaissance faire, and Spider-Woman takes it about as well as any woman would.

Is this funny?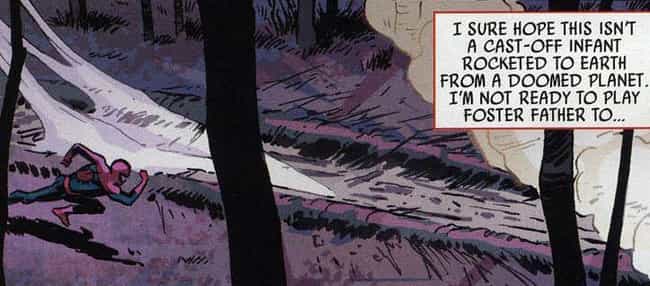 Oddly enough this is the second time a comic featuring your friendly neighborhood Spider-Man fighting the Juggernaut is popping up on this list. Maybe the overpowered baddie just brings out the comedy in the wall crawler. This Superman-referencing panel (is no one else bothered by the amount of DC comic references that Parker makes?) happens right up top when Spidey sees something fall out of the sky and into Central Park.
Unfortunately for Parker, it's not a baby from Krypton, but rather, the unstoppable Juggernaut.

Is this funny?
A Luke/Yoda Kind of Thing

At the onset of Avenging Spider-Man #1, Peter Parker works with the Avengers to fight giant robots when he finds out that a bunch of Moloids are attacking marathon runners in New York. Don't you hate it when that happens? Instead of catching a flight back to NYC on one of Tony Stark's sweet personal jets, the wall crawler has to ride back with Red Hulk - which is just about as good as a flight on Southwest.

Is this funny?