Total Nerd
Everything That Happened In 'Game Of Thrones' Season 8, Episode 4: 'The Last Of The Starks'

11.5k votes
1.6k voters
51.4k views
15 items
List Rules Vote up your favorite moments from the episode.
With the Battle of Winterfell over and the Night King dead, Dany, Jon, and the rest of the forces in the North turn to their final challenge: Cersei. There is obviously much to celebrate after the Battle of Winterfell, what with stopping the apocalypse and all. Many characters pair off in the immediate aftermath, while others crash and burn in the attempt. But it isn't all light-hearted. The episode also features some goodbyes – a few heartfelt ones in the north and a couple of bloodier ones in the south thanks to Cersei and Euron.
Be sure to vote up your favorite moments from the episode!
back to page 1
Winterfell Celebrates Their Victory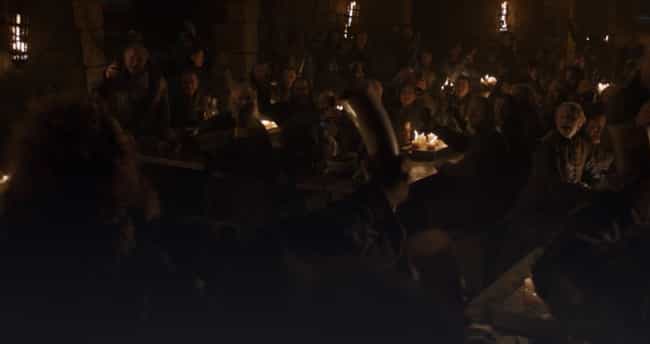 To the show's credit, they don't keep it bleak following the battle. Tormund toasts Dany and tries to get Jon drunk while drinking out of a horn. Dany gives thanks to Arya for killing the Night King. Jaime, Tyrion, and Brienne play the Westerosi version of Never Have I Ever. But, unfortunately, during the celebration, Tormund lets slip that Jon has died and come back to life. Dany leaves the hall upset with Varys taking note.

Was this a good moment?
Jaime And Brienne Finally Get Together
After learning that Brienne is a virgin, Jaime follows her to her bed chambers. After talk about hating the North he very smoothly says how hot it is in her room and tries to take of his shirt. It's not an easy task with a golden hand, so Brienne helps him out. She stops for a moment when Jaime starts taking off her shirt. Brienne ends up doing it herself before the two finally kiss each other.

Was this a good moment?
Sansa Tells Tyrion Jon's Secret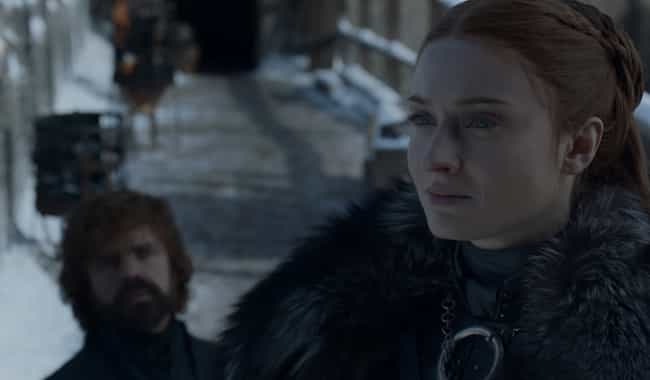 Despite having just promised Jon she would keep his secret, Sansa reveals his parentage to Tyrion before the group departs. Tyrion and Varys lament their new situation on their way south. Tyrion wonders if Jon and Dany could rule together, but Varys points out that Dany doesn't like having her rule questioned. Eventually Tyrion wonders if Cersei might just kill them all and solve the problem for them.

Was this a good moment?
Jon And Dany Finally Talk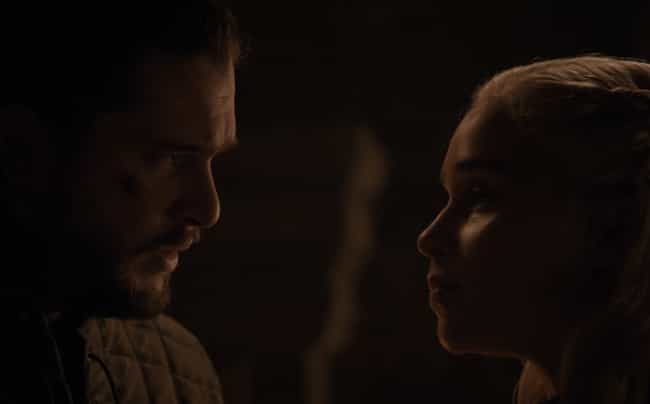 The White Walkers interrupted Jon when he revealed his true parentage to Dany. After some light making out, Jon says he doesn't want the throne, but Dany says it doesn't matter. Dany saw his people flock to him after the battle, and she knows they'll demand he sit the throne. She begs him to swear Sam and Bran to secrecy and not do anything about his newfound knowledge of his parentage. Jon wants to tell Sansa and Arya, but Dany knows Sansa will want Dany out and Jon on the throne.
Jon thinks they can be happy together, but Dany says the only way that can happen is if he doesn't tell Arya and Sansa about his parents.

Was this a good moment?