How George Carlin Using 'Seven Words' On The Radio Caused A Landmark Supreme Court Decision

Ryan Sargent
Updated March 5, 2019
36.8k views
12 items
For decades, George Carlin was one of the most original and popular comedians to take the stage. His "Seven Words You Can Never Say on TV" routine is often hailed as a masterpiece of standup comedy and helped him get the title of one of the best standup comedians; it took society's taboos and hangups to task while being flat-out hilarious. Carlin's seven words are so notoriously profane they got tangled up in a court case, which took on the FCC's power of censorship and landed in front of the Supreme Court.
Carlin and the FCC sparked a debate between comedy, unrestricted speech, and government control, which still rages today. The controversial "Seven Words" Supreme Court decision has since changed TV and radio and cemented Carlin as one of the funniest people of all time.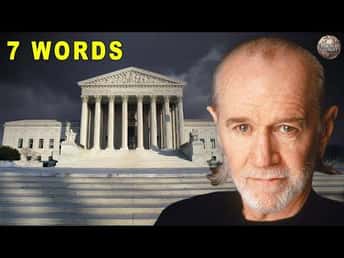 Carlin's 'Seven Words You Can Never Say On Television' Routine Was A Hit

Video: YouTube

One of Carlin's most famous bits, often called "Seven Words You Can Never Say on Television," was first developed and recorded in 1972. The act delved deep into the taboo of cursing and how seven simple words could be so horrible that radio and television audiences were banned from hearing them.

"Seven Words" was an instant success with audiences, and Carlin continued to perform and refine the bit for years.

The Routine Got Carlin In Legal Trouble In Milwaukee

Photo: MPI Media Group

After performing the "Seven Words" monologue at Milwaukee's Summerfest in July 1972, Carlin was taken into custody for obscenity. Carlin, however, beat the charges in December of the same year. The presiding judge ruled his language was "indecent" but not illegal, so long as the public was not disturbed.

"I find it kind of funny to be hassled for using [them] when my intention is to free us from hassling people for using them," Carlin later said about the case. His ability to find humor in the incident led him to rename the bit "The Milwaukee Seven" temporarily.

The 'Seven Words' Routine Shocked An Influential Radio Listener

After the initial detainment for performing "Seven Words," Carlin was safe, but the routine wasn't. In 1973, media watchdog John H. Douglas heard the "Seven Words" routine while driving his son home from a college visit. He was listening to WBAI, an affiliate of Pacifica Radio when they aired an uncensored recording of Carlin's act as part of a discussion about the taboo of bad language.

With backing from his organization Morality in Media, Douglas made an official complaint to the FCC and insisted Pacifica should lose its broadcasting license.

The FCC Jeopardized Pacifica's Broadcasting License

Photo: Federal Communications Commission / Flickr

The FCC's investigation lasted months, but in 1975, they upheld Douglas's complaint and warned Pacifica Radio it was on thin ice. The Commission was especially concerned that the broadcast went out at 2 pm, when they felt many children would be listening. While no fines or other sanctions were imposed, the FCC warned future complaints would have a serious impact on Pacifica, including the potential cancellation of Pacifica's broadcast license.

Feeling the FCC was misusing their power to censor, Pacifica took the federal body to court.