History
8 Weird Facts About Ghana's Insanely Elaborate "Fantasy Coffins"

Every culture has its unique funeral customs; but the most interesting ones usually come from those cultures that celebrate death instead of mourning it. Such is the way in Ghana, who honor their deceased ancestors by sending them off in the most insanely elaborate coffins you have probably ever seen. Larger-than-life-sized Nike trainers, Coca-Cola bottles, naked women, grand pianos. . . they can all serve as caskets for the dead.
In this tiny nation on the Ivory Coast, the dead are seen as protectors of the living - spirits that dwell among us and interact with us on a daily basis. For this reason, it's important to keep the dead happy. One way to do that is to send them off in style, ferried to the hereafter encased in a one-of-a-kind work of art - a fantasy coffin.
Unless you've got a sense of humor about these things, it does seem a little morbid at first. But what's wrong with enjoying those last few moments of life with the people we love the most? After all, the Ghana fantasy coffin business has in itself become a great boon to the living of Ghana. And dead or alive, you have to appreciate that kind of legacy. Read on to learn interesting facts about fantasy coffins and see pictures of these unique pieces of art.
They Represent the Personality of the Owner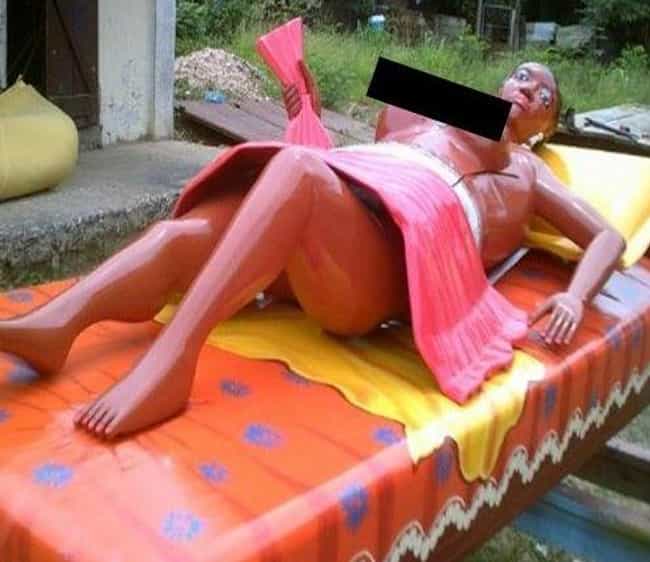 Ghanaian coffins are kind of like custom cars in the United States: they're built to reflect the personality, interests, and even vices of the owners. An avid soccer fan might be buried in a big Adidas sneaker, or a writer in a fountain pen. A fisherman would choose a marlin or trout, while a sunbather might prefer a giant bottle of SPF 50.
Someone's coffin might even represent the type of car they owned or always dreamed of owning. Some are a little more cryptic than others, but you can probably take a guess at the preferred pastime of the owner of the coffin above.
The Coffins Are Mostly Built by One Family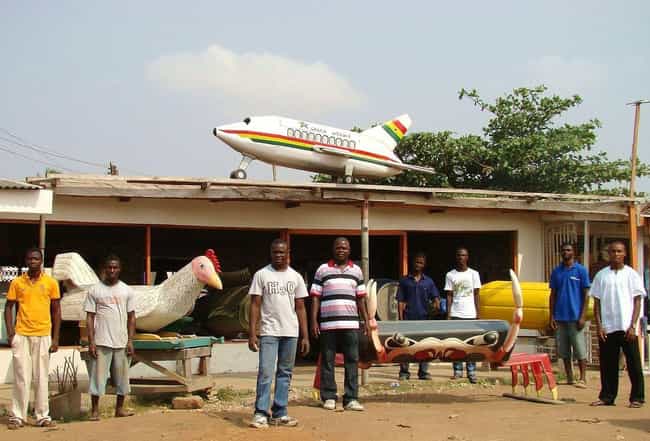 As of right now, there are only four custom coffin shops in Ghana, but the original Kane Kwei Coffins is still the largest. It's also the only custom coffin shop in Ghana to specialize in nothing but that.
Others have diversified into jewelry boxes, furniture and that sort of thing; and even they are almost universally owned and operated by former Kwei employees and apprentices - "extended family," if you will. To call this a "cottage industry" is an understatement.
It's a Surprisingly Recent Tradition with Deep Roots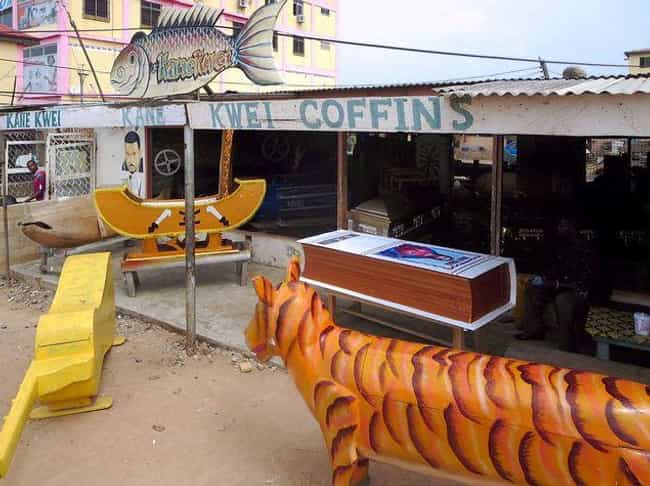 The whole idea of the fantasy coffin only dates back to about 1980, when coffin-maker Kane Kwei opened his first custom coffin shop in Accra. But the idea had been gestating for quite some time. His family says that the idea first came to Kwei in 1940, when the chief of his village died unexpectedly.
The people of the village wanted an elaborate coffin, but Kwei told them it would take some time. Instead, he suggested they bury the king in his palanquin, as had been done a few times in Ghana's history. Palanquins are those royal "taxis" you see carried around by teams of servants in movies. They did indeed bury the chief in his palanquin, and this reportedly served as the inspiration for Kwei's fantasy coffin business.
A Lot of People Want to Be Buried in Huge Cocoa Pods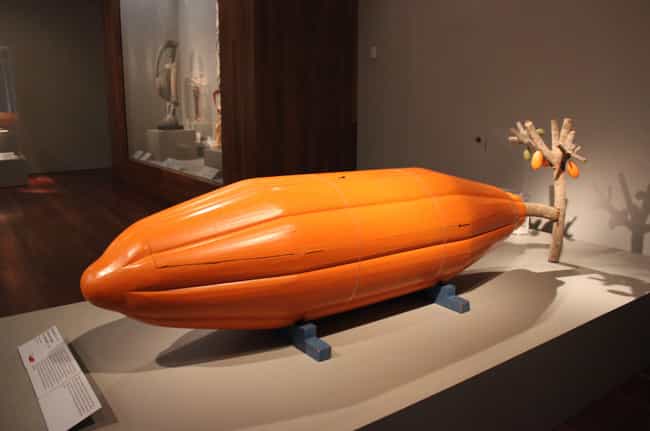 By far, the most popular burial coffin in Ghana is the cocoa bean pod. As you may know, a good amount of the world's chocolate comes from Ghana - cocoa is the country's second largest export behind oil.
The cocoa bean is central to the lives of many Ghanans, especially those whose families have been working in the chocolate business for generations. And you thought YOU loved chocolate.