Graveyard Shift
The Freakiest Paranormal Legends From Philadelphia, The City Of Brotherly Love

Since its beginnings as one of America's first cities, Philadelphia has been one of the nation's most important historical sites. Everything there is steeped in patriotic history, including Philadelphia ghost stories. Similar to the ghost stories of Massachusetts, tales of haunted Philadelphia often revolve around figures you hear about in history class. You always knew about Benjamin Franklin's vices - books and women - but did you know he still chases them both even in death? The old city section, where Franklin still reportedly makes appearances, is replete with sites dating back to the American Revolution and even earlier.
Capitalizing on these pieces of Pennsylvania's creepy history, the city offers a variety of ghost tours to residents and visitors. Philadelphia ghost stories take place in a variety of locations, from old cemeteries, to state prisons, insane asylums, even ghostly ships. Many of these scary stories date back to a time before America even existed, and their longevity speaks to Philadelphia's impressive attempts to preserve its history. But along with Ben Franklin, other famous historical figures do their best to make sure their history is still remembered by the living, even if it takes a little spooking.
Hundreds Of Restless Spirits Roam Philly's State Penitentiary
Philadelphia's Eastern Penitentiary Prison lands at the top of any list dealing with haunted Philadelphia. From 1829 to well into the 20th century, the penitentiary was nothing short of a horrific hellhole for inmates. Founded on Quaker principles that argued criminals should spend most of their incarceration alone, the building provided little space or light to its inhabitants. Prisoners remained in their private cells with only the Eye of God, a single slit in the ceiling, for light; only a hard cot, a toilet, a table and a Bible were allowed as possessions. When brought out for one hour per day, inmates wore black cloths over their heads. The solitary confinement, combined with the institution's proclivity for torture, definitely imbued the prison with all sorts of negative energy.
One of the most famous ghost sightings took place when a locksmith was called to restore some of the old locks. In the middle of his work, he was so overcome by an ominous presence it managed to paralyze him. As the legend goes, by removing a key from an old lock, the locksmith opened a paranormal gateway, allowing horrendous events from the past into the present. On the walls, tormented faces began to take shape, and one form in particular seemed intent on luring the locksmith in his direction. The experience haunted the locksmith for years after.
The sounds of giggling, whispering, and screaming still permeate the building's hallways. According to the assistant program director, the penitentiary hosts multiple paranormal researchers every year, and every time they pick up on supernatural activity.
Ghost Of Quaker Woman Watches Over Washington Square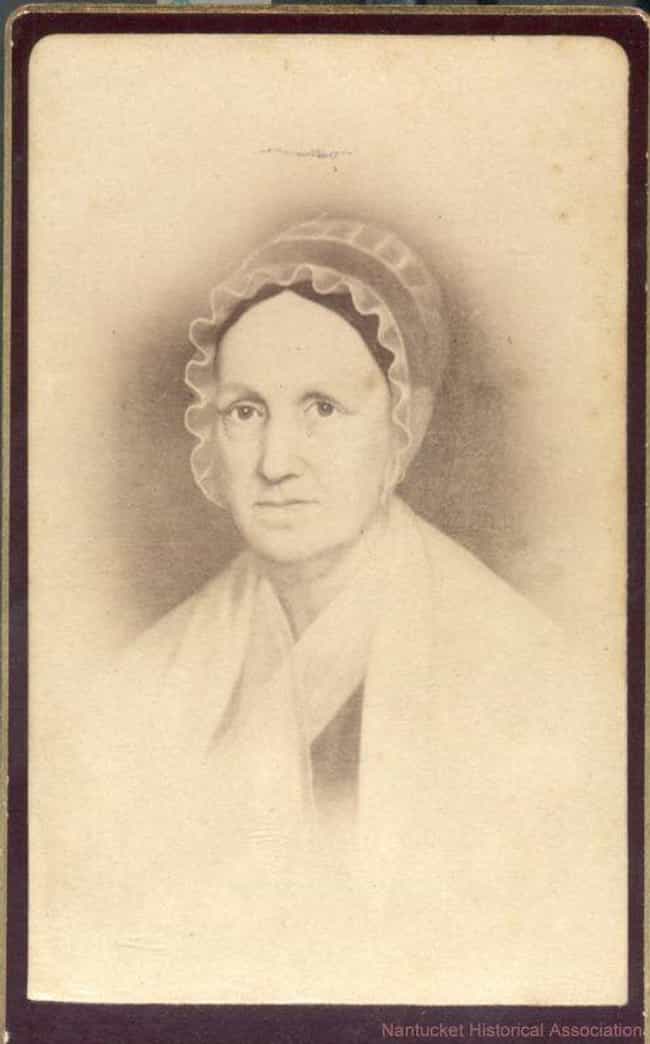 Washington Square dates back to the city's founding in the 17th century. Over the years it has become a gathering place for festive events, but it also served as a cemetery. Known as a "potter's field," the square provided a resting place for the bodies of the poor and unknown for nearly 100 years. Day of the Dead rituals reportedly took place there up to the 19th century, and victims of a yellow fever epidemic were interred in Washington Square en masse.
One of the most active ghosts in Washington Square is a Quaker woman named Leah, who supposedly watched over the cemetery at night when grave-robbing was more common. During the city's seasonal ghost tours, some participants report they seeing Leah on her rounds. Even a Philadelphia police officer claims to have seen her. At one point a paranormal investigator came to investigate; he ended up so frightened of Washington Square that he suffered a heart attack, though he would never reveal what scared him so severely.
Benjamin Franklin's Haunted Statue Seen Walking, Dancing, Visiting Pubs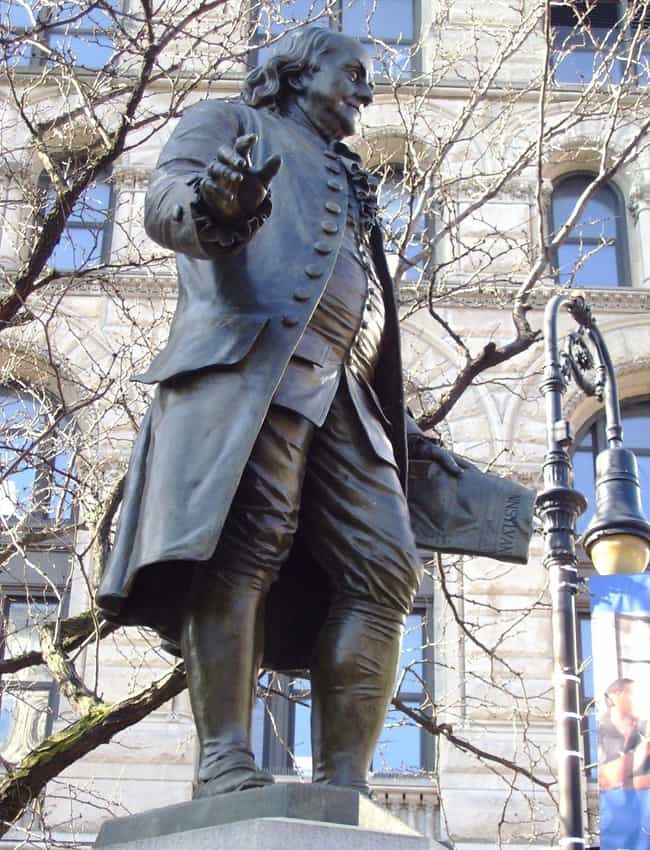 Those even somewhat acquainted with American history know Benjamin Franklin got around. Even in old age, Franklin involved himself with so many particulars, and people, in the City of Philadelphia that his imprint, his very essence, is felt everywhere. In the Old City, where he once lived, they say his spirit remains as well.
The most famous story of Franklin's ghost has to do with the statue of the Founding Father located at Library Hall. The statue is said to step down from its pedestal to stroll and dance through the old city. Should the need overtake him, the statue might even visit one of the Old City's bars.
One of the most visited sites in the city is Franklin's grave. The tradition is to throw pennies through the wrought-iron fence onto the grave. This practice comes from the Franklin adage "A penny saved is a penny earned." However, it is not uncommonly reported that old Ben may feel that the offerings of pennies isn't quite generous enough, and visitors often discover money missing from their wallets after paying homage to Franklin's resting place.
Ghost From Disturbed Cemetery Visits Famous Cheesesteak Place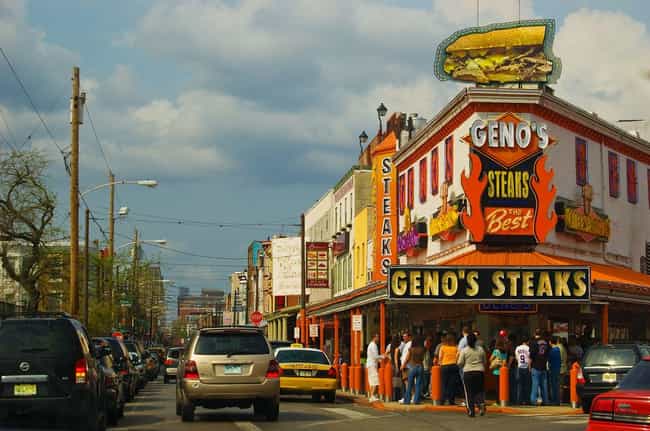 In 1946, Philadelphia's Lafayette Cemetery was more than 100-years-old and in a steep decline. With no one maintaining it, the city decided to condemn it. Arrangements were made to move and reinter the remains of the 47,000 people buried there, the new owner even promising to install bronze markers for each grave at the new site. But that owner, Thomas A Morris failed to keep hia promise and nobody knew until the late '80s when it was discovered he dumped the bodies into 32 trenches in Bensalem. Many say the spirits of these bodies still remain close to where they were buried.
Philly resident, Ed Snyder, claimed he encountered a ghost from the old cemetery. Snyder was sitting at Geno's Cheesesteak, located on the old Lafayette Cemetery property, when a man dressed in early 20th century attire sat down beside him. He said nothing, but Snyder noticed that his suit was covered in dried blood. No one but Snyder seemed to notice his presence, and after about ten minutes, the ghostly stranger got up and walked away.