Music
At Their Peaks, Guns N' Roses And Nirvana Hated Each Other - But They Found Common Ground In Rock

Updated June 14, 2019
94.4k views
14 items
Even before Kanye West interrupted Taylor Swift, rock and roll feuds tore both bands and fans apart. The transition from big hair in the late '80s to dirty hair in the early '90s created one of the most memorable rock beefs in history: Guns N' Roses (GNR) vs. Nirvana. Though the two bands shared many of the same fans, GNR and Axl Rose clung to excess in both lifestyle and performance, while Nirvana considered themselves the alternative, criticizing anything that seemed mainstream or aligned with corporate greed.
The feud between the two bands hit a high point at the 1992 MTV Video Music Awards, but their beef started long before that. GNR were known for their riff-heavy, stadium-filling hits as much as their wild and hard-partying ways. Nirvana came together in Washington state around the same time but adopted an entirely different set of values - despite participating in plenty of wild antics themselves.
The animosity between both bands grew to epic levels during the early 1990s. Ultimately, it was the power of music that squashed their epic rock grudge.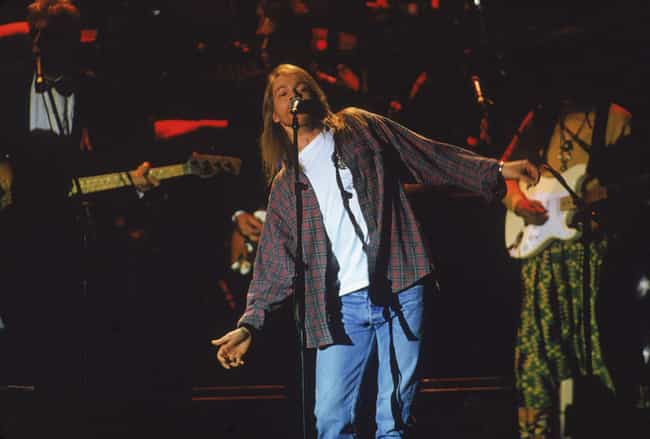 1991: Axl Rose Is A Nirvana Fan Who Just Wants Grunge Musicians To Like Him
Before their rivalry started, Axl Rose considered himself a fan of Nirvana. In 1991, he demonstrated his enthusiasm for the band in GNR's video for "Don't Cry" by including a Nirvana hat in a shot. Unfortunately, respect between the two groups wasn't mutual, and Kurt Cobain tried to distance himself from Rose.
While promoting Nevermind, Cobain used GNR as an example of what Nirvana was not, commenting, "We're not your typical [GNR] type of band that has absolutely nothing to say."
This hurt Rose, who couldn't understand why Nirvana, as well as several other prominent alternative groups, didn't like him, his band, or their music. Rose reportedly told Faith No More:
I only like you guys, Nirvana, Jane's Addiction, and two other bands, and all of you hate me. Why do you hate me? It's like I went away and came back home to find you guys f*cked my wife.
Rose's hurt feelings did nothing to make Nirvana change their minds. Cobain declared, "Rebellion is standing up to people like [them]."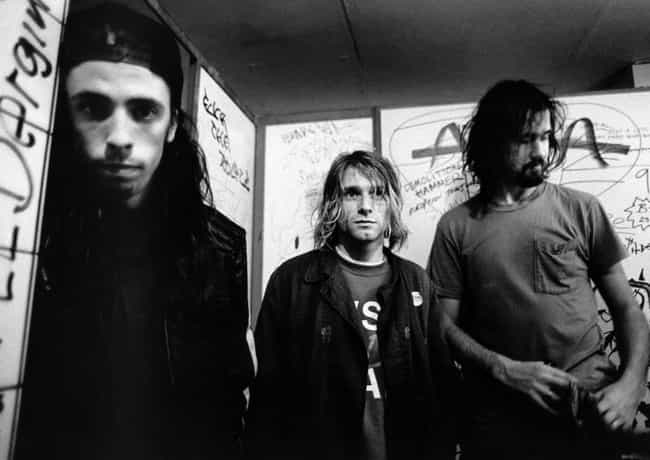 1992: Nirvana Refuses To Tour With GNR And Metallica
Sometime in early 1992, Axl Rose asked Nirvana to play at his birthday party; they declined. Hurt but still a Nirvana fan, Rose later suggested they open for GNR on their 1992 stadium tour with Metallica.
Kurt Cobain refused and, according to Dave Grohl, ignored Rose's "non-stop" phone calls about the rejected invitation:
I think it represented something bigger. Nirvana didn't want to turn into GNR. So Kurt started talking sh*t in interviews, and then Axl began talking back. It went back and forth like 10th-grade bullsh*t.
Rose retaliated with public thoughts such as, "Nirvana would rather stay at home and [do smack] with their b*tch wives than tour with us." GNR invited Faith No More to open instead. As Cobain predicted, the tour he refused to join turned out to symbolize everything Nirvana hated about GNR.
Audiences experienced an inebriated Rose vomiting on stage and repeatedly walking off mid-performance, late starts to shows, flashy pyrotechnics which burned James Hetfield, and mayhem in Montreal resulting in damages costing about $400,000.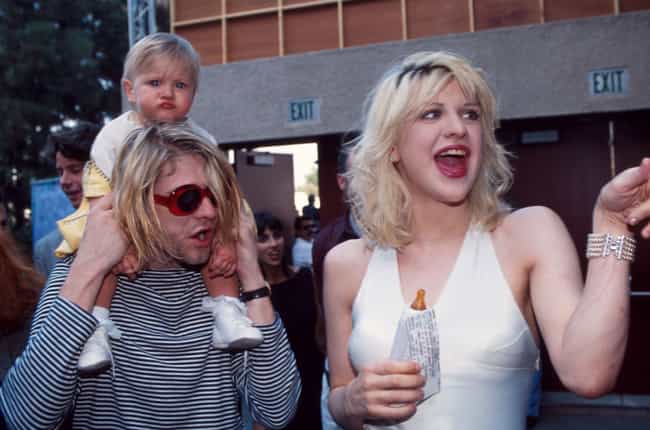 1992: Axl Rose Lashes Out Against Kurt Cobain And Courtney Love In A Mid-Performance Rant
Axl Rose frequently called out Kurt Cobain and Courtney Love for their substance use. Both struggled with dependency, and despite his problems with substances, Rose went after the pair. In 1992, Love gave birth to daughter Frances Bean. Vanity Fair reported she continued to use while she was pregnant.
Rose used this as fuel during a GNR show in Orlando, calling Cobain and Love "junkies" and claiming, "If the baby is born deformed, I think they both ought to go to prison."
1992 VMAs: Kurt Cobain Humiliates Axl Rose Outside
As the popularity of the grunge aesthetic took over in the early '90s, MTV tried to navigate a smooth transition from '80s glam metal by hosting artists from both camps at the 1992 Video Music Awards - including GNR and Nirvana. The two bands had already formed a massive rivalry by this point, and things got ugly when they met in person for the first time.
Cobain was in the artist area with Courtney Love and their baby, Frances Bean, when Axl Rose showed up. Cobain recalled, "He came strutting by with five of his huge bodyguards and a person with a movie camera."
Love sarcastically asked Rose if he wanted to be their daughter's godfather. This sent Rose over the edge, and he started screaming at the Nirvana frontman. Cobain recalled the incident, saying, "These were his words: 'You shut your b*tch up, or I'm taking you down to the pavement.' So I turned to Courtney and said: 'Shut up, b*tch!' So I guess I did what he wanted me to do - be a man."
Cobain's sarcastic response eased the tension, but when Love insulted the intelligence of Rose's girlfriend, the GNR singer left in a huff.