Photo: Warner Bros. Pictures
Entertainment
Going in Style Movie Quotes

April 23, 2017
160 votes
134 voters
5.7k views
List Rules Vote for your favorite Going in Style movie quotes!
Going in Style movie quotes provide the laughs within the film about three old men who try to rob a bank to regain their lost pensions. The comedy movie was directed by Zach Braff using a screenplay Theodore Melfi adapted from the 1979 film of the same name by Martin Brest. Going in Style opened in theaters in the United States on April 7, 2017.
In Going in Style, Willie (Morgan Freeman), Joe (Michael Caine) and Al (Alan Arkin) are three friends and senior citizens enjoying their days living off of their pensions. So when their former company announces that pensions are being frozen, the friends are angry and worried, with good reason.
Joe, who witnessed a bank robbery a short time ago, suggests they go after the bank that's liquidating their pensions and get their money back. It sounds like a great plan in theory, but as the friends soon learn, they know zilch about how to pull off a successful bank robbery. The hilarity ensues as the trio try their best to learn the tools of the trade and get back the money they desperately need.
Going in Style opened alongside the likes of other spring 2017 movies such as Smurfs: The Lost Village, The Lost City of Z, Spark: A Space Tail, and The Fate of the Furious.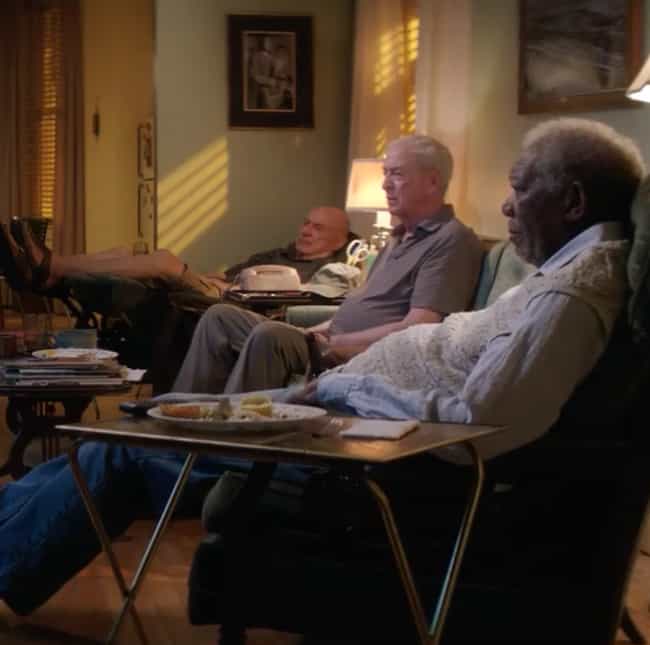 Willie: Luke, it's the only choice she's got.
Al: She's not going to move to a farm in those heels.
Joe: She's kissed them all, with her tongue.
Willie: She's a walking venereal disease.
The three friends enjoy an evening in front of the television in these Going in Style movie quotes. Watching The Bachelorette might not be what you'd expect three old men to enjoy, but they seem pretty into the show.
Should this be higher or lower?
Let's Go Get Our Money Back
Willie: Williamsburg Savings will manage the liquidation of the fund.
Joe: These banks practically destroyed this country. They crushed a lot of people's dreams, and nothing ever happened to them. We three old guys, we hit a bank. We get away with it, we retire in dignity. Worst comes to the worst, we get caught, we get a bed, three meals a day, and better health care than we got now.
Al: I want to rob that bank.
Joe: Let's go get our money back.
Over lunch, the friends talk about the bank that has seized their pensions. After Joe's tirade about the banking industry, the others get an idea on how they can get even.
Should this be higher or lower?
Three Men Walked Off with $1.6 Million
Banker: I'm seeing an overdrawn balance in your checking.
Joe: Yeah, my mortgage payment tripled.
Banker: I disclosed a possibility of a rate hike during your re-fi. Do you remember that?
...
Willie: The three men walked off with $1.6 million.
Joe: They choreographed it like a dance.
Willie: Like a conga line right into prison.
Joe: They didn't get caught.
Just as Joe is meeting with a banker about his accounts in these Going in Style movie quotes, the bank is robbed by three masked men. Later, Joe describes the incident and notes just how easy it was for the thieves to get away with a bucket of money, seemingly without consequence.
Should this be higher or lower?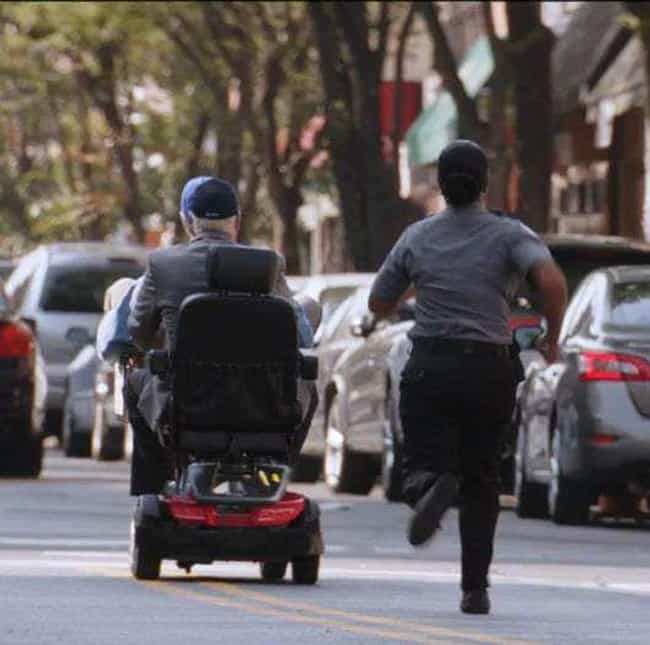 Not an Admission of Guilt
Security Guard: Halt! Halt!
Al: What are you chasing me for?
Security Guard: Don't make me taze you!
Al: This is not an admission of guilt. I am just tired.
Following their attempted grocery store heist, Al is chased by a security guard in these Going in Style movie quotes. Al quickly gives up, but makes it clear that he is admitting no guilt whatsoever.
Should this be higher or lower?