Total Nerd
All The People Who Are Saying 'Solo' Is Great

2k votes
237 voters
4k views
14 items
List Rules Vote up the things you loved about Solo: A Star Wars Story.
Despite an opening weekend that fell short of box office projections, fans searching for positive reviews of Solo: A Star Wars Story don't have to look far. Two years after Rogue One was released, Disney's second Star Wars one-shot has hit theaters with Alden Ehrenreich in the captain's seat (eventually). Solo folds heist and western tropes into the Star Wars universe while filling in fans on how Han won the fabled Millennium Falcon in a game of sabacc and how he made the Kessel run in 12 parsecs. It also offers up a ragtag bunch of heroes, villains, and rogues to add to the greater Star Wars canon.
Prequels can be a hard sell, especially with such a thoroughly documented expanded universe. Critical reception for the Han Solo origin story has been very mixed, almost to a love/hate degree. The best reviews of Solo: A Star Wars Story might persuade you to board the Falcon for another trip to the galaxy far, far away.
This article is SPOILER-FREE.
They Get Han And Chewie's Relationship Right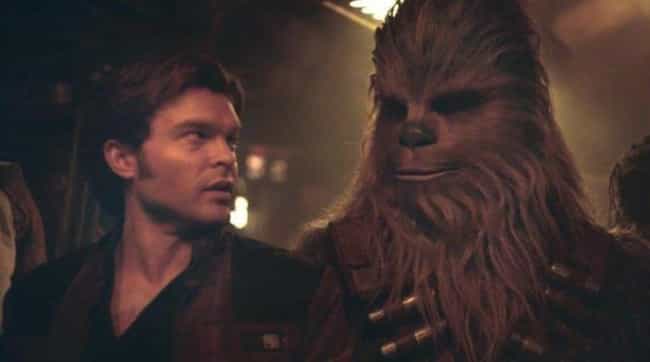 Where would Han Solo be without his big, furry life partner? Fans hoping to see Han and Chewie's first meeting won't be disappointed. Several critics call out how the film succeeds in building the foundation of their relationship, and Matt Zoller Seitz wrote for RogerEbert.com about how it actually made their dynamic deeper:
Solo is hauntingly effective in a very specific way: it gives you a strong sense of Han Solo and Chewbacca's friendship: how it formed, how it solidified, and what it gave to each of them. Now that we've seen the full arc of Solo's life, the innocent joy of discovery that's present in every scene between the two of them acquires a sorrowful undertow.

Do you agree with this?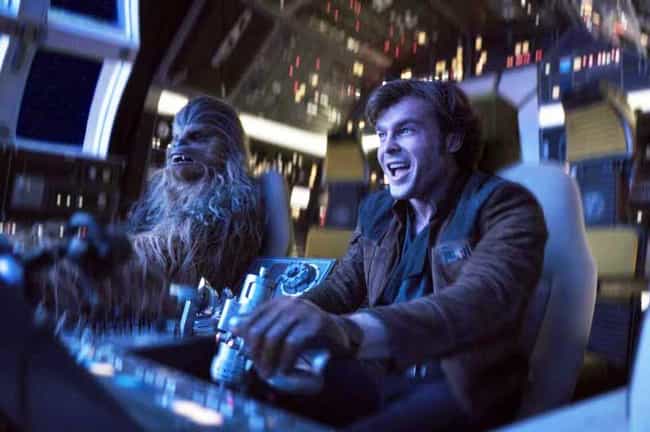 After the heavier tones of Rogue One and The Last Jedi, Star Wars fans are likely ready for some lighter entertainment in their space operas. Many critics think Solo cranks up the fun to just the right level. "Like Han Solo himself, Solo is rough around the edges," Britton Peele summarized for GuideLive. "Under the grime, though, it's a fun romp through space that's more lighthearted than you might expect from Star Wars."
"The heavy Star Wars legacy sits lightly on Mr. Ehrenreich's shoulders in a Disney-LucasFilm movie that is finally having fun," Kate Taylor concluded in her review for The Globe and Mail.

Do you agree with this?
It's A Treat For Those After Something Different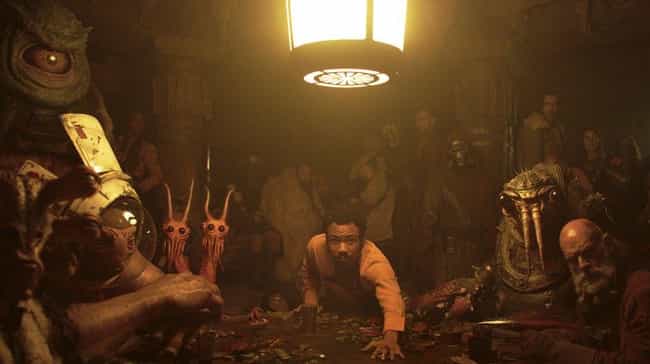 If you're looking for something that's more Star Wars-adjacent than pure Star Wars, then Solo might be just the tonic you've been thirsty for, according to The Atlantic's Christopher Orr:
Best of all, the movie is different. There's no Death Star or Starkiller Base, no Imperial vessel or HQ that needs to be infiltrated in order to turn off a shield or tractor beam or interstellar tracker. There's no mumbo jumbo about the Force, no lightsabers, no First Order, and scarcely a mention of the Empire. This is a movie set in the universe of Star Wars that, for once, doesn't feel it needs to be a rehash of Star Wars.

Do you agree with this?
Ron Howard Is Steady Behind The Camera
Final stages of post on #Solo It's gratifying to see everybody's dedication to this story - going back to 2012 - adding up in such a fun & satisfying way. So much talent involved. pic.twitter.com/Mfe07XNOKs

— Ron Howard (@RealRonHoward) March 31, 2018
Solo ran into trouble during production when co-directors Phil Lord and Christopher Miller were fired over a filmmaking approach that frustrated producers and some crew members. With little time to spend on finding a replacement, Ron Howard was brought on to get the production back on track. As a Hollywood veteran with blockbusters like Apollo 13 and Backdraft under his belt, Howard provided a steady presence to make sure the movie stayed on schedule.
Being brought onto a production mid-way can't be easy, something some critics think Howard made the best of. "The first heist involves boosting starship fuel at the behest of sinister playboy Dryden Vos," Phil De Semlyen wrote for Time Out. "The sequence is a rush, and the first of a few reminders that the man who made Apollo 13 knows how to cut between outer space action and claustrophobic cockpits."