Entertainment
Goon Movie Quotes

386 votes
214 voters
156.9k views
8 items
The best 'Goon' movie quotes include some of the funniest and most memorable lines from this 2012 hockey comedy film. In 'Goon,' Seann William Scott is Doug Glatt: A hapless, hopeless guy who longs to finally become someone important (like the rest of his family members). Somehow, Doug winds up as a hockey "enforcer" -- an unofficial hockey position that involves fighting or checking anyone who comes after team members (especially the stars). Not surprisingly, some of the most hilarious quotes from 'Goon' come from Doug, as he goes from unassuming newbie to hockey superstar almost overnight -- despite the fact that he actually can't play hockey at all. See a favorite 'Goon' quote listed here? Vote it up! And, if your personal favorite quote isn't listed, by all means, add it!
'Goon' features an all-star cast. In addition to Seann William Scott, the movie also stars Jay Baruchel, Liev Schreiber, Alison Pill, Eugene Levy and Marc-Andre Grondin. As Doug "The Thug" makes his way up to major Canadian hockey, he gets hired to defend Xavier Laflamme (Grondin), a player still recovering from an on-ice attack by Ross "The Boss" Rhea (Schreiber). Can Doug keep his teammate safe? Doug pretty much beats all the odds to get to the big leagues in hockey...especially considering the fact that he can't skate, and he really can't play the game!
They Just Want You to Bleed

Ross: "You know they just want you to bleed, right?"
Doug: "I'm here to do whatever they need me to do, you know? If they need me to bleed, then I'll bleed for my team."
Ross: "Yeah. I suppose you heard I'm gonna retire at the end of the season. I've been at this since I was 17, and I'll be damned if I'm gonna go out like some nancy-boy, middle aged f*ck. You understand?"
Doug: "Yeah, I understand."
Ross: "You have my respect. Whatever that means to you, you got it. But know that in your heart, if ever there comes a time when it gets down to the marrow and it's just you and me, kid, I will lay you the f*ck out."
Ross "The Boss" Rhea (Liev Schreiber) is Doug's idol -- but he's obviously slightly mentally unbalanced, and ready to walk away. That doesn't mean, however, that he won't kick Doug's a** if given the opportunity...
Should this be higher or lower?

Hockey players: "We should sign his dick."
Doug: "What's happening here?!"
John Stevenson: "I'll sign your dick, Doug."
The world of pro hockey players is a totally unfamiliar one for Doug. They have some bizarre rituals.
Should this be higher or lower?
The Number 69: It's Hilarious

Coach: "Jesus Christ! It's just too bad that those are your teammates you f*cked up out there."
Doug: "Oh...I'm sorry, sir."
Coach: "Of course, on the bright side, those are your teammates you f*cked up out there. What do you say, son? You want to be an Assassin?
Doug: "Yes, yes!"
Coach: "What number do you want to wear?"
Pat (yells from the stands): "69! Take the number 69, it's hilarious!"
Doug: "Is that number taken?"
When Doug goes to a hockey game with Pat, he knocks out a player who was charging his friend. That one move seals Doug's fate: Even though he can't actually play hockey, he gets a tryout and joins the team.
Should this be higher or lower?
Herpes in the Parking Lot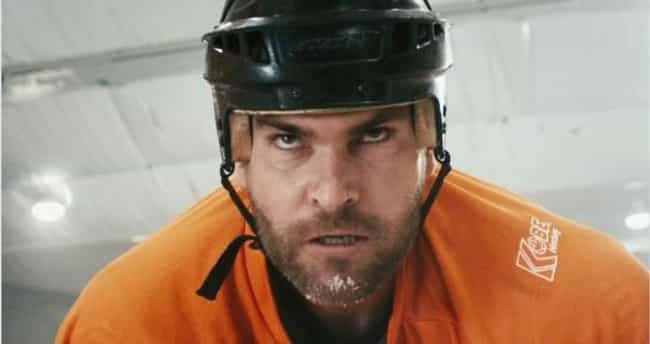 Doug: "Where is LaFlamme?"
Gord Ogilvey: "Probably giving some single mother herpes out in the parking lot."
As part of his job as an enforcer, Doug has to guard anyone who comes after Xavier Laflamme (Marc-Andre Grondin). Laflamme is a bit of a loose cannon, who may or may not carry a sexually transmitted disease.

Should this be higher or lower?