Total Nerd
The Comic Book History Of Flerkens And Captain Marvel's Scene-Stealing Feline Pet, Goose

Updated June 14, 2019
24.1k views
12 items
When Carol Danvers made her cinematic debut in Captain Marvel, she probably didn't expect to be upstaged by a cat - but those with knowledge of Goose's comic book origins could see it coming from light years away. Goose's Marvel Comics counterpart is pretty similar to the MCU version - with a few notable exceptions, including her name.
Carol Danvers's cat - both in her film and comic books - is not a cat at all, but a Flerken. These aliens may look like earthly felines, but there's a lot more to them than meets the eye in both the literal and metaphorical sense. Like many Marvel characters, Flerkens can grow to be surprisingly ancient, and like the Avengers' ages, it is difficult to tell how long Danvers's kitty companion has been around.
There's no doubt that Goose already qualifies as one of the most unique characters in the entire Marvel Cinematic Universe, but her comic book backstory is even more interesting.
Goose Was Renamed From 'Chewie' To Avoid The Oversaturation Of Disney's Other Cosmic Franchise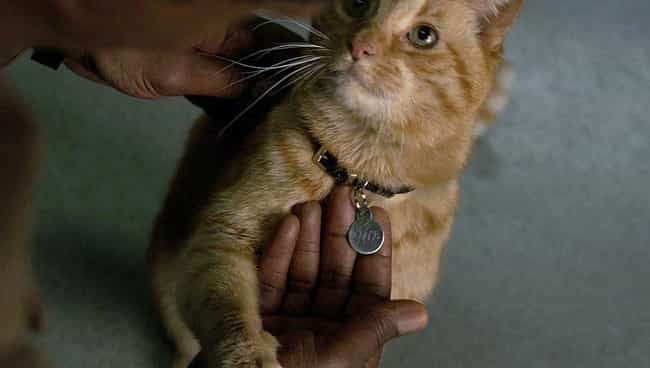 Fans looking for evidence of Goose the scene-stealing feline of Captain Marvel in the pages of Marvel Comics might find themselves coming up empty-handed. Although Carol Danvers does have an alien with unholy abilities masquerading as a house cat in comic book continuity, its name is not Goose - it's Chewie.
The directors of the film chose to rename the cosmic critter - named after Chewbacca, of course - to avoid conflagration with Disney's other star-flung franchise. As co-director Ryan Fleck explained:
It wasn't a big thing. It just felt like Star Wars was so part of the culture that we wanted to remove it a little bit, you know, the nostalgia for the Star Wars movies which there are so many of around us. You know, when we were kids, Star Wars felt like it was something from the '70s and '80s, and I think that was the spirit of Chewie from the comics, but we felt like we wanted to sort of just slide away from that slightly.
The Flerken's cinematic moniker is a reference to Maverick's doomed wingman in Top Gun, keeping the reference to a cinematic co-pilot alive.
Carol Has Chewie For Years Before She Realizes Her Cat's Really An Alien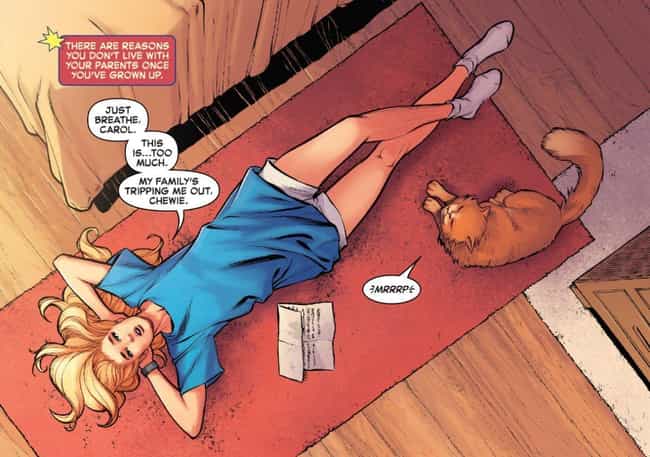 Unlike her encounter with Goose in Captain Marvel, the comic book version of Carol Danvers has a lengthy history with Chewie, her pet Flerken. Danvers adopts Chewie, thinking she's an ordinary house cat, way back in 2006's Giant-Size Ms. Marvel #1 - though the character is not named until several issues later.
Chewie's extraterrestrial origins aren't revealed until 2014's reboot of Captain Marvel, which means this adorable Flerken spent the first eight years of her publishing history with Danvers and the readers believing her to be nothing more than an ordinary cat.
Rocket Raccoon Identifies Chewie As A Flerken Immediately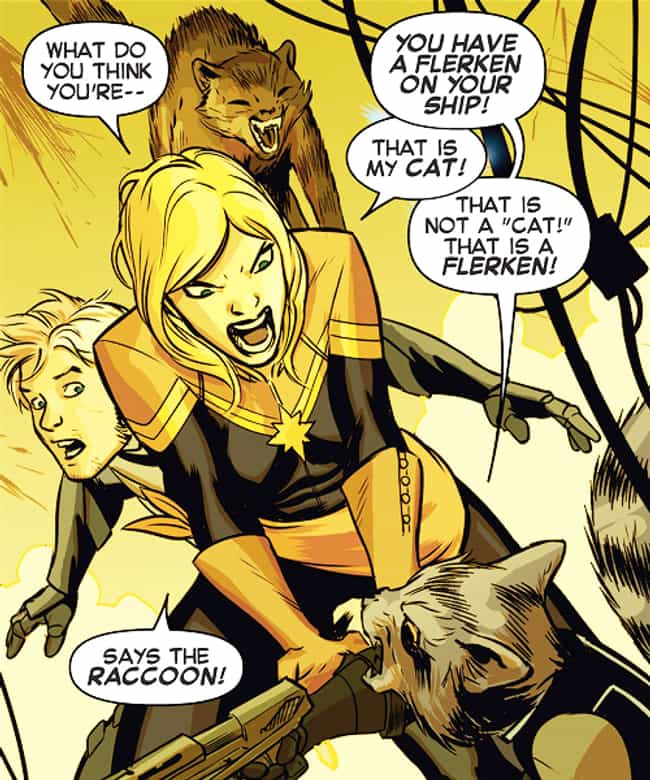 The first character to correctly identify Chewie as a Flerken is Rocket Raccoon during a stint in which both Carol Danvers and Chewie are adventuring with the Guardians of the Galaxy. Rocket tries to take down the creature, but Captain Marvel isn't about to stand around and let somebody hurt her beloved pet.
Rocket warns Danvers that she should put down the Flerken before it can lay eggs, but she laughs off his admonitions as nothing more than the ravings of a space-lunatic - going as far as to suggest that his claims are ridiculous coming from "a raccoon." Before long, however, the truth of Rocket's warnings become messily apparent.
Carol Learns Chewie Is A Flerken When Her Pet Lays 117 Eggs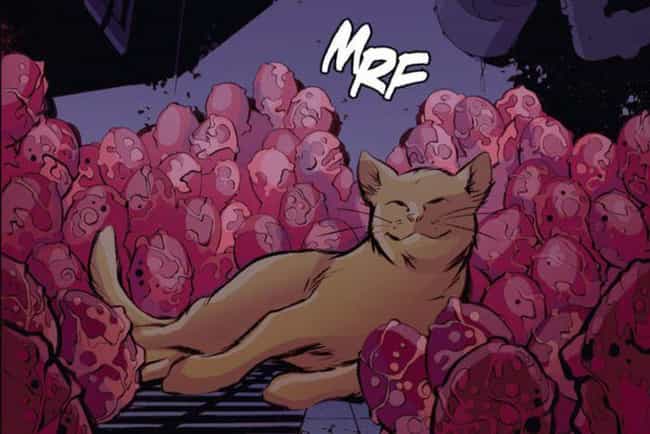 When Rocket warns Carol Danvers the creature she believes to be her pet cat will soon lay eggs, the hero doesn't believe him. Even Rocket is shocked, however, when they find Chewie bedded down in a gooey hive surrounded by her eggs - all 117 of them!
This is the moment when Danvers finally believes Rocket that Chewie is, in fact, a Flerken - and to make an already stressful situation worse, it's also the moment her ship comes under peril from alien bandits. Captain Marvel and Rocket valiantly ward off the rogues while Chewie's eggs hatch. When it's all said and done, the two find themselves in possession of 117 extraterrestrial kittens.