Total Nerd 15 Moments That Prove Mark Millar Is The Most Gruesome Writer In Comic Book Hist

955 votes
260 voters
27.3k views
15 items
List Rules Vote up the most gruesome incidents in Mark Millar's comic books.
Mark Millar might be one of the biggest writers in Hollywood that you've never heard of. To be fair, Millar rarely works on actual screenplays - he's known more in the nerd world for his amazing comic book writing. His stories continue to inspire some of the world's biggest blockbuster movies.
His first independently-created comic book, Wanted, was turned into a hit film, and things only got better from there. The revolutionary Kick-Ass was soon to follow, along with the surprise success Kingsman: The Secret Service. The latest Millar comic to inspire Hollywood is Old Man Logan, which is his take on Marvel's Wolverine that inspired the 2017 cinematic masterpiece Logan. This is the first time a Wolverine movie has been rated R, and those familiar with Millar's work will no doubt find that appropriate.
While Mark Millar's greatest comic books are known for scintillating plot twists and intricate character drama, he is most notable for the insane amount of gore that he includes in his work. The bloodiest moments in Mark Millar comics are sure to shock even the most veteran comic book aficionados. Check out some of the most gruesome scenes in Millar's comics below, and vote up the ones that are so shockingly violent, it makes your stomach lurch.
Old Man Logan: Logan Vs. Hulk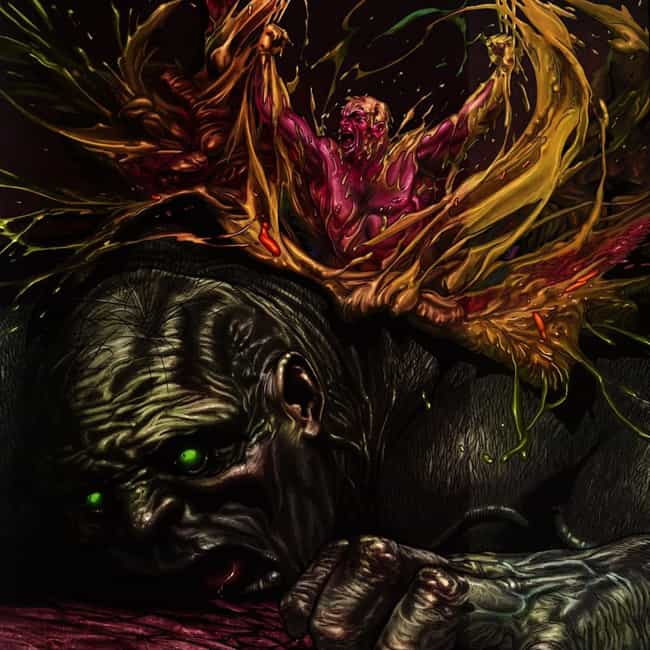 Wolverine comics tend to be among the more violent, as do comics set in dystopian futures. These two elements were combined for the incredibly successful 2008 series Old Man Logan, which was written by Mark Millar and provided the inspiration for the 2017 film Logan.
The villains have won and taken over the world that Logan lives in. Among those villains is former ally The Hulk, who has sired a race of inbred bastards with his cousin, She-Hulk. His offspring act as landlords to Logan and his family, and the animosity escalates until the Hulklings murder Logan's entire family. He kills them all in revenge, including the original Hulk.

Is this gruesome?
Jupiter's Legacy: Death Of Lady Liberty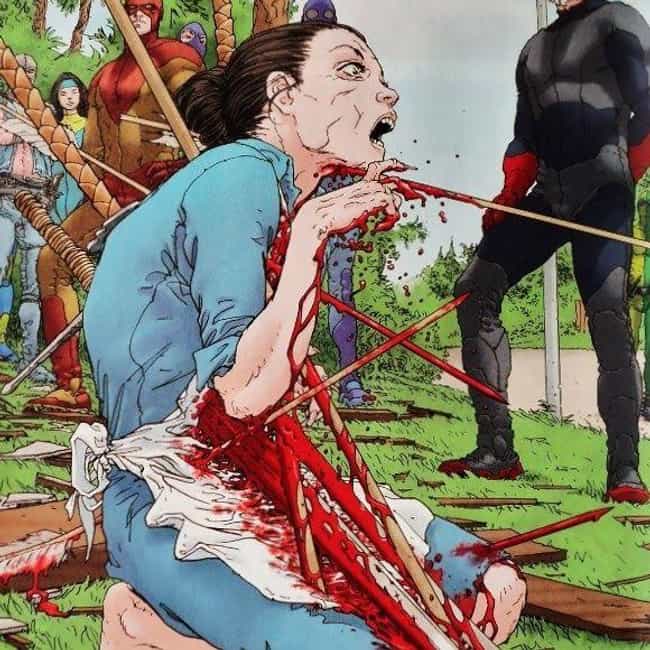 Jupiter's Legacy is a somewhat unheralded independent series that Mark Millar began in 2013. It takes an interesting approach in following a bunch of second generation superheroes, whose parents were all famous heroes in their own time. The most prominent of the older generation are the Utopian and his wife, Lady Liberty. Both of these characters meet a gory end, but Lady Liberty's is arguably worse. She is nigh-invulnerable, but apparently not completely, as she found out when pierced by several sharp objects wielded by fellow superhumans.
Is this gruesome?
Old Man Logan: Hawkeye's Daughter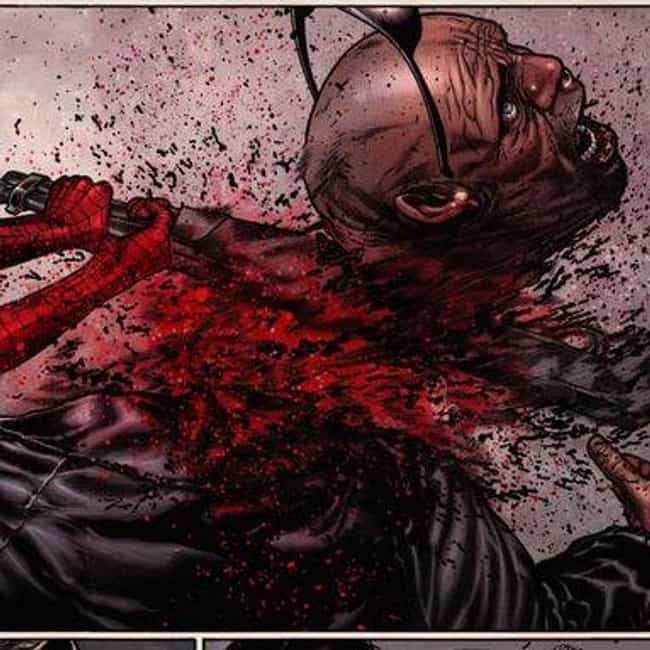 A blind, elderly Hawkeye makes for an odd sidekick for Wolverine in Old Man Logan, but the ponytailed Avenger proves his worth on multiple occasions. One of the things revealed about old man Hawkeye is that in the past, he married one of Spider-Man's daughters (which is gross) and they had a daughter named Ashley. As it turns out, Ashley inherited her grandfather's superpowers and her father's bad attitude. She shows off her potential destructiveness when she casually beheads a goon with a shotgun. Not by shooting him, mind you, but just by swinging it at him.

Is this gruesome?
Old Man Logan: Logan Vs. X-Men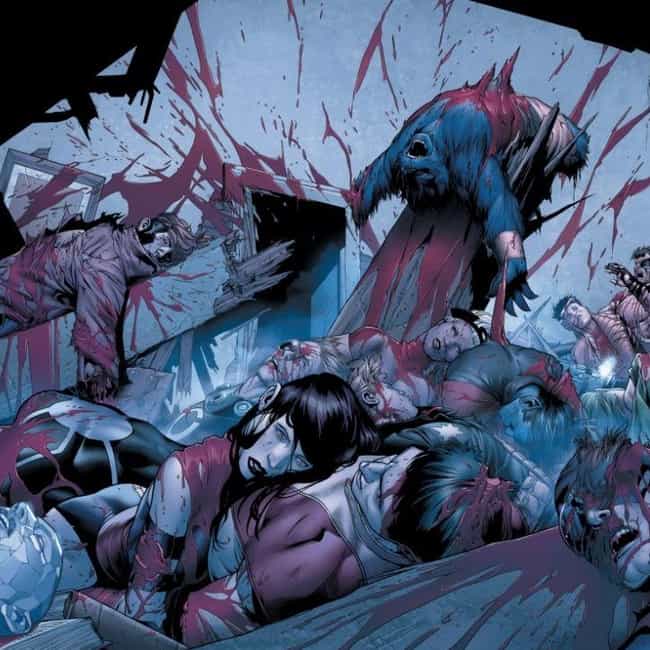 One of the most gruesome moments in Old Man Logan happened long before the main plot of the book. The story begins with Logan as an old man who has completely renounced violence, despite living in a world ruled by supervillains. Eventually, the reason for his reinvention is revealed, and it isn't pretty.
When the villains organized the strike to end all heroes, they used Spider-Man rogue Mysterio against the X-Men. He used his illusory powers to convince Wolverine that a cadre of bad guys were attacking the X-Mansion, leading him into a berserker rage during which Logan kills them all. It was only after Mysterio's effect wore off that he realized he had actually been fighting against his teammates the entire time and had slaughtered them all.

Is this gruesome?