VOTE
The Grumpiest Harrison Ford Moments on Record

818 votes
206 voters
52.4k views
28 items
List Rules Vote up the funniest grumpy Harrison Ford moments
Harrison Ford's name is practically synonymous with Indiana Jones, Han Solo, and Blade Runner. You can't think of him without being reminded that he pilots the Millennium Falcon - the ship that made the Kessel Run in less than 12 parsecs. You can't help but marvel at the way he protected the Ark of the Covenant, rescued the Sivalinga stone from the Mola Ram, and made sure that the Holy Grail didn't fall into the hands of Nazis. But Harrison Ford is equally famous for another trait that has nothing to do with his rugged good-looks, or his adventure-seeking, action-packed movie roles. Harrison Ford is Hollywood's biggest grump.
When you've been in the business for 45 years, and have been famous for over 38 of them, becoming world-weary is inevitable. As he's advanced in his career, and in his life, Harrison Ford has grown tired of ridiculous interview questions and pointless fan interactions. Even his roles have become more grumpy - Colonel Graff from Ender's Game, Mike Pomeroy from Morning Glory, and Colonel Dolarhyde from Cowboys & Aliens weren't exactly fuzzy, feel-good characters.
Like a Wookie who might tear your arm out of your socket if he loses a game of space chess, Harrison Ford's inner curmudgeon is awakened with a vengeance any time a reporter or fan asks him a boring stock question about Star Wars or Indy. He's notorious for letting his grump flag fly on promotional junkets, where some questions about acting or working on the film illicit the response: "I don't know anything about it. I just work here."
Ford has tried to explain where his crankiness stems from. He said, "What I've noticed, is that reporters do their research and pick up the same things over and over again. There's some big, low-lying fruit that they grab, and then they repeat. And they come with the expectation that I'm going to be difficult to transact business with." He's not a man who suffers fools - or Wookies - gladly, and he's not afraid to show interviewers his intolerance for stupidity.
Vote up the best grumpy Harrison Ford moments below, and let us know what you think in the comment section!
When Told Everyone He Was Absolutely Over It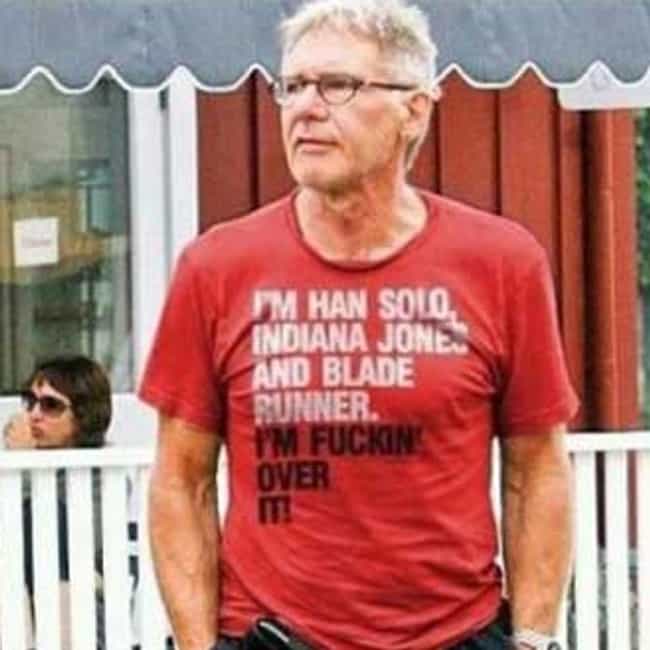 After seeing Ian McKellan debut his famous "I'm Gandolf & Magneto" t-shirt, Harrison Ford decided to buy a tee of his own. His reads, "I'm Han Solo, Indiana Jones, and Blade Runner. I'm F*ckin' Over It!" That should quell any fan questions about his
most popular movies
!

Is this funny?
He Loved This Super-Cut of His On-Screen Angry Pointing
The geniuses at Late Night with Conan O'Brien put together a super-cut of every time Harrison Ford pointed at something angrily. Ford loved it.
Is this funny?
When He Sarcastically Bantered With Comic-Con Fans
During a panel for Ender's Game in 2013, a fanboy asked, "If Han Solo and Indiana Jones were to meet, what would they say to each other?" Chris Hardwick knew that the fan was skating on thin ice, and tried to cut him off by saying, "I want to stop you right there." But after a moment, he conceded, "Okay, just do it. I want to know, too."
Ford gave his patented grumpy look and said, quite sarcastically, "Hi. How are you?" And then he shrugged and shook his head.
A second fanboy jumped to his feet immediately after the above reaction and asked, "I used to pretend to be Indiana Jones when I was a kid [...] Do you think Han Solo would be a good soldier for [Colonel Graff's] army?" Ford replies, "You and I have a lot in common. I used to dream about being Indiana Jones when I was younger, too. Not so much anymore. And I don't think Han Solo would be good in anybody's army. I think he's what we call now an independent contractor."
Is this funny?
When He Claimed He Was Unaware of His Reputation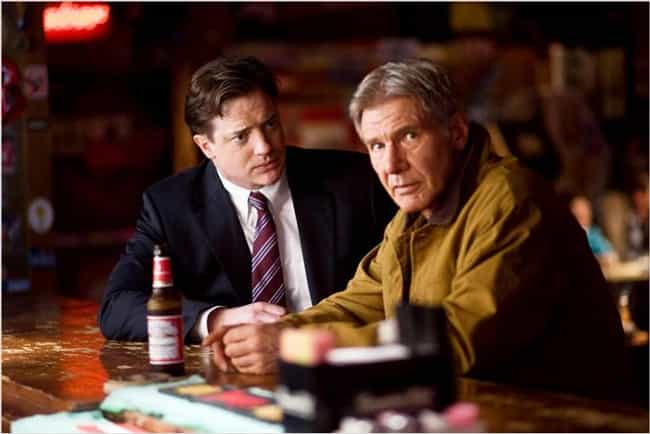 In an interview with AV Club's Tasha Robinson to promote Extraordinary Measures, Ford denies being difficult. Robinson asks, "You have a reputation for hating doing publicity interviews. Does having that out front help?"
Ford responds, "I didn't know that I had that reputation. I don't mind answering thoughtful questions. But I'm not thrilled about answering questions like, 'If you were being mugged, and you had a lightsaber in one pocket, and a whip in the other, which one would you use?'"
He's got a point.
Source: IFC

Is this funny?