Weird History The Time GnR And Metallica Joined Forces To Put On One Of The Worst Concerts In Music History

Among the historically-minded rock fanatics of the world, few team-ups are more legendary than the 1992 Guns n' Roses and Metallica tour. Both bands were at their peak of fame and glory. GnR's latest double album, Use Your Illusion, sold more than 500,000 copies in just the first two hours of sales, while Metallica's famous 1991 "Black Album" was the #1 seller on the Billboard charts for four weeks running. Even the critics were fans, with Use Your Illusion getting a 4-star review from Rolling Stone and Metallica winning the Grammy for Best Metal Performance.
It almost makes you wonder how two such beloved acts could create something so infamously devastating as the 1992 Montreal riot. That question gets easier to answer when you know read about the wild GnR stories that outline their outrageous behavior both on- and offstage in their early days. Metallica was no stranger to intense antics, either, evidenced by their multiple rehab stints.
On that fateful day of August 8, 1992, fans packed the Olympic Stadium (sometimes known as The Big O by natives), completely unaware of the wild night ahead. Dangerous stage accidents, angry crowds, and diva performers came together in a perfect storm to wreck the venue and send multiple people to the hospital. This is the bizarre and undeniably metal story of the Guns n' Roses Montreal 1992 riot.
All 54,666 Seats Were Sold For The Montreal Concert

Fans were stoked when Metallica and Guns n' Roses announced a joint tour for the summer of 1992. They planned over 20 stops between the US and Canada. The August 8th showing in Montreal's Olympic Stadium quickly sold out - all 54,666 seats. That fated day, people crowded into the Big O in anticipation for an awesome metal concert - little did they know that which each hour into the night, things were going to go terribly, terribly wrong.
Metallica Performed First, But Their Set Was Cut Short When Hetfield Was Horrifically Burned By Pyrotechnic Displays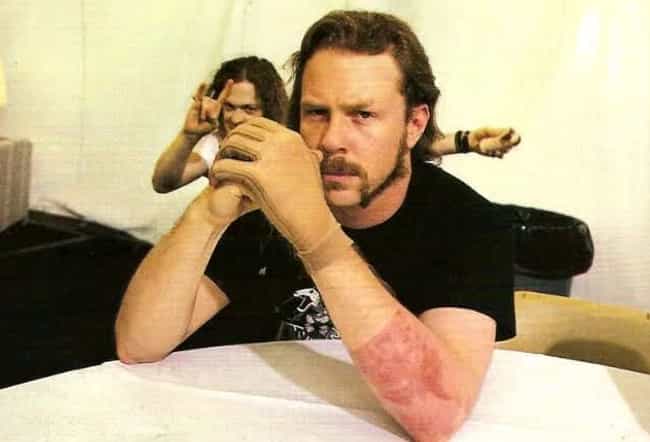 Metallica kicked off the Montreal concert with their commercial single, "Creeping Death." About an hour into the show, around 8:05pm, they started playing "Fade to Black." Metallica frontman James Hetfield found himself out of place during a major pyrotechnic display. As flashpots exploded all over stage, he was caught in a massive plume of fire. As Hetfield himself remembered:
"I'm burnt - all my arm, my hand completely, down to the bone. The side of my face, hair's gone. Part of my back. [...] I watched the skin just rising, things going wrong."
He was rushed offstage to be sent to the closest hospital, but not before another painful encounter. Hetfield recalled some unwanted help from the Big O staff:
"The security guys are kinda walking around, and one guy bumps into my hand. I just lost it; I screamed and punched him right in the nuts," he laughed. "This is pain I've never felt in my whole life and it won't go away."
Metallica Cut Their Performance Short And Promised To Return To Montreal As Soon As They Could
Immediately after Hetfield was rushed to a local hospital, the remaining Metallica band members returned to the stage to apologize to their fans. They cancelled their remaining set and drummer Lars Ulrich promised that Metallica would return to Montreal within the next few months to perform a makeup show when Hetfield recovered. (They were true to the word, as they returned to the Montreal Forum within a year for two half-prised concerts.)
Guns n' Roses Had To Start A Lot Sooner Than Expected, And It Took Nearly Three Hours To Get Everything Set Up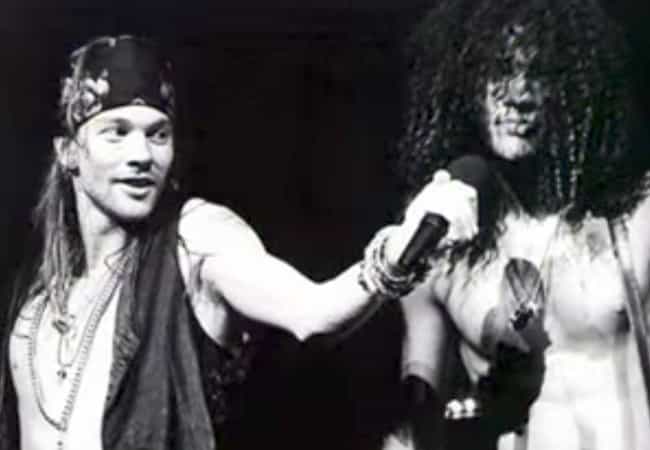 With Metallica forced to end their set early, many in the stadium expected Guns n' Roses to step in early to keep the fans happy. Yet this wasn't the case. As Montreal impresario Donald Tarlton said years later:
"The tremendous opportunity that Axl missed was, when Hetfield got hurt, he could have been the hero of the century. Come out to the audience, say, 'Listen, my comrade brother-in-arms has fallen. They can't finish their show. So I'm gonna give you a show to remember.'"
Instead, the usual two-hour setup process to switch Metallica's equipment for Guns n' Roses took nearly three hours. Needless to say, the energy in the stadium was very low by the end of the long, arduous process of setting up the instruments.