Unspeakable Times
The Top Crimes Committed By Guys in Santa Suits

Updated November 5, 2019
54k views
17 items
'Tis the season to be jolly - or, if you're one of these naughty St. Nicks, greedy, lecherous and absolutely, undeniably unfit to set foot in public. Sometimes, Santa goes bad in the most disturbing way possible, so we've put together a list of the most horrible crimes committed by guys dressed in Santa suits. In honor of the holiday season, here are 13 bad guy Santa Clauses that definitely made the naughty list.
What are the top crimes committed by guys in Santa suits? It seems like some of these dudes didn't learn any lessons from the epic Christmas movie Bad Santa, because none of these red-suited perpetrators were very slick in committing these acts. Some of these Santas are bad to the bone, but others are just run-of-the-mill crooks.
Santa Goes After A 74-Year-Old Woman With A 2x4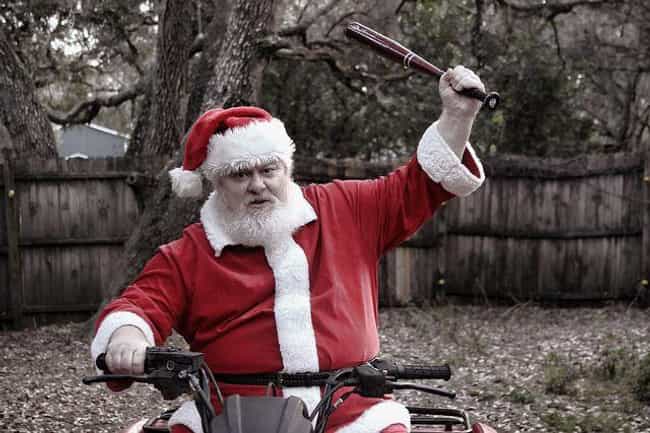 "Peace on earth" and "Goodwill towards men," were not phrases in this mall Santa's vocabulary when he went after a 74-year-old woman with a 2x4 outside of a shopping center in Hartford, CT. Allegedly, the elderly woman had taken a few boxes of Hershey's Kisses from Santa, who promptly chased her and took her down with a large plank of wood.
Police could find no evidence that the woman had taken from him, and charged Santa with assault.
Mall Santa Follows Kids On The Internet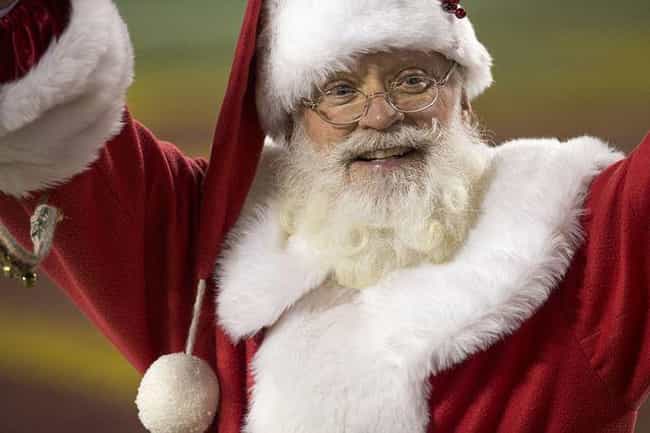 If Dateline NBC's To Catch A Predator had a Christmas episode, this guy could've been the star. Here's what happened: Some creep named James Grey Daniel went on Yahoo Instant Messenger, and solicited a 13-year-old girl for favors. When he arrived at the pre-arranged meeting spot in Mayflower, AR, the police were there, waiting to sting him.
In court, he revealed that he had actually worked as a mall Santa for the past several years, meaning that many children had already sat on his lecherous lap and told him what they wanted for Christmas.
Santa With Sunglasses Successfully Takes From A Bank
Witnesses were shocked when a man dressed in a full Santa suit - including the beard, the belly, the hat, and a pair of black Raybans - pulled a weapon out of his present sack and demanded money from a teller. Several people at the scene said that he was jolly and jovial the entire time, and remained completely in character as Santa.
He even told bank patrons that he was just getting some money out to "pay his elves." How fun! It got serious when "Santa" said that he would return to the bank and terminate everyone in sight if it turned out that there were dye packs in the money.

Children Cry As Santa Goes Down For Disorderly Conduct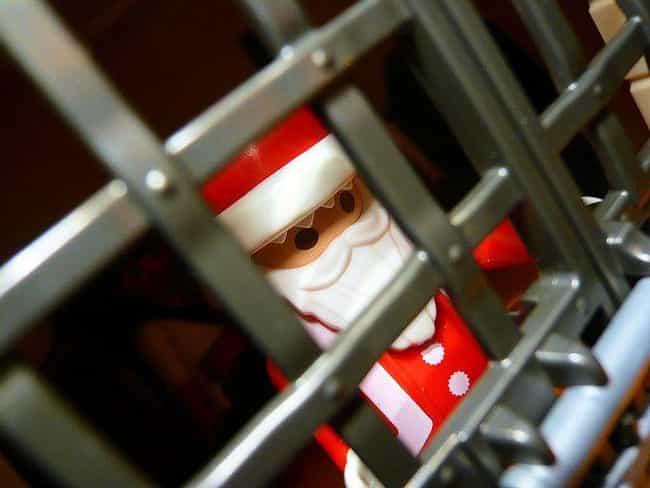 At a major Christmas event in the UK, children were heartbroken to see police take down Father Christmas for disorderly conduct. After Santa's sleigh showed up at a parade-like event in Norfolk, a man dressed in a Santa suit got into a conflict with a local teen. When children up and down the street began crying, someone finally called the police.
"The children were understandably concerned and upset at seeing what they thought was the real Santa being arrested," said an officer at the scene. "Norfolk Police are certain that the real Santa would not approve of people behaving in this way and of course he will continue his pre-Christmas visits and delivery of gifts everywhere on Christmas Day."