Weird History
How The Real-Life Hands Across America Informs The Message Of Jordan Peele's 'Us'

Updated June 14, 2019
55.9k views
10 items
THIS LIST CONTAINS SPOILERS ABOUT US.
In 1986, Ken Kragen, the mastermind behind "We Are the World," dreamed up Hands Across America, a coast-to-coast show of solidarity meant to raise money to fight hunger and end homelessness in the United States. The charitable event took months to plan but ran into financial, political, and logistical setbacks. In the end, it failed to live up to its lofty goals despite all the hype. Celebrities, politicians, and ordinary people all participated in the 15-minute, 4,125-mile chain across America, which also spawned a heartfelt song and even a Super Bowl commercial.
In the 2019 Jordan Peele movie Us, one of the main plot points hinges on an interpretation of Hands Across America. The true story behind Hands Across America isn't as dark as Peele's interpretation, but the real-life facts are just as interesting as Peele's fascinating horror movies.
Hands Across America Was Meant To Combat Homelessness In The '80s
Hands Across America was a fundraiser to fight homelessness and hunger with a coast-to-coast human chain. People would donate between $10 and $35 to hold hands in a line stretching across the country on May 25, 1986, at 3 pm ET.
Created by Ken Kragen, the talent manager behind the celebrity-studded single "We Are the World," the plan was to raise as much as $100 million. The goal wasn't just to end homelessness; organizers also hoped to bring Americans closer together.
A Super Bowl Ad And Star-Studded Video Promoted The Event
Hands Across America was such a big deal that an ad for the event played during the Super Bowl. An '80s-centric video featured a heartwarming song and appearances from Kenny Rogers, Barbra Streisand, Jane Fonda, Don Johnson, Lily Tomlin, and even Robin Williams holding hands with C-3PO.
MTV had its own commercial featuring the Beatles' "I Want to Hold Your Hand."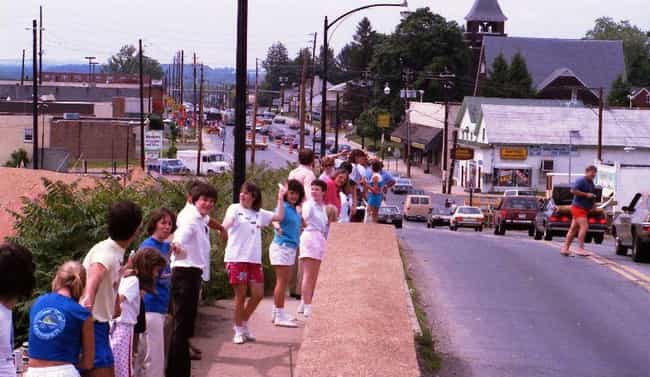 Hands Across America Didn't Stretch All The Way Across America
A chain of people stretching across the United States would be a powerful image, but it wasn't possible to put together something of that magnitude - the country's terrain wouldn't allow for it. The official route stretched through 16 states and Washington, DC.
Even though 5 million people took part in the event, many areas lacked people and hands. To fix empty stretches in the chain, organizers filled the gaps with ribbons and banners.
President Reagan Participated, Sparking Criticism
President Ronald Reagan and his wife, Nancy, participated in Hands Across America, holding hands with children at the White House. Advocates for the homeless were upset over Ronald Reagan's involvement, saying his policies and comments harmed the poor. For example, Reagan once said hunger was caused by a "lack of knowledge" on where to find food:
I don't believe that there is anyone that is going hungry in America simply by reason of denial or lack of ability to feed them. It is by people not knowing where or how to get this help.
Detractors said the Reagans' participation showed the event was nothing more than empty lip service to a serious problem.