Graveyard Shift
The Most Appetizing Meals From 'Hannibal' You Might Actually Try

128 votes
27 voters
1.4k views
14 items
List Rules Vote up the meals that look appetizing even considering the chef's unique ingredients.
For three mouthwatering years, Bryan Fuller's Hannibal was a feast for the senses. The strength of its expressionistic approach was none other than the dazzling visual presentation of the title character's singularly carnivorous appetite. It was as much a cooking show as anything on the Food Network, with the eponymous doctor delivering grandiose meals week after week - making us all hungry in the process.
In order to pull off this culinary gambit in a manner befitting the elegantly theatrical Dr. Hannibal Lecter (brought to life by Mads Mikkelsen), the show's producers hired a food designer - Janice Poon - to make and plate each dish. "At heart it's a horror genre, and I didn't know which way they were going," Poon told GQ. She was tasked with keeping the cuisine macabre while making audiences salivate. Visually, the results speak for themselves - the perfect palette for Hannibal's palate.
The origins of Hannibal's meals span the globe, and many are rooted in ancient or medieval cooking practices. The recipes, needless to say, call for lots of fat and lots of meat - from animals, of course. Then again, ingredients are merely details. If you don't ask what's on your plate, we won't tell. So, just among friends: Which of these gourmet meals look good enough to eat?
Note: Megan Summers contributed to this article.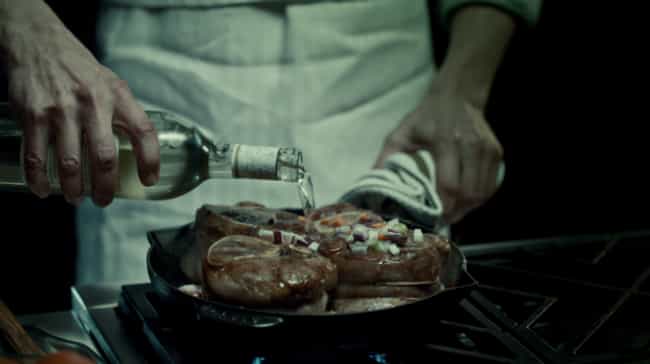 Episode: "Sakizuki" (Season 2, episode 2)
Occasion: A leg is missing, first of all. Or so we think before seeing our dear Hannibal unwrap said leg like a fresh cut of beef, then cleanly slice it into four robust pieces. It's already tantalizing - and that's before we get a close-up of Hannibal handling those shanks into a full flour dredge, then dicing, squeezing, and pouring the remaining ingredients into a pan and sliding it into the oven.
The final result is an immaculate serving of... let's call it veal. That he prepares four servings despite eating dinner alone - along with a bottle of red wine - can only mean one thing: You and two of your friends are cordially invited to a home-cooked meal with master chef Hannibal Lecter. Who could say no to that?
Recipe: Osso buco is an Italian veal dish traditionally served with risotto or polenta. Giada De Laurentiis's recipe calls for:
1 sprig fresh rosemary
1 sprig fresh thyme
1 dry bay leaf
2 whole cloves
Cheesecloth
Kitchen twine, for bouquet garni and tying the veal shanks
3 whole veal shanks (about 1 pound per shank), trimmed
Sea salt and freshly ground black pepper
All-purpose flour, for dredging
1/2 cup vegetable oil
1 small onion, diced into 1/2-inch cubes
1 small carrot, diced into 1/2-inch cubes
1 stalk celery, diced into 1/2-inch cubes
1 tablespoon tomato paste
1 cup dry white wine
3 cups chicken stock
3 tablespoons fresh flat-leaf Italian parsley, chopped
1 tablespoon lemon zest

Yum?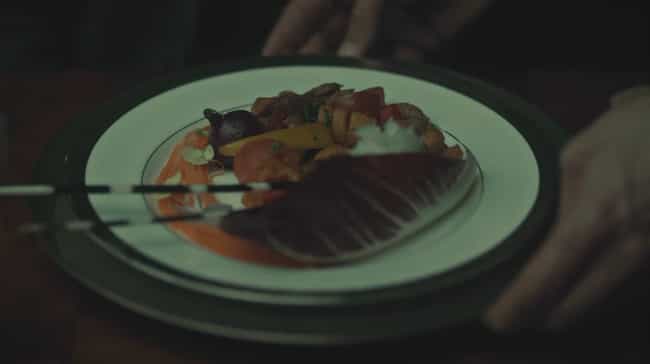 Episode: "Naka-Choko" (Season 2, episode 10)
Occasion: The long-running, slow-burning, intimate tete-a-tete between Hannibal Lecter and Will Graham reaches a milestone in this scene, as the latter puts into motion a unique gambit (with Freddie Lounds as the convenient pawn) intended to ensnare the former.
What follows is one of the series' most romantic scenes - a scene of seduction, with Will playing the role of a predator even as he locks eyes with the ultimate predator. But who is playing whom? Or are they both willing, self-aware participants? The answer to this question is just as nebulous as the nature of the meat they're sharing; Will insists it's a "slim and delicate pig," but Hannibal doesn't think so. "It's long pig," Will clarifies.
Recipe: The traditional Peruvian recipe calls for steak, but pork or chicken can be used. The recipe provided by the show's food designer Janice Poon includes:
12 ounces sirloin steak cut in strips
3 tablespoons white wine vinegar
1 teaspoon soy sauce
1 teaspoon Worchestershire sauce
1 to 2 cloves garlic, crushed
1 teaspoon grated fresh ginger, optional
1/2 teaspoon crushed cumin seeds, optional
3 tablespoons oil
1/2 red onion, sliced
2 plum tomatoes, in thin wedges
1 tablespoon aji sauce or other hot pepper sauce
Salt and pepper to taste
1 cup frozen spicy French fried potatoes
2 to 3 sprigs cilantro, chopped
She goes into more detail on her blog about how to cook the meal.

Yum?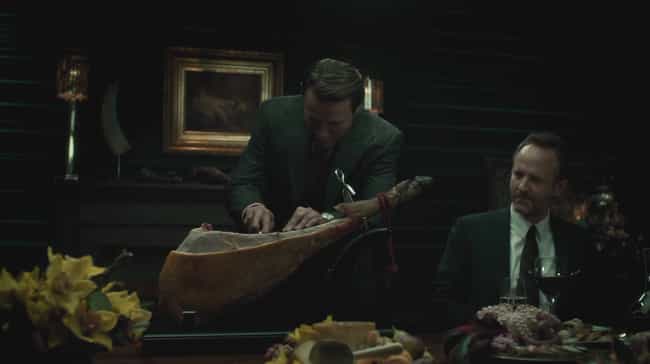 Episode: "Buffet Froid" (Season 1, episode 10)
Occasion: At this point in Season 1, Hannibal is withholding from Will the truth about his encephalitis - with the complicity of Will's neurologist Dr. Sutcliffe. The two accomplices sit down to discuss the situation over an elaborate meal at Hannibal's home, during which the correlation between Will Graham and Hannibal's primal appetite is put in no uncertain terms.
With a giant leg of a rare Spanish ham joining the two at the dinner table, Dr. Sutcliffe remarks about his colleague's taste for "rare treats." He states, "The more expensive and difficult to attain, the better." He then mentions Will specifically: "I know you're fond of the rarefied - what makes him so rare?" We might stop to consider the varied implications of this connection... but, come on - do you see that giant leg? Who's turning that down? Anyone? Frankly, saying no to Hannibal's jamón ibérico - one of only a few thousand selected for slaughter each year, he points out - would be rude.
Recipe: This is a special type of Spanish ham, and there are many fun, easy ways to include this meat in dishes. Spanish tomato bread with ham is a quick, tasty appetizer. One recipe calls for:
4 ripe tomatoes, chopped
1 garlic clove, finely chopped
3 tablespoon olive oil
Salt
Pepper
20 slices of baguette
5 to 6 slices of Serrano ham

Yum?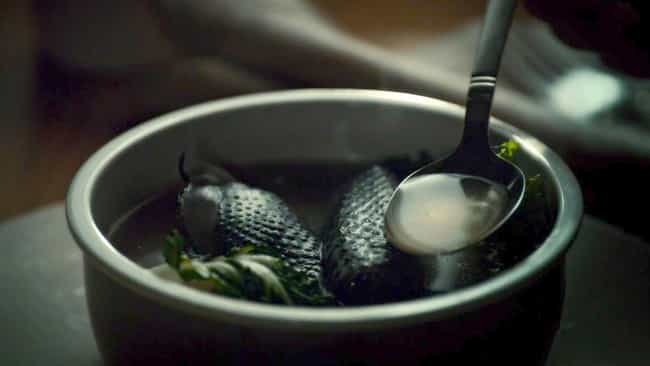 Episode: "Relevés" (Season 1, episode 12)
Occasion: Perhaps Hannibal Lecter has a sentimental streak after all. With Will convalescing in a hospital, it's Hannibal who brings him chicken soup in bed. And not just any chicken, but "a black-boned bird prized in China for its medicinal value since the seventh century." Most friends - let alone psychiatrists - would have settled for Campbell's Chunky.
Rather than the fine china and silverware with which he typically serves his delicacies, Hannibal humbly brings his palliative offering in plastic Tupperware. He and Will sit down and eat together - an intimate rejoinder to the chilly antiseptic surroundings of the hospital itself. A stark contrast to the ostentatious displays of the doctor's typical feasts, this chicken soup - dappled with the evocative reds of dates and wolfberries - stands out for its homey qualities. This meal is an act of affection. If only we could all have a caretaker like Hannibal.
Recipe: The black chicken is actually known as a Silkie chicken, a special Asian bird with black bones. A straightforward ingredients list includes:
1 Silkie chicken
3 to 4 liters water
10 to 12 red dates
1 inch root ginger, smashed
1 small cup wolfberry, optional
Salt, to taste
Chopped green onion and coriander, as needed
Check out the full recipe and instructions by Elaine.

Yum?