Food
Hard Rock Cafe Recipes

Updated June 14, 2019
336 votes
185 voters
21.8k views
9 items
List Rules Upvote your favorite recipes
Hard Rock Cafe recipes - the easy way to prepare the best dishes from the Hard Rock Cafe menu. These are copycat recipes, not necessarily made the same way as they are prepared at Hard Rock Cafe, but closely modeled on the flavors and textures of On The Border popular food, so you can bring the exotic tastes of one of the best chain restaurants in the world to your own table for a fraction of the cost.
Hard Rock Cafe was founded in London, England in 1971 and has grown to include 175 restaurants in 53 countries. The chain includes casinos and restaurants and has one of the largest rock memorabilia collections in the world.
From Red Lobster Cheddar Bay Biscuits to Buffalo Wild Wings hot sauce, chain and franchise restaurants are popular destinations around the world. Eating out too frequently can be costly, not to mention that it's hard to control portion size, ingredients, or the style of cooking to suit your preferences.
Making Hard Rock Cafe recipes on your own allows you to save money while enjoying your favorite menu items from the casual dining spot. This list collections the best copycat Hard Rock Cafe recipes from around the Web.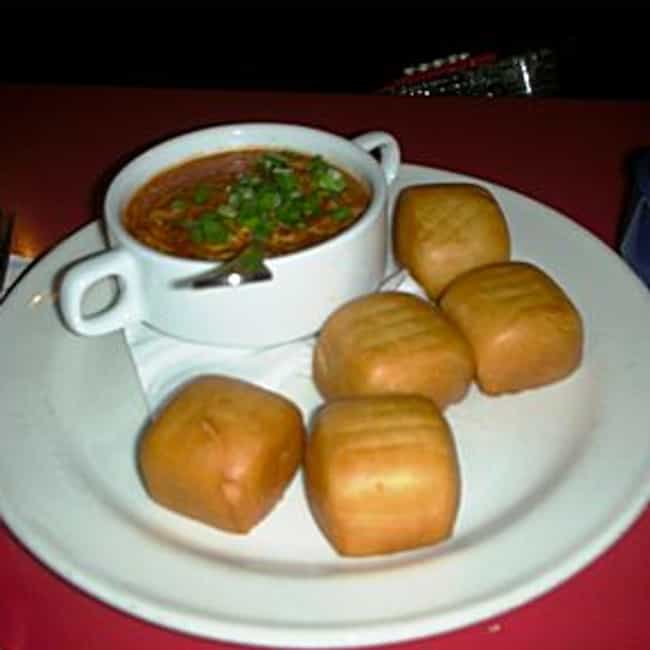 2 tbsp oil
1 large onion, chopped
3 large cloves garlic, crushed
2 -1/2 lb hamburger
2 tbsp tomato paste
2 tbsp worcestershire sauce
2 tbsp barbecue sauce
2 tbsp chili powder
1 tbsp brown sugar, packed
1 tbsp soy sauce
2 tsp celery salt
1 tsp cumin
1 tsp ground black pepper
1 tsp seasoned salt
1 tsp instant dried minced onion
1 tsp instant dried minced garlic
cayenne pepper to taste
15 oz. Can tomatoes, chopped with liquid
16 oz. Can red kidney beans
4 oz. Jar pimentos with liquid
1 medium green pepper, chopped
1/4 cup diced celery
- Brown hamburger, drain off fat.
- Cook onion until softened.
- Add to hamburger; add crushed garlic.
- Combine tomato paste, worcestershire sauce, barbecue sauce, chili powder, brown sugar, soy sauce, celery salt, cumin, black pepper, seasoned salt, minced onion, minced garlic and cayenne pepper. Mix well. Add to hamburger mixture.
- Bring to simmer over medium heat, cook and stir for 5 minutes.
- Drain and rinse kidney beans. Add to hamburger mixture along with tomatoes and their liquid. Reduce heat to low.
- Cook and cover for 15 minutes, stirring occasionally.
- Add pimentos and liquid, green pepper and celery.
- Cook uncovered for 5 minutes and stir occasionally.
Hard Rock Cafe's Pulled Pork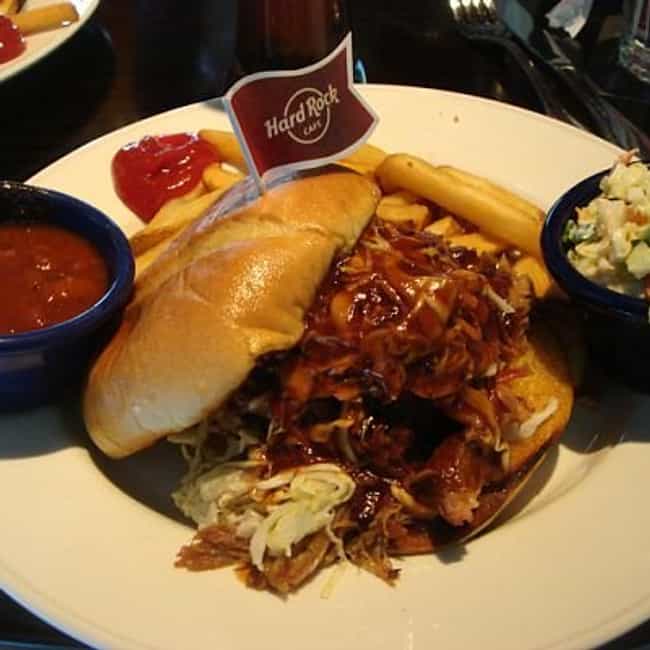 3 lbs pork shoulder
1 quart hot water
1 quart apple-cider vinegar
1/2 cup Tabasco sauce
1/2 cup granulated sugar
- Combine vinegar, Tabasco sauce, sugar and hot water in a bowl. Stir until sugar is dissolved.
- Pour marinade over pork. Cover and refrigerate for 12 hours.
- Remove pork from marinade, place in a baking pan.
- Cook in 450 degrees F oven until browned.
- Pour some marinade on pork, lower temperature to 300, cover and slow-roast for 2 hours. Enjoy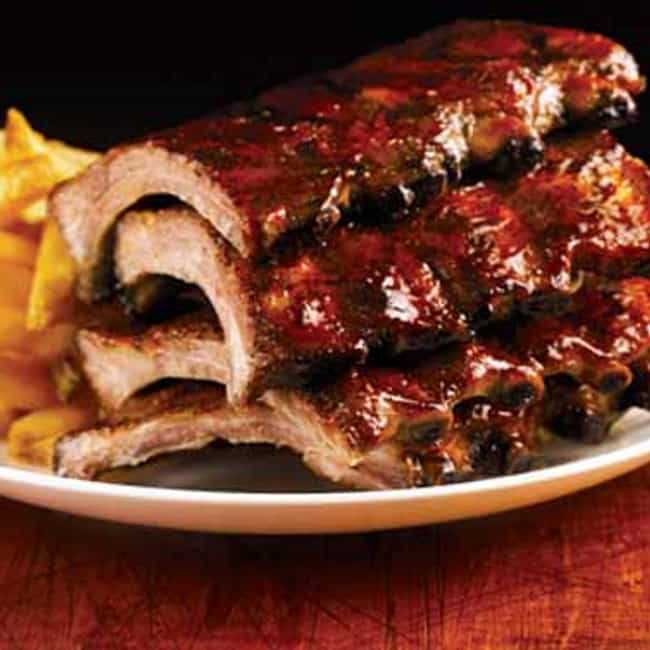 3 1/2 lbs slab(s) St. Louis ribs, thawed
2 cups water
2 tsp liquid smoke flavoring
***Sauce:***
1/4 cup chicken stock
2 cups ketchup
1 tsp. maple or Cane syrup
1/3 tsp. garlic powder
1/4 tsp. black pepper
2 1/2 Tbsp Wesson oil
1 3/4 tsp. liquid smoke
1 tsp. French's mild yellow mustard
1 1/4 Tbsp dark brown sugar
1 1/2 Tbsp Worcestershire sauce
1 bay leaf
3 Tbsp white vinegar
3 Tbsp orange juice
- Mix water and liquid smoke in a large container.
- Place thawed rib racks into marinade for 15 minutes.
- Place ribs in roasting pan, cover with aluminum foil. Bake at 375 degrees for 2 hours.
- Remove from oven and allow ribs to cool at room temperature not more than 30 minutes.
- Barbecue Sauce: Place chicken stock, ketchup, maple syrup, garlic powder, black pepper, salad oil, liquid smoke, yellow mustard, brown sugar, Worcestershire sauce and bay leaf in a large stockpot and bring to a boil. Add white vinegar and orange juice. Simmer for 5 minutes. Don't over boil because the orange juice and vinegar will make the sauce bitter. Remove and discard the bay leaf after cooking.
- Place cooked ribs on grill, bone side down. Turn them over to grill meat.
- Turn bone side up and brush with barbecue sauce.
- Remove from grill and brush with additional sauce before serving.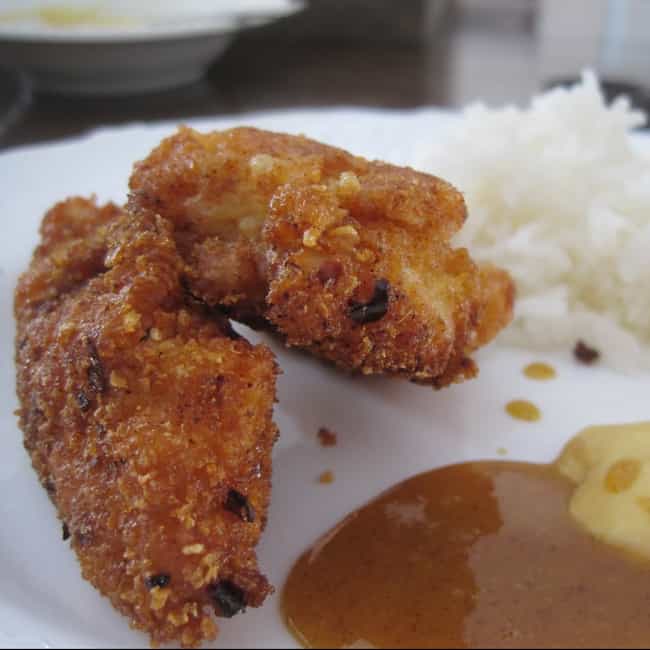 Honey Mustard Dipping Sauce
1/4 cup mayonnaise
1 1/2 teaspoons prepared mustard
2 teaspoons honey pinch paprika
Apricot Dipping Sauce
2 tablespoons Grey Poupon Dijon mustard
1 tablespoon apricot preserves
2 tablespoons honey
1 cup corn flake crumbs
2 teaspoons crushed red pepper flakes
1 1/4 teaspoons cayenne pepper
1 teaspoon ground cumin
1 teaspoon salt
1/2 teaspoon paprika
1/4 teaspoon onion powder
1/4 teaspoon garlic powder
1 egg
1 cup milk
1 cup all-purpose flour
12 chicken breast tenders
- Preheat oil in a deep fryer to 350 degrees F.
- Honey Mustard Dip: Combine ingredients in a bowl. Cover and refrigerate.
- Apricot Dip: Combine ingredients in another bowl. Cover and refrigerate until chicken is ready.
- Breading: Combine corn flake crumbs, crushed red pepper flakes, cayenne pepper, cumin, salt, paprika, onion powder, and garlic powder in a medium bowl.
- Beat egg in a bowl, add milk and stir.
- Pour flour into another bowl.
- When oil is hot, bread chicken by coating each tender with flour.
- Dip chicken into egg/milk mixture and back into flour.
- Dip each chicken tender back in egg/milk mixture and then into the corn flake crumb mixture. Be sure to coat each chicken piece thoroughly.
- Fry 4 to 6 coated tenders at a time for 4-5 minutes or until chicken is golden brown.
- Drain and serve chicken with dipping sauces on the side. Makes 4-6 servings.