Toys

The Best Harry Potter LEGO Sets

309 votes
57 voters
1k views
13 items
List Rules Vote up the most magical Harry Potter LEGO sets.
LEGO Harry Potter captures the magic from both the books and blockbuster movies. The Harry Potter LEGO sets also include your favorite Fantastic Beasts characters and scenes from the movies. Each set is compatible with all LEGO construction pieces for creative building and set combinations. Recreate scenes from the movies or create new adventures for the students of Hogwarts. Incredibly detailed sets bring LEGO Hogwarts Castle, The Whomping Willow, and Grindelwald´s Escape to life. You can even catch a ride on the Hogwarts Express and arrive to Hogwarts just in time for a Quidditch Match! No matter if you are acquiring these sets for your own collection or as a gift for your kids, these Harry Potter LEGO sets are bound to put a spell on you.
You can also build and display the LEGO® BrickHeadz™ sets on your desk or bookshelf for a bit of decoration. Check out Hermione Granger, Ron Weasley, Albus Dumbledore, Newt Scamander, Gellert Grindelwald, Hedwig, and of course Harry Potter in the LEGO® BrickHeadz™collection.
Vote up your the Harry Potter and Fantastic Beasts sets you enjoyed building the most and look for your next project below!
Ranker may collect a commission from links on this page.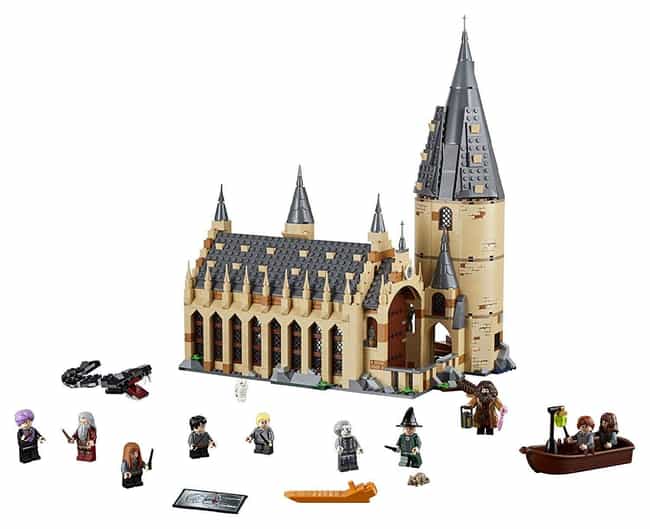 Pieces: 878
Ages: 9+
Size: 14" (37cm) high, 11" (30cm) wide and 7" (18cm) deep.
Features:
10 minifigures:

Harry Potter™, Ron Weasley™, Hermione Granger™, Draco Malfoy™, Susan Bones, Professor McGonagall™, Professor Quirrell with dual Lord Voldemort™ face, Hagrid™, Albus Dumbledore™ and Nearly Headless Nick, plus buildable Basilisk and Fawkes™ creatures, and Hedwig™ and Scabbers™ figures.
Build both the Great Hall and tower.
The Great Hall features detailed elements such as head table with seats, fireplace, and 2 reversible house banners.
4-level tower.
Boat with hanging lantern.
7 wands, 3 tumblers, an umbrella, lantern, broom, sorting hat, cauldrons, potions, candles, 2 wizard brooms, food, trophy, teapot, chest and a spider.
Price: $99.99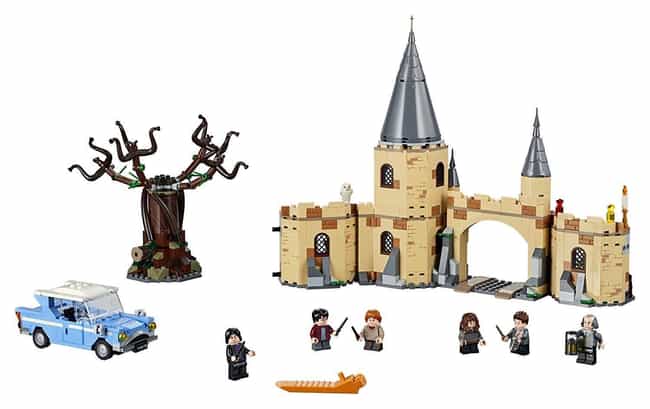 Pieces: 753
Ages: 8+
Size: Whomping Willow™ - 7" (18cm) high, 7" (20cm) wide and 7" (20cm) deep. Flying Ford Anglia - 1" (5cm) high, 4" (11cm) long and 2" (6cm) wide. Hogwarts™ castle section - 10" (27cm) high, 13" (35cm) wide and 3" (8cm) deep.
Features:
6 minifigures:

Harry Potter™, Ron Weasley™, Hermione Granger™, Seamus Finnigan, Argus Filch and Severus Snape™, plus a Hedwig™ owl figure.
Spinning branches and Shrieking Shack tunnel entrance.
Flying Ford Anglia has functioning doors and trunk.
3-level Hogwarts™.
Potions, Cauldrons, 2 suitcases, 5 wands, candles, a lantern, Daily Prophet newspaper and magic spell page, broom, tables, chair, tools and 2 inkpots with a quill.
Price: $69.99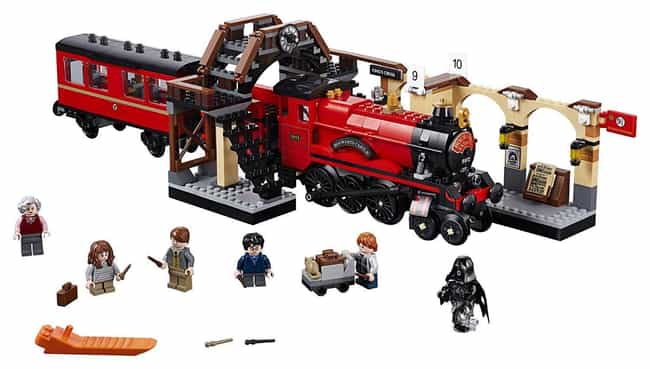 Pieces: 801
Ages: 8+
Size: 5" (13cm) high, 12" (31cm) wide and 6" (17cm) deep.
Features:
5 minifigures:

Harry Potter™, Ron Weasley™, Hermione Granger™, Remus Lupin and the Trolley Witch, plus Dementor™ and Scabbers™ figures.
Set includes both the King's Cross Platform 9¾™ and Hogwarts™ Express train.
The train carriage has four seats, removable side panel, and roof.
Trolley Witch with sweets trolley.
3 pieces of luggage, 4 wands, chocolate frog, ice cream, 2 newspapers, King's Cross Station sign, Platform 9¾™ sign and a 'Wanted' poster.
Price: $79.99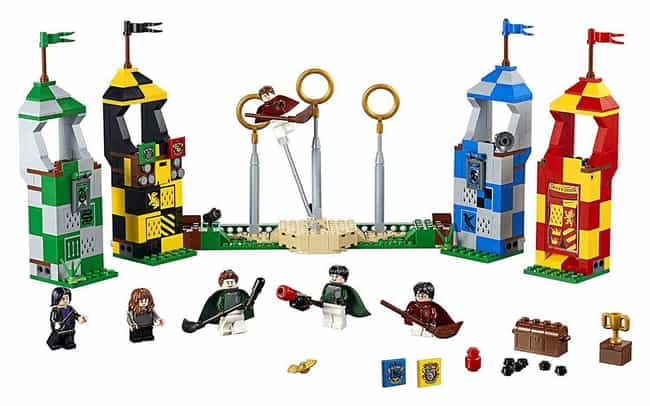 Pieces: 500
Ages: 7+
Size: Tower - 7" (18cm) high, 1" (4cm) wide and 1" (4cm) deep.
Features:
6 minifigures:

Harry Potter™, Hermione Granger™, Severus Snape™, Oliver Wood, Lucian Bole and Marcus Flint.
Gryffindor™ house tower with an opening hatch.
Slytherin™ house tower with a pop-up fire spell function.
Ravenclaw™ house tower with a removable megaphone element.
Hufflepuff™ house tower with scoreboard.
Base with 3 goalposts and rings, moving Keeper function and Bludger stud shooter.
Price: $39.99