Graveyard Shift
Creepy Haunted Hotels In Los Angeles

Nowhere is the living history of Los Angeles more evident than in its famous - or infamous - hotels. Some have always been occupied and in vogue, such as the Chateau Marmont, while some have made a comeback after several years of being derelict, like the Cecil, which is now known as Stay On Main.
Each building may be different, but they all have at least one thing in common: They're haunted. Staffers, visitors, and paranormal experts have all seen and heard things in these buildings that have no logical explanation. Given the City of Angels' opulent and dark past, it shouldn't be a shock that so many hotels have ghostly residents. The only question is if, in the case of their current restorations, they'll stay that way. Check out this rundown of the most haunted hotels in the Los Angeles area. If you're planning a future visit, consider yourself warned.
back to page 1
The Cecil, now known as Stay On Main, is so creepy that Ryan Murphy has admitted it was the inspiration for American Horror Story: Hotel. It opened in 1924, but when the stock market crashed five years later in 1929, the Cecil and its surrounding neighborhood fell into disarray. For the next 80 years, it was a transient hotel where many guests took their own lives.
Richard Ramirez (AKA "The Night Stalker") and Austrian serial killer Jack Unterweger both called the Cecil home for a short time. But what mostly cemented its ghostly reputation was the passing of Canadian tourist Elisa Lam, 21. The woman's disrobed body was found in the hotel's rooftop water tank in 2013 after guests complained that the drinking and bathing water tasted "sweetly disgusting." A video of Lam in the hotel elevator was released following her disappearance, in which the disoriented girl appears to be talking and gesturing to someone who is not there.
see more on Cecil Hotel
A Forgotten Wing And Ghostly Sightings Make The Alexandria Hotel A Paranormal Investigator's Dream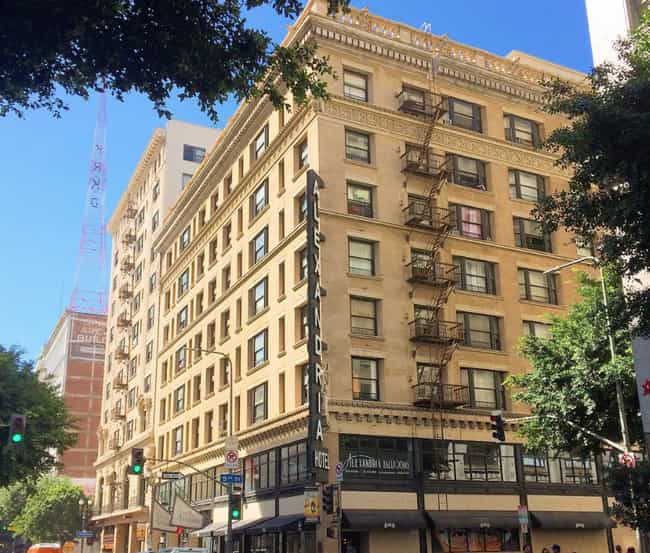 One of the first luxury hotels built in LA, the Alexandria was a home away from home to the silent film stars. However, its luster was short-lived as its surrounding area in downtown LA became something of a wasteland. It later reopened as an extended-stay, low-income hotel.
It is said that hauntings regularly occur there. According to staffers, residents, and ghost-hunters alike, Rudolph Valentino haunts his old suite, as do ballroom dancers and a rage-filled teen who inhabits the Chaplin suite. Elevators are said to move on their own and take riders to floors they weren't expecting to visit.
Harry Houdini's Widow Conducted A Seance At The Knickerbocker Before It Was Plagued By Tragedy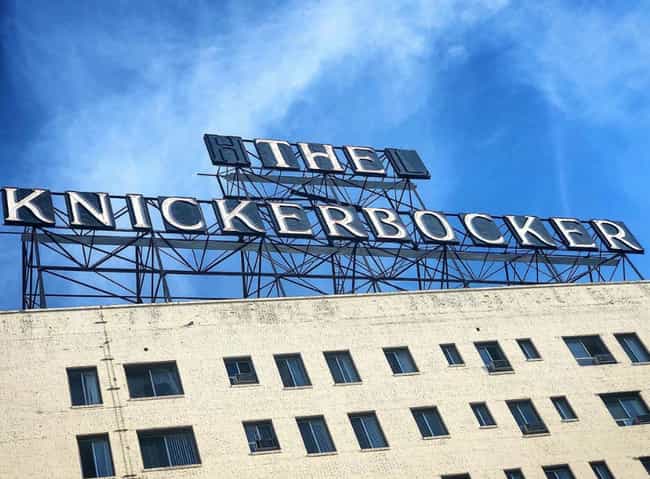 The Knickerbocker hasn't been a hotel for a long time, but it was a celebrity playground during the Golden Age of Hollywood. It opened in 1929 and was star-studded from the get-go. However, after Harry Houdini's widow Bess staged her last seance in 1936 in an (unsuccessful) attempt to contact her husband, the hotel was beset by tragedies from which it never really recovered.
Director DW Griffith had a stroke on the hotel grounds and passed shortly after, and actress Frances Farmer was famously dragged from her room and institutionalized. Several people took their own lives there, as well, including costume designer Irene Gibbons, who jumped from her room and landed on the hotel's front awning.
By the 1960s, the neighborhood around the hotel had become rundown, and the Knickerbocker lost its celebrity luster. It changed hands many times before becoming a retirement residence a few years later. Sightings have included Marilyn Monroe, who stares at herself in a bathroom mirror, and a bellhop named Roger who's apparently still on the job.
Spirits May Still Roam The Halls Of The Refurbished Mayfair Hotel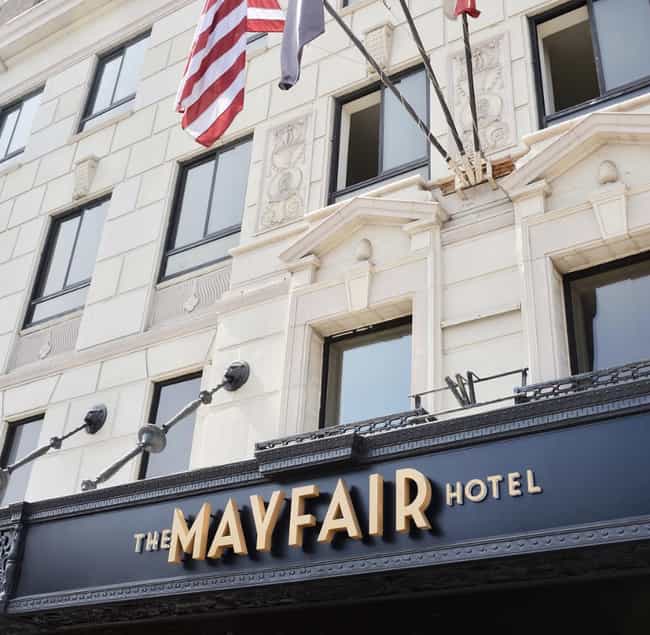 Much like the Cecil, the Mayfair has been restored for new generations. Also like the Cecil, it has a dark past. According to paranormal detective Paul Dale Roberts, the hotel has plenty of spirits on its grounds. When he stayed there in 1994, he was told a lost little boy wanders the third floor.
A hotel employee also told Roberts about a blonde female, possibly an escort, who passes through the doors of a fourth-floor room, and an "imp" who runs from room to room on the fifth floor.