Actor Trivia
Heartwarming Behind-The-Scenes Stories About Robin Williams

Updated January 9, 2020
5.2k votes
962 voters
28.4k views
12 items
List Rules Vote up the stories that make you really, really miss Robin Williams.
Robin Williams was one of those rare, tour-de-force performers who was able to bring a thousand characters to life - often in rapid succession. After his unexpected passing in 2014, celebrities and fans alike shared their love for the late comedian.
According to those who worked with him, Williams's heart was as big as the characters he portrayed. Former costars have shared some heartwarming behind-the-scenes stories about Williams, from the time he put on an impromptu comedy show in a park to the time he wrote to a younger costar's principal to reverse her expulsion. Friends and family of Williams know that they ain't never had a friend like him.
He Taught Child Actor Bradley Pierce How To Meditate While Filming 'Jumanji'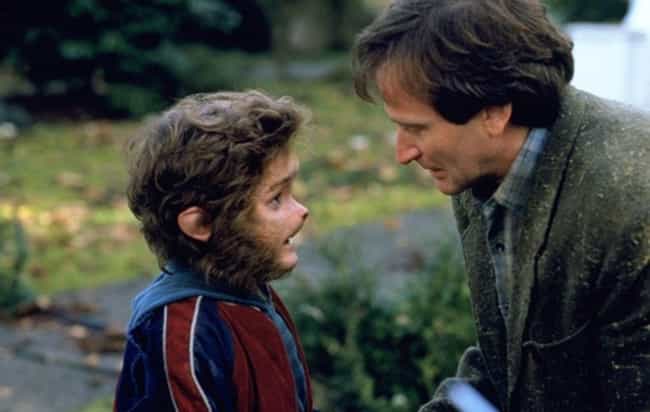 Bradley Pierce played Peter in the 1995 film Jumanji. While trying to make their way through the perilous game, Pierce's character starts to transform into a monkey. This transformation required long hours in the makeup chair. In order to help Pierce cope with the uncomfortable prosthetics and time spent in the makeup chair, Williams often spent time with Pierce and even taught him how to meditate. Pierce told inews:
Robin would come in and he would sit in the make up trailer and keep me company. He had gone through all of the various stages of prosthetic make up for Mrs Doubtfire not long beforehand, so being familiar with the challenges he was able to talk me through meditations, ways to calm yourself. There are very few actors who would go out of their way in the way he did. I think it was part of Williams' nature to be generous, kind and caring.

Does this make you miss him?
He Gave A Special Child Actor A Sweet Nickname While Filming 'Patch Adams'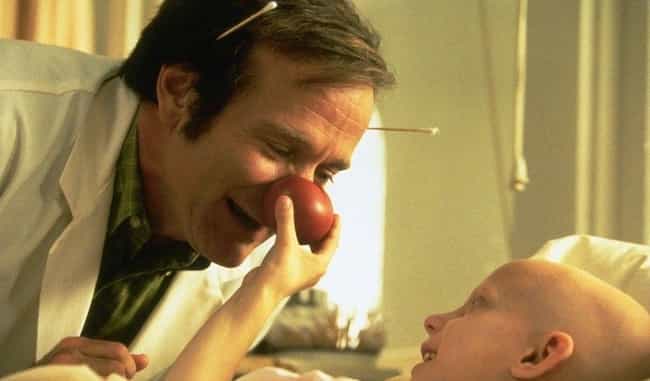 Cameron Brooke Stanley was just 7 years old when she appeared in Patch Adams. She, like several other patient actors in the film, was actively fighting cancer. She had a tumor on her kidney that she was getting radiation and chemotherapy for, and Williams's jokes also helped along the road to recovery. She spoke to ABC News in August 2014 about how Williams was on set:
He was such a real person so when, even off the set when we weren't filming, he was just trying to hang out with the kids and trying to make us forget that we were sick... He didn't really act like this big star. He just acted like one of us. I mean he... even during lunchtime, we would all be sitting out on a table outside, and he would run over, "Hey, did you try the lemonade? Oh my gosh, it's so good..." Not just when the cameras are on, when they're off, he just wants to be someone's friend, like a best friend. He wants to make someone laugh that's sad. He was just so wonderful.

Does this make you miss him?
He Delighted The Child Actors On The 'Mrs. Doubtfire' Set With Puppets And Poop Jokes
Child actor Mara Wilson got her big break with 1993's Mrs. Doubtfire as the youngest daughter of the titular protagonist. After he passed in 2014, Wilson took to her blog to recount some of her favorite memories of working with Williams on the film. She recalled in great detail some of the lengths he would go to to make her and the other child actors laugh:
Robin would do anything to make me and the other kids laugh. Those hand puppets that dance alongside the genie in Aladdin's "Friend Like Me"? That must have been his suggestion, because Robin made those in real life. He'd break them out between takes to entertain us between takes. "I don't like you," his left hand would say to his right. "You smell like poop!" I would laugh uproariously - I was five, so poop jokes were the height of hilarity - as his right hand yelled back "Well, there's no toilet paper at my house!" ...He seemed to know instinctively what we would find funny, and never had to resort to saying anything that was inappropriate for children. He was, after all, a father himself.

Does this make you miss him?
When One Of His Costars Got Expelled From School For Spending Too Much Time On 'Mrs. Doubtfire,' He Wrote A Letter Of Support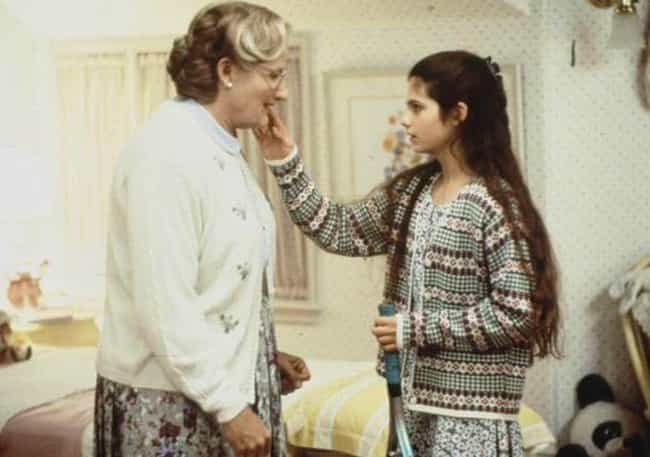 Lisa Jakub, who played William's daughter Lydia Hillard in Mrs. Doubtfire, was expelled by her high school for spending too much of her time on set as opposed to in the classroom. When Williams heard about this, he opted to write a strongly worded letter to Jakub's principal, saying that his costar was "bright, inquisitive, and an eager to learn young lady." He also stressed that she could bring value to the classroom thanks to her real-world experiences, asking that her principal "reconsider [her] policy and allow Lisa the opportunity to work and attend school," calling her "an asset to any classroom."
Jakub shared this letter in the wake of Williams's passing, and she told The Independent that she never got to explain what an impact that made on her:
Even though I had not spoken with Robin in a very long time, I always assumed there would be some future opportunity to tell him that his letter changed my life... It taught me that you stand up for the things that matter. And even if your attempts fail, you tried. You told the truth. You took care of your friends. You fought back.

Does this make you miss him?