Weird History Solo Antarctic Explorer Dies In The Snow And Leaves Behind A Series of Tragic Selfies

693.9k views
12 items
Follow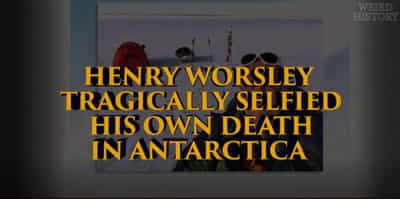 Following in the footsteps of one's heroes can be an amazing goal, but for Antarctic explorer Henry Worsley, his dream of crossing the continent completely on his own ended in tragedy. Inspired by the incredibly tough, competitive, and stubborn explorers of the early 1900's, the Worsley Antarctic expedition of 2015 was an attempt to re-create a voyage Ernest Shackleton made but never completed one-hundred years earlier. Sadly, Worsley suffered a similar fate.
Worsley was familiar with Antarctica, having already recreated several expeditions made by his heroes. Henry Worsley's route spanned from the South Pole to the continent's opposite shore. While Henry Worsley was a highly-experienced explorer, Antarctica's extreme temperatures, dangerous winds, and overall eerie atmosphere proved unconquerable. Worsley's attempt to fulfill a dangerous dream ended in tragedy, similar to adventures undertaken by voyagers like Robert Scott or Christopher McCandless. The men gave their lives in the pursuit of what they loved—adventure. Henry Worsley's funeral was a sad day for the exploration community, but the selfies and audio diary he left behind tell an amazing tale.
He Planned To Travel More Than 900 Miles, Walking 13 Hours A Day To Cross The Continent
In November of 2015, Henry Worsley began his journey from Berkner Island on the northwestern part of Antarctica. He planned to complete his trip in 75 days, which would involve walking to the South Pole and then to the opposite side of Antarctica—his route would put him more than 1,000 miles from where he started. On a good day, Worsley walked for 13 hours, pulling his supplies with him the entire way.
He reached the South Pole on day 51 of his journey—the first people he'd seen in a very long time were those living at the Amundsen-Scott South Pole Station, a research facility that studies the geophysics of Earth's polar regions. Because he was intent on making a solo trip, Worsley refused their offers of supplies and food. He continued on, climbing to 9,700 feet on the Titan Dome a few days later. Throughout his trip, Worsley kept an audio diary and took selfies, which clearly showed his growing weariness and deteriorating health.
He Couldn't Bring Enough Food To Make Up For The Massive Amount Of Calories He Burned
Worsley brought enough food for 80 days, five days longer than he thought the trip would take. He expected to lose about 28 pounds during his journey, since walking while pulling a sled weighing almost 330 pounds takes a lot of energy. He potentially burned up to 10,000 calories in a single day, and carrying enough food to replace those calories would be nearly impossible. Plus, Worsley's food remained mostly frozen thanks to Antarctica's conditions, as he discovered when he broke a tooth implant trying to bite down on a frozen snack bar.
Worsley's audio diaries contained many mentions of food, and he spoke specifically about how much he missed junk food—in his last audio diary entry he said that the first thing he was going to do when he returned home was have some tea and a slice of cake. By the time Worsley was rescued, he had lost almost 50 pounds and was suffering from dehydration and exhaustion.
Worsley's Trip Was Made Difficult By Soft Snow, Extremely Cold Temperatures, And Nasty Winds
Worsley's adventure began tolerably enough—the snow was even and firm, which made it relatively easy to ski and sled. However, the temperature began to drop as he ventured further inland, and the snow's surface became less than optimal. On day 55, he recorded frigid temperatures of minus 47 degrees Fahrenheit, and he struggled to travel across the soft snow. Worsley also experienced 40 to 50 mile per hour winds. He noted on day 66, "The cruelty... is the very soft snow. Hellish. All day. I'm weaker now, of course, and it's the last thing I needed. It saps what little energy I have left."
Worsley Had An Infection, Which Ended Up Killing Him
After Henry Worsley called his support team to rescue him, he was taken by airplane to a camp six hours away and then to Punta Arenas, Chile. Doctors originally believed Worsley was ill due to dehydration and exhaustion, but they discovered he was suffering from bacterial peritonitis, an infection in the lining of his abdomen. Although medical professionals attempted surgery, Worsley's body was too weak to fight the infection, and he passed away from organ failure on January 25, 2016 at age 55.
While it's disappointing that Worsley was a mere 30 miles away from completing his planned journey, a former member of the British Antarctic Survey thought he made the right decision to pull out. He said, "He did a smart thing and made the call for evacuation, but sadly his system was beaten down so much he just couldn't recover."