Celebrities
15 Celebrities Who Made Hidden Cameos You Definitely Missed

There are plenty of things in films and television shows to keep a viewer entertained, be it the story, the special effects, or even the musical score that is accompanying on the on-screen action. But what fans really love to look out for are special Easter eggs that have been included for them to find, especially blink-and-you-miss-it cameos from celebs.
These secret celebrity cameos can come about for all kinds of reasons. Sometimes the filmmakers will just want to include a funny little surprise for their fans, while in other cases they might want to include an actor who they are friends with and enjoy working with but didn't have a significant role for them in their movie. It's even possible for people to be given a secret hidden movie cameos as a thank you for something they may have done that helped production. Whatever the case, many of these cameos are done in such a way as to keep them hidden for as long as possible, with the actors disguised or obscured from view so that they are effectively hiding in the background. This helps to ensure that only the hardcore fans get to see them, rewarding them for their support.
back to page 1
Rumors began swirling not long before the release of Star Wars: The Force Awakens that James Bond star Daniel Craig had a secret cameo in the movie. The appearance was let slip by Simon Pegg, who also makes a brief cameo, during an interview, but Craig denied it in a sarcastic reply when asked about it. It was later confirmed that the actor did in fact play a Stormtrooper who is guarding Rey and is tricked using her Jedi powers. With both Spectre and the Star Wars movie being filmed at Pinewood Studios, it would not have been too difficult for Craig to switch sets.
see more on Daniel Craig
Even when many people knew that Ozzy Osbourne was set to appear in the movie Trick or Treat, it was still difficult to find him in the movie. This, despite the fact that the cameo is actually rather prominent. The musician plays a reverend in an interview, decrying heavy metal and the messages it conveys. However, Ozzy hides in plain sight, as he has short hair that has been combed neatly and is without any of the usual clothing or accessories you would expect to see him in.
see more on Ozzy Osbourne
The historical drama Kingdom of Heaven was a critically acclaimed movie. Directed by Ridley Scott and starring Orlando Bloom in the lead role, it also featured a number of other high-profile stars, such as Jeremy Irons and Michael Sheen. However, one of the actors may not have been entirely recognizable as King Baldwin because the role involves the actor wearing a metal mask that covers his entire face throughout the brief scenes he appears in. This effectively hides the fact that Fight Club star Edward Norton is playing the king.
see more on Edward Norton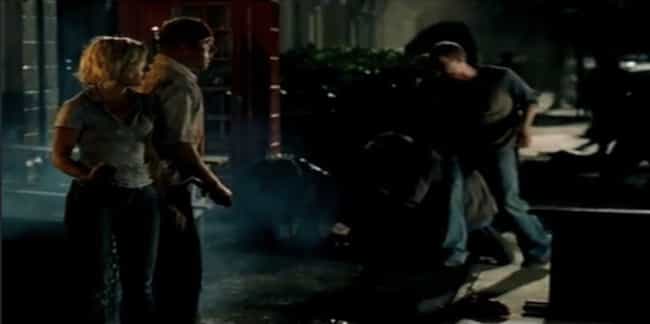 Chris Martin and fellow Coldplay band member Johnny Buckland both make brief cameos in Edgar Wright's Shaun of the Dead. Both show up briefly on television within the film, then again as zombies. While it is difficult to spot Buckland, the lead singer can be seen staggering towards the two main characters near the red phone box. It is difficult to notice them, though, thanks to the zombie makeup and the fact they only appear for a few seconds. The two musicians had contributed to the film by singing part of the song "Everybody's Happy Nowadays" and were likely included as a thanks.
see more on Chris Martin