Entertainment
15 Gilmore Girls Outfits That Were Too Hideous to Forget

Updated September 26, 2019
4.9k votes
714 voters
67.2k views
15 items
List Rules Vote up the hideous Gilmore Girl outfits you can never unsee.
Although Stars Hollow is a tiny town, it has a lot of style - unique style, that is. Over the course of seven seasons, fans were graced with some heinously bad Gilmore Girls outfits. The majority of those outfits belong to everyone's favorite wacky-print-wearing, sparkle-loving mom and part-time dressmaker, Lorelai Gilmore. Given some of her more outrageous fashion choices, it's hard to believe she could make something as lovely as Rory's prom dress.
While Lorelai is charged with some of the most major Gilmore Girls fashion faux pas, the rest of the Stars Hollow gang isn't without guilt. Who could forget the atrocious velvet dress Emily made Rory don for her portrait? Or Lane's pre-Lorelai'd wedding dress? Or Jackson's pajamas? Never forget Jackson's pajamas.
As atrocious as some of these outfits are, they drive home the quirkiness we all love about Stars Hollow, with all its cooky residents. Celebrate their uniqueness by voting up the ugliest outfits on Gilmore Girls and promise to never wear a cheetah print cowboy hat ever in your life.
A Rhinestone Sweater and a Cheetah Cowboy Hat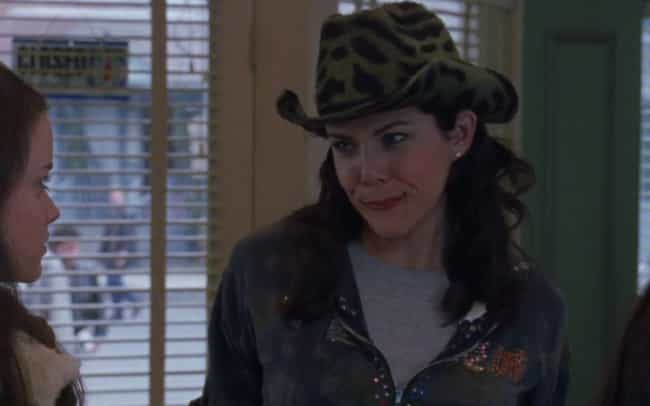 Who Wore It: Lorelai Gilmore
Fashion Faux Pas: Only Lorelai would take the two most garish finds from a clothing charity drive and pair them together. Fortunately the cheetah cowboy hat and tie-dye rhinestone jacket combo comes to an end when Lorelai finds out the jacket belonged to Luke's ex. She returns it and it's never seen again.
The Mismatched Knitwear Explosion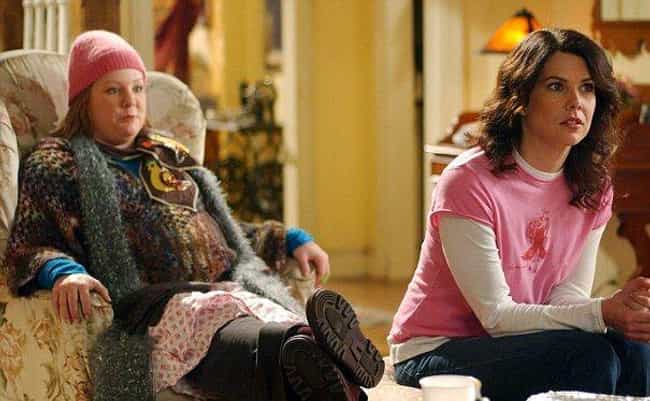 Who Wore It: Sookie St. James
Fashion Faux Pas: Where to start with this one? The layers? The colors? The different knits? The giant bird on her chest? Sookie's wardrobe typically reflects her bubbly personality, but in this instance, it looks like she's taking her cues from The Lorelai Handbook of Too Many Patterns.
The First Day at Chilton Outfit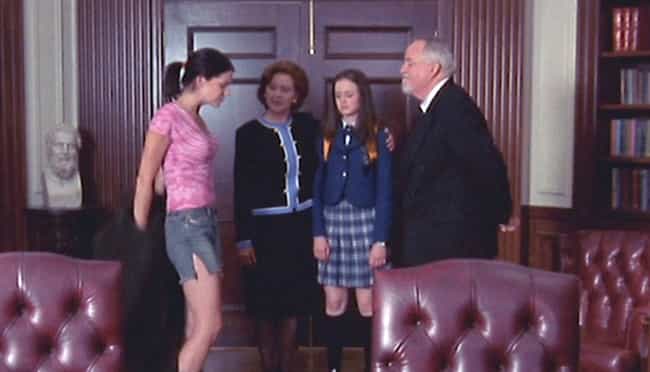 Who Wore It: Lorelai Gilmore
Fashion Faux Pas: Running late for Rory's first day at Chilton, Lorelai throws on the only clean clothes she can find: a bright pink tie-dye shirt, a pair of Daisy Dukes, and cowboy boots. She tries to hide the outfit beneath a long winter coat, but once she's in the Headmaster's office, he asks for her coat, and Lorelai begrudgingly takes it off, much to her daughter's and mother's embarrassment.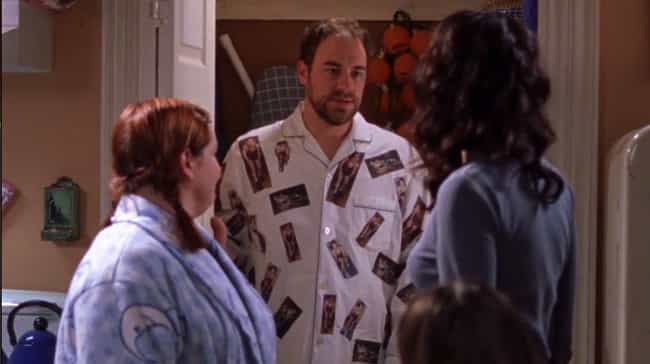 Who Wore It: Jackson Douglas
Fashion Faux Pas: Everyone wears pajamas that feature pictures of themselves in their high school wrestling uniform, right? Jackson sure does! While the pajamas are ridiculous, and Jackson hopes to hide them from Lorelai and Rory, there is a certain charm to them. If you need to see what a real man looks like, look no further than Jackson Douglas when he's donning these PJs, which he sweetly wears because his cousin made them for him.