Weird History
Historical Artifacts Discovered Under Parking Lots

If Indiana Jones ditched the temples and instead went looking for historical items discovered in parking lots, he may have found some very interesting stuff. Artifacts from the past often lie hidden under the concrete slabs and garages where people stash their cars, forgotten until curious archaeologists wonder what's underneath. Just like strange items found on construction sites, artifacts found in parking lots can include bodies of famous people from history, bygone building foundations, or items that were used in daily life way back when.
Anyone can dig for buried treasure in their backyard, but digging up (and therefore destroying) a parking lot is no easy matter. Sometimes, archaeologists will use radar devices to scan the ground before bringing their case for excavation before the parking lot's owner. Other times, a parking lot was in the process of being turned into something else when an archaeological find was unearthed. There are even some artifacts that have just been left where they were, as digging them up would pose a problem.
These historical artifacts found in parking garages and lots may surprise you, and lead you to wonder what's underneath your own parking spot.
King Richard III Was Discovered In Leicester, England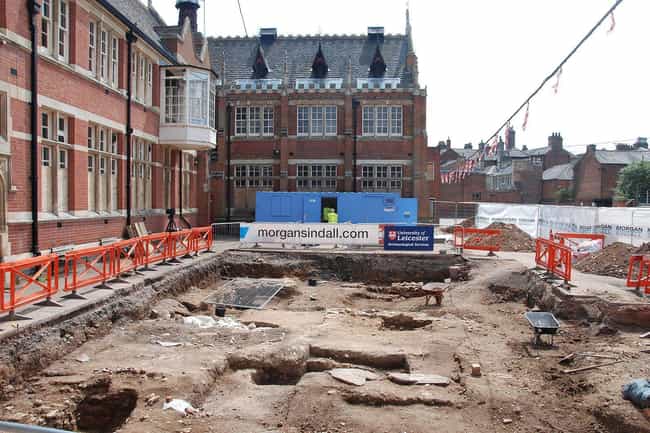 Richard III, a 15th century King of England and one of the more prominent jerks from history, suddenly made news again in 2012 when his remains were believed to be discovered. Greyfriars, the friary in which he was buried, was thought to be hidden under a parking lot in Leicester, England.
The supposed discovery was so big, archaeologists had to give the press daily updates to appease the interest of the public. They first found the remains of the building, and eventually a skeleton. Its condition seemed to match that of the late King, mostly due to evidence of scoliosis and a battle wound to the head. DNA testing later proved the archaeologists to be correct: it was Richard.
A Native American Village Was Unearthed In Miami, FL
In 2014, a downtown waterfront parking lot in Miami was set to be turned into a new building project. But before construction began, an archaeological dig was requested – and some incredible finds were made. In addition to shell and bone tool artifacts, evidence of an entire village was unearthed. Archaeologists dated their find to be about 2,000 years old, and were amazed to find carved holes they believed to be the foundations of homes built by the Tequesta native people, as well as the remains of boardwalks used to connect the village.
Archaeologist Bob Carr was thrilled, commenting, "It's one of the earliest urban plans in eastern North America. You can actually see this extraordinary configuration of these buildings and structures.''
Queen Helena's Palace Was Excavated In Jerusalem, Israel
A team of archaeologists using radar to detect objects under the ground found something big under a parking lot in Jerusalem, Israel, in 2007. They got permission to dig up the lot and were pleasantly surprised at what they found: Queen Helena's Palace, a Second Temple structure near Temple Mount. The palace and the Second Temple were destroyed by the Romans in 70 CE.
Archaeologists used coins and pottery found at the site to date the structure. This major find proved the ancient city was bigger than anyone previously thought.
A Medieval Knight And Monastery Were Dug Up In Edinburgh, Scotland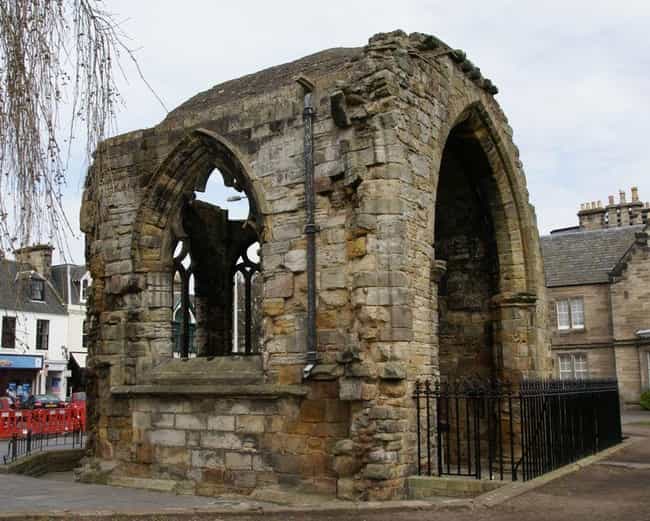 When a parking lot was dug up in order to build the University of Edinburgh's Edinburgh Centre of Carbon Innovation in 2013, workers made an unusual discovery. A sandstone slab was unearthed, along with a skeleton and an ornate sword. The Calvary cross was carved into the slab, leading historians to believe the body was that of a knight, and the slab was his gravestone. The foundations of the Blackfriars Monastery, founded in 1230 by King Alexander II and destroyed in 1558, were also discovered under the same parking lot.
Archaeologist Ross Murray once attended school a few feet away from the discovery and was amazed at the find, saying, "We used to take breaks between classes just a few feet away in the building's doorway and all that time the grave was lying under the car park."
A month later, archaeologists found what they believe to be the knight's family. Eight skeletons were unearthed, including those of a woman and an infant. Since they were discovered buried behind a wall, it is believed they are related to the knight and were placed together in the family crypt.