Weird History
13 Extremely Rare Historical Artifacts Discovered In Pawn Shops

Updated May 4, 2020
71.9k views
13 items
Pawn shops have always had the rather unsavory reputation of being places where unscrupulous store owners take advantage of desperate people in need of quick cash or as quasi-legal fronts for the sale of stolen goods. It hasn't helped that they are typically dimly lit, over-stuffed with an assortment of disparate items, and tend to have dangerous weapons on display. Thanks to popular reality shows that feature pawn shop owners and their customers – and due to the sluggish economy, which has forced record numbers of people to look for alternative sources of cash – pawn shops are experiencing something of a cultural resurgence.
It's not just the cash-strapped who are venturing into pawn shops today, either. Those looking to get rich have added pawn shops to their treasure-seeking circuits of flea markets and swap meets. Sure, you could go diving in the open ocean, dig around in dirty construction sites, or risk your life in abandoned properties looking for treasure, but why not just take a walk down to your local pawn shop, where you might find a historical object sitting on the shelf between kitschy tchotchkes. And found they have been; from archaeological rarities to priceless artifacts, pawn shop customers (and the FBI!) have come across all kinds of crazy historical objects in pawn shops.
The First Latin American Nobel Peace Prize
Carlos Saavedra Lamas of Argentina was the first ever Latin American to receive the Nobel Peace Prize when he was awarded the prestigious medal in 1936 for his role in brokering peace between Paraguay and Bolivia and ending the Chaco War. The medal no doubt held a place of honor in Lamas's home during his life, but it "fell into darkness" following his death.
The rare historical medal was considered lost forever until an American collector heard that it was up for sale in a South American pawn shop. The shop owner had purchased the medal for its value in gold bullion – a 23-karat medal weighs 222.4 grams and was worth more than $9,000 at the time – but knew that it was worth more for its historical value and saved it from being melted down.
Ute Wartenberg, executive director of the American Numismatic Society, called the find "an incredible rarity" and said, "I can't think of many public collections that have a Nobel Prize, never mind a Nobel Peace Prize medal."
A Priceless Hoard Of Gold, Precious Stones, And Jewelry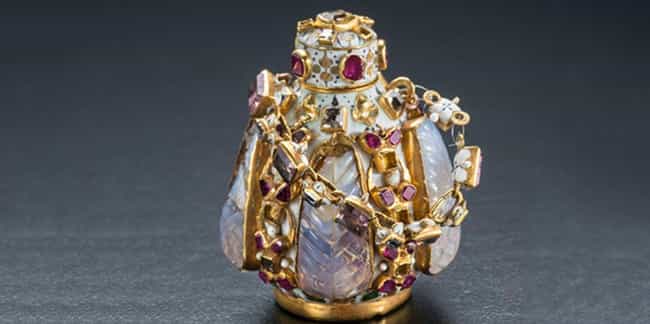 Construction work is a difficult job with few perks. Long hours and body aches are about the most that can be expected, especially for workers in London in 1912. It's not too surprising then that when a crew with pickaxes demolishing a tenement house near St. Paul's Cathedral found a box filled with gold, silver, precious stones, and jewelry, they didn't think twice about stuffing their pockets with the loot. After work, the crew took their stash to a local pawn shop owner named George Fabian Lawrence to unload the booty.
As it turns out, Lawrence happened to also be the inspector of excavations for the London Museum, and he recognized the hoard of 400 items as rare and valuable artifacts dating to the late-16th and early-17th centuries. Among the gold, diamonds, and other jewels, was an emerald-studded salamander, a bejeweled perfume bottle, and a Swiss watch set in a giant piece of Columbian emerald. The items, now called the Cheapside Hoard, are still on display at the Museum of London and considered quite "unique in the world."
John F. Kennedy's Oval Office Humidor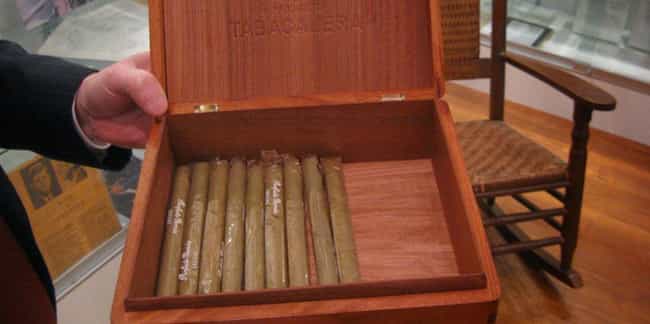 To honor John F. Kennedy on his inauguration day, Milton Berle had Alfred Dunhill of London create a unique walnut box for the future president, complete with a small plaque that reads: "To J.F.K. Good Health--Good Smoking. Milton Berle, 1/20/61." The box cost Berle between $800 and $1,000 at the time, which would be nearly $8,000 today.
The humidor was kept on Kennedy's desk in the Oval Office during his time as President and somehow ended up in the hands of a private collector after his death. The humidor was sold to a pawn shop in Las Vegas for $60,000, which was well below the seller's asking price. The seller got an even worse deal than he thought, however, because the humidor was auctioned off at Sotheby's for $575,000 in 1996 and is now in the collection of the publisher of Cigar Aficionado magazine.
Archaeological Artifacts Smuggled Out Of Panama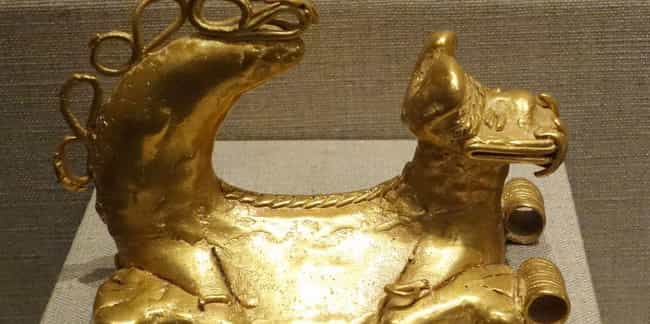 Though he apparently thought of himself as an "Indiana Jones type," the FBI did not have the same opinion of John Shaw, a former teacher and pawn shop owner who smuggled countless pieces of pre-Columbian pottery and gold out of Panama during the 1980s. At the time, Shaw was teaching at a US military base in Panama and used his off time to unearth extremely rare and culturally significant items from an unknown site with his Panamanian wife, Fatima.
Back in the States, Shaw and Fatima sold items at their pawn shop in Klamath Falls, OR, at flea markets, and on the Internet. Despite Shaw's tendency to boast, no one discovered the smuggled loot until years after Shaw's death, when Fatima gave most of the items to an ex-boyfriend as collateral for a loan. The ex-boyfriend contacted the FBI, and Fatima handed over the stash without incident.
In a 2009 ceremony at FBI headquarters in Washington, DC, the US government formally handed over the artifacts to the Panamanian government. Bonnie Magness-Gardiner, manager of the FBI's art-theft program, commented on Shaw's boasts, saying, "[this] is not an Indiana Jones story. The theft strips Panamanians of their cultural heritage."