Weird History
Japanese Sex Workers In Edo-Era Japan Were Considered To Be The Ideal Types Of Women

Yoshiwara, the district of Edo-era Japan where one could purchase sexual services, was a wonderland filled with everything a person could dream of; known as "the floating world," it promised entertainment, excitement, and lots and lots of pleasure. The most illustrious among these pleasures was the siren call of the courtesans offering their services to the highest-bidding customers.
Courtesans reached a level of high esteem when it came to the sexual service trade in Yoshiwara. They were called oiran and there was an entire culture of beauty, popularity, and elegance surrounding their existence. They earned their living based on wit and education as much as skill and appearance, providing a unique model of women during the Edo period.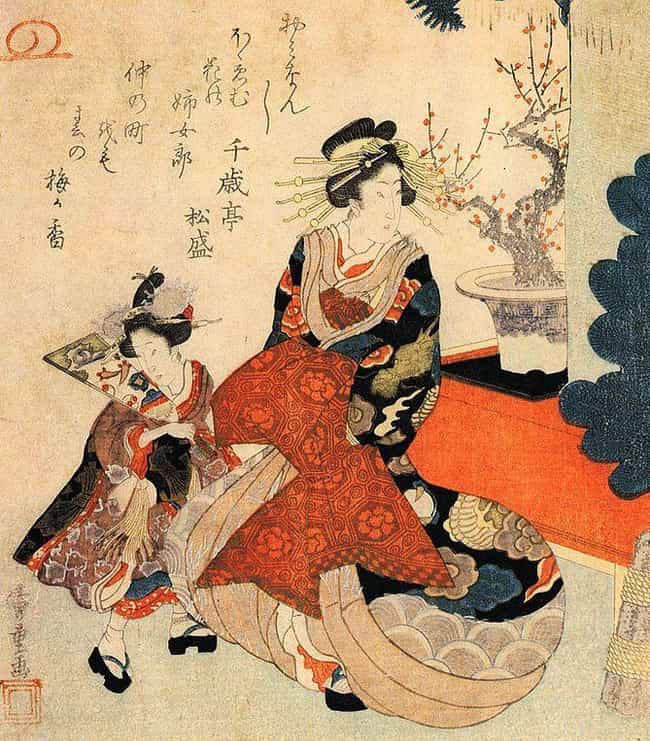 A Courtesan-In-Training's Virginity Was Sold To The Highest Bidder
Girls traditionally began elite courtesan training - or kamuro - when they were around 11 or 12 years old, if not earlier. As part of the kamuro, these girls were chosen after they'd demonstrated some sort of talent or gift for the trade. As young courtesans-in-training, these girls studied Japanese culture and tradition while attending on an established oiran, or elite courtesan.
Once a girl was chosen for kamuro, her future was set. Because she would develop into an elite courtesan, her virginity was of high value. Her master may have sold it off to a future client for a large amount of money, as was fairly common.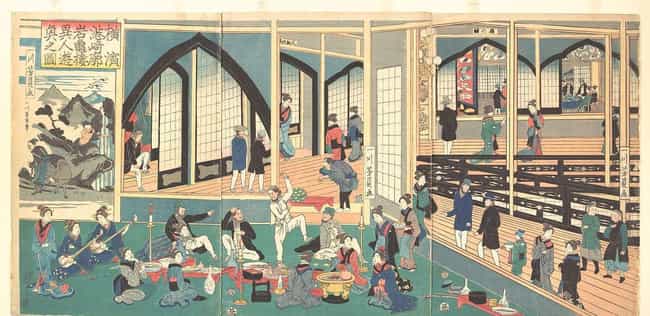 The Government Monitored The Yoshiwara District
During the 17th, 18th, and 19th centuries, Japan began to limit areas in major cities where prostitution was legal. They distributed licenses, essentially establishing a government institution based in the exchange of money for sexual services.
In Edo, the district that offered such services was known as Yoshiwara. Yoshiwara was surrounded by walls, a moat, and only had one entrance. This was done intentionally so officials could keep track of who was entering and leaving the area.
The confines of Yoshiwara were supposed to be somewhat austere. The Japanese government attempted to limit the luxury inside the walls and the types of ornamentation courtesans could wear but to no avail. Once a man entered Yoshiwara, he was met with acres of pleasure - call houses were everywhere and, out of the 10,000 residents that inhabited the area at its height, about 2,500 were professionals in the trade.
It was in this area that the unique ukiyo or "floating world" culture of early modern Japan developed. Not only was intimate pleasure prominent, but literature, poetry, art, and theater all flourished.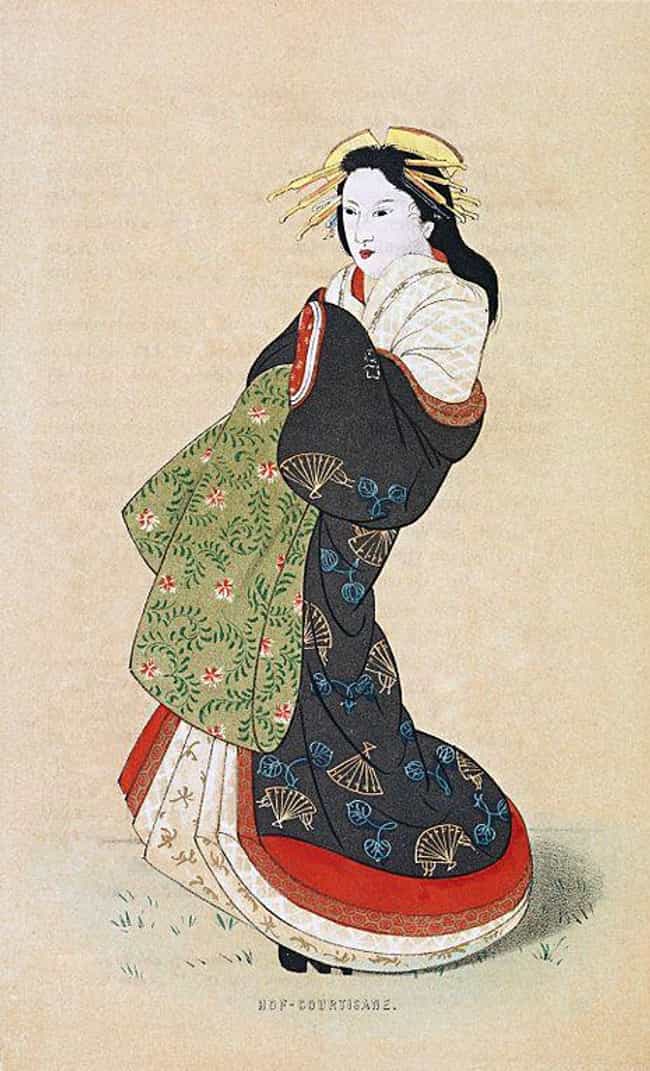 Courtesans Were Just As Susceptible To Disease As Lower-Level Pros
Women who offered sexual services in Japan were exposed to syphilis and gonorrhea by way of China and its contact with Portuguese merchants. Pros had a high incidence of sexually transmitted diseases, but some scholars believe as much as 30 to 40% of the population as a whole may have been affected.
Within Yoshiwara and similar districts, workers at all levels became ill with sexual afflictions. They were also susceptible to unwanted pregnancies and other occupational dangers, including wearing makeup that contained toxic chemicals.
Courtesans Were Entertainers And Conversationalists As Much As The Pros
In Yoshiwara, oiran, or elite courtesans, were much more than common pros. They provided men with intellectual stimulation as well as physical and, to that end, were trained in numerous traditions and skill-sets. One of the most important talents a courtesan needed was to be able to entertain.
Courtesans learned a variety of musical instruments and took extensive dance training - suggestive and otherwise. Some of these skills were similar to those of a geisha, but courtesans were explicitly paid for sexual services, while geishas were not.
Elite courtesans were also likely to be literate and well-read, characteristics which increased their status and desirability. They also learned artistic practices like flower arranging and sado, or the traditional Japanese tea ritual.