Weird History
Jeremy Bentham's Body Has Had One Of The Strangest Afterlives In History

Updated February 26, 2019
128.9k views
12 items
Born in 1748, Jeremy Bentham was a 19th-century English philosopher, economist, and social reformer. Bentham had interesting ideas about mortality and mourning, which shaped how he wanted his remains handled after his passing. By Bentham's request, his preserved body was on public display and used for instruction.
Bentham adopted and followed a practical life philosophy - he aimed for usefulness even in the afterlife. The reality of what happened to his body after he passed in 1832, however, wasn't quite what he intended. Bentham's remains, especially his head, took on a fascinating, if not horrifying, transformation.
He Wanted His Body Rolled Out At Parties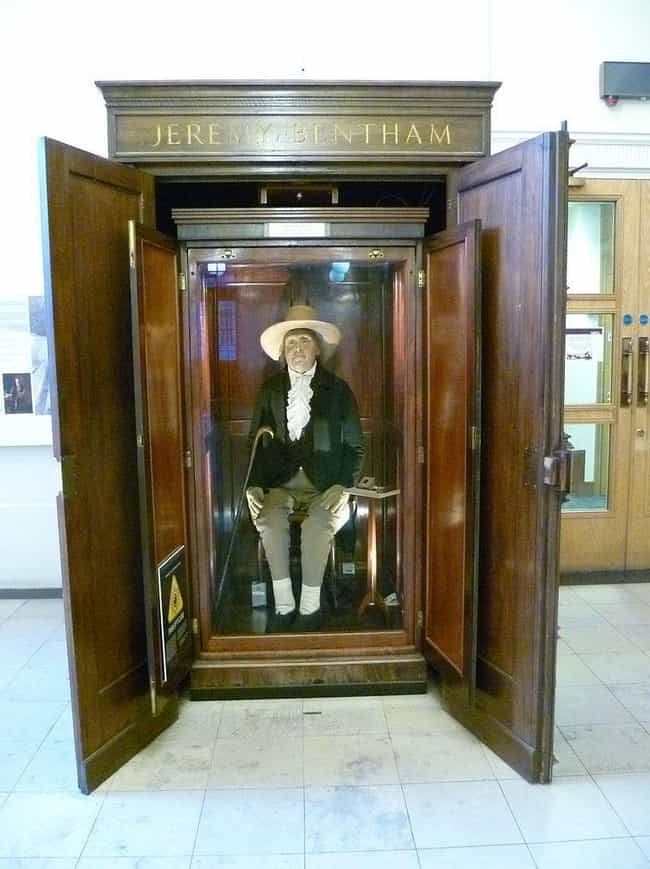 Bentham decided he didn't want to remain, as he put it, "altogether useless" after his passing, and came up with the concept of the auto-icon. Bentham envisioned the auto-icon as an accessible body ready for someone to wheel out at parties upon request.
Bentham hoped by preserving his body, his friends could still see him and may feel inspired to donate their bodies for similar purposes.
He Carried Glass Eyes In His Pocket For Insertion Into His Preserved Head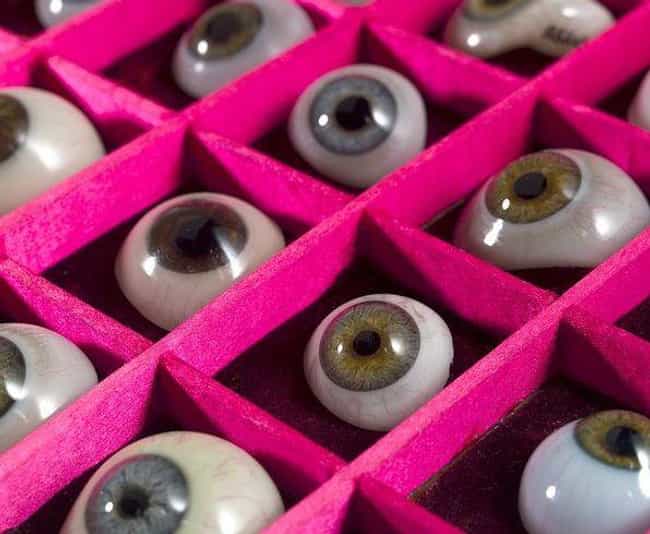 From an early age, Bentham knew what he wanted to happen to his body after he passed: He wished for someone to dissect, embalm, and display his body as a model for the world to see. As he came closer to the end, Bentham grew increasingly focused on the specifics of his impending mummification and display. He allegedly carried a pair of glass eyes with him during his final decade of life for easy insertion into his head when his body was on display.
Bentham perished on June 6, 1832, at the age of 84. He tasked Dr. Thomas Southwood Smith with fulfilling his wishes.
He Was Dissected In The Presence Of His Friends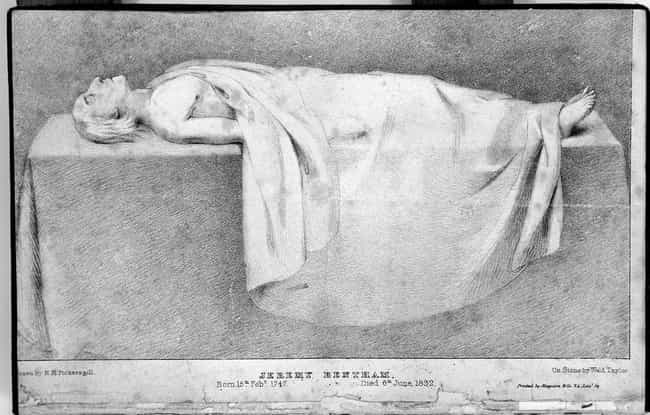 Three days after Bentham's passing, Dr. Smith dissected his body, as instructed, during an anatomy lecture. Bentham's closest friends received invitations the day before, which read:
It was the earnest desire of the late Jeremy Bentham that his body should be appropriated to an illustration of the structure and functions of the human frame. In compliance with this wish, Dr. Smith will deliver a lecture, over the body, on the usefulness of the knowledge of this kind to the community. The lecture will be delivered at the Webb-Street School of Anatomy and Medicine, Web-Street, Borough, tomorrow, at 3 o'clock; at which the honor of your presence, and that of any two friends who may wish to accompany you, is requested.
The Doctor Cut Him Open In The Interest Of The Greater Good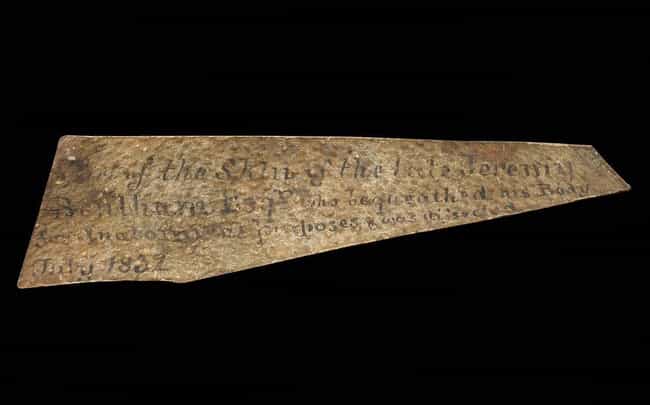 In addition to Bentham's friends in attendance, the dissection audience included noted medical professionals, philanthropists, and several members of the government. Autopsies and the study of anatomy were controversial at the time.
Dr. Smith allegedly said to the onlookers at Bentham's dissection, "If [...] I can promote the happiness of the living, then it is my duty to conquer the reluctance I may feel to such a disposition of the dead, however well-founded or strong that reluctance may be."