Cleo Egnal
Updated August 25, 2017
7.5k views
9 items
What do Queen Victoria, the Pied Piper, and a children's book have in common? Rats, of course – more specifically, the art of catching them. The history of rat-catching is a lot more fascinating than you might expect, but it's probably just as gross. From sewers to disease to lucrative rat-fighting businesses, rat-catching is definitely the kind of dirty and disgusting job that deserves more recognition. 
The origins of the rat-catching story are pretty simple. Basically, Europe had a rat problem, and people were hired to solve it. The profession was a way to stem the tide of the Black Death during the Middle Ages, and it reached its height in Victoria's England. The way catchers took advantage of their position as vermin hunters, though, is what makes the history of rat-catchers so intriguing. Thanks to various first-hand accounts, biographies, pictures, and even fairy tales, there is so much to learn about the dirty work that kept Europe safe from disease and contaminated food. Despite all the good rat-catchers did, though, the idea of getting paid to hunt rats is still a bit icky. 
Try not to think too hard about it as you go read about the fascinating profession that was rat-catching. After all, if someone named Jack Black could hide six disease-ridden rats underneath his shirt, then you can certainly read about it from the comfort of your own home.
Photo: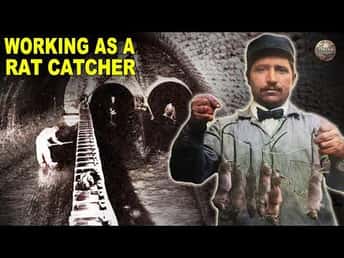 Rat-Catching Was A Lucrative Business – Especially When You Bred The Rats That You Would Go On To Catch Or Sell

Photo: Rare Historical Photos / No restrictions

Most rat-catchers were simple, poor folk who thought they might as well make a living off of killing the rats that already lived among them. Yet there were also those who realized that they could do much better than simply getting paid per dead rat. They used dogs and ferrets to hunt the rats rather than crawling down on the floor themselves. The real entrepreneurial rat-catchers sometimes even ended up simply breeding rats in order to release or sell them – and increase their pay.