Total Nerd 15 Comedies Everyone Loved (That Have Aged Horribly)

12.8k votes
1.8k voters
49.6k views
15 items
List Rules Vote up the comedies you used to love but are now too cringe-y to watch.
Admittedly, comedy is subjective. But there are some comedy movies that most can (and should) agree just don't hold up. Comedies that haven't aged well include films that are impossible to enjoy outside of the context in which they were created. Some of the greatest comedy films of all time have pieces that have to be explained away with the excuse "that's just the way things were"...but that's really not an excuse. The same goes for classic video games: some classic movies just don't hold up under scrutiny, and their worth is really only as a time capsule museum piece.
Of course, expecting a writer in 1959, for example, to understand how social mores would change over the course of 60 years is improbable. However, there are some very popular comedies that are just plain offensive no matter how you look at them.
Keep reading to remember all of the movies you used to think were hilarious and vote up the ones that have aged most horribly.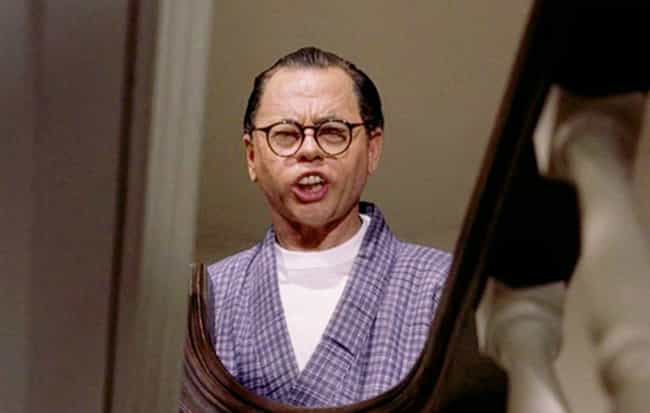 This 1961 romantic comedy has provided the blueprint for most of the Manic Pixie Dream Girls and the following films that featured them. Audrey Hepburn's naive eccentric socialite Holly Golightly is hardly a three-dimensional character. But time has been kind to the character, likely because of how good Hepburn is in the film. And no matter how daffy Hepburn's portrayal of Golightly is it's never going to seem offensive next to Mickey Rooney's portrayal of Mr. Yunioshi. Yunioshi is a Japanese photographer who lives in Golightly's apartment building. aucasian Rooney speaks faux-broken Chinese, wears buck-teeth, tapes his eyelids, and is arguably one of the most racist characters in the history of film.
It's hard to believe that people weren't upset with Rooney's portrayal at the time, but Rooney himself claimed that there was no racist intent in the character. Regarding later criticism of his racist depiction, he said:
"...breaks my heart...Never in all the more than 40 years after we made it — not one complaint. Every place I've gone in the world people say, 'You were so funny.' Asians and Chinese come up to me and say, 'Mickey you were out of this world.'"
If you've seen the film recently then you know how unlikely it is that anyone of Asian descent has ever told Rooney that he's "out of this world."
Also Ranked
#71 on The Best Rainy Day Movies
#17 on The Greatest Chick Flicks Ever Made
#57 on The Greatest Date Movies of All Time
#73 on The Greatest Movie Themes

Is this cringeworthy today?
see more on Breakfast at Tiffany's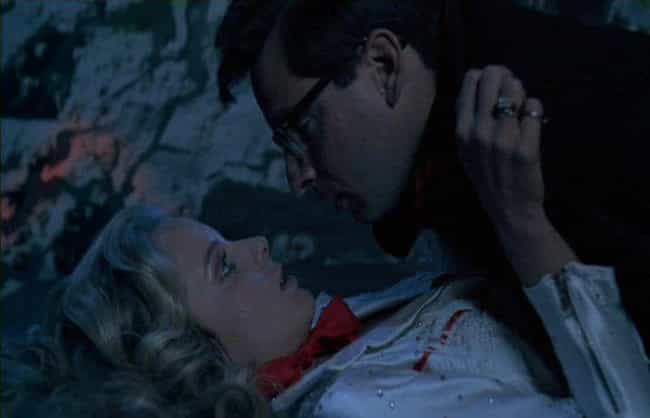 Revenge of the Nerds is a classic 80s "slobs vs. snobs" movie that leaned into the lesson that you should always be yourself - even if who you are is a complete dweeb. The movie is already full of oversexed characters who talk incessantly about their sex lives...or lack thereof. But that's to be expected: these are nerds in the 80s, after all. It would make perfect sense if, at the end of the film, the nerds slept with many consensual bodacious babes who realized that brains were just as good as brawn, and all that really matters is whether or not you're a good person. Unfortunately, that's not what happens. The "revenge" that the nerds claim begins at a college carnival where the frat houses are trying to win points to see which house will reign supreme. Louis, the leader of the nerds, steals the Darth Vader costume belonging to the leader of the rival frat and entices his rival's girlfriend into a bounce house. They have sex, and then Louis reveals that he's not her boyfriend.
The filmmakers depict this as casual college hijinks. Betty's body is collateral damage in a pointless war between the frats. In the film, Betty is totally fine with being raped by a stranger and used as a pawn in the frats' game. In real life, however, this would hopefully land Louis in prison for a very long time.
Also Ranked
#22 on The Funniest '80s Movies
#87 on The All-Time Greatest Comedy Films
#82 on The Absolute Funniest Movies Of All Time
#11 on The Best Movies of 1984
Is this cringeworthy today?
see more on Revenge of the Nerds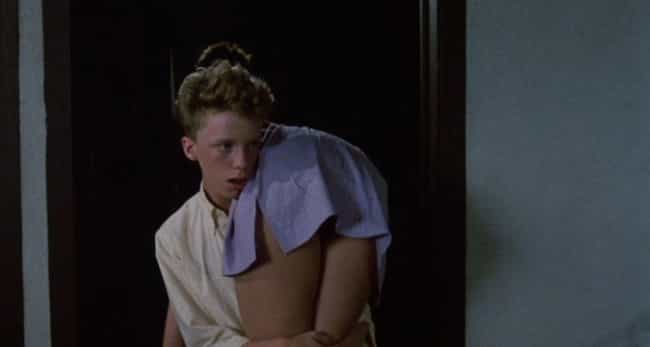 If you haven't watched the classic John Hughes coming-of-age film in a while then you may only have warm memories of Molly Ringwald navigating the strange world of high school dances, house parties, and that dreamy Jake Ryan. You may not realize that this is easily one of the most racist and pro-date rape movies ever made. Racism is rampant throughout the movie and it always hits when you least expect it. Gedde Watanabe plays foreign exchange student Long Duk Dong and if you're already cringing, that means you have a pulse. Dong is repeatedly referred to as a "Chinaman," he can only verbalize things in a Mickey Rooney-esque shout, and at one point he shouts, "BONZAI!" Seriously, John Hughes? Is that really what you think about people from Asia?
As if that weren't bad enough, the second half of the movie follows Anthony Michael Hall's character Ted on a quest to sleep with any woman who will have him. He is finally saved when dreamboat Jake Ryan tells Ted that his ex, Caroline, is so drunk that he could "violate her 10 different ways" if he wanted to. This is the guy who the audience is supposed to be in love with, by the way. Jake hands the keys to his father's car over to Ted, helps load Caroline into the car, and tells him to "have fun." Woof. Was 16 Candles ever good? Was there a context where date rape and overt racism were okay? Or did audiences just pretend that this kind of thing was funny?
Also Ranked
#59 on The Greatest Movies of the 1980s, Ranked
#45 on The Funniest '80s Movies
#66 on The Best Rainy Day Movies
#44 on The Greatest Chick Flicks Ever Made

Is this cringeworthy today?
see more on Sixteen Candles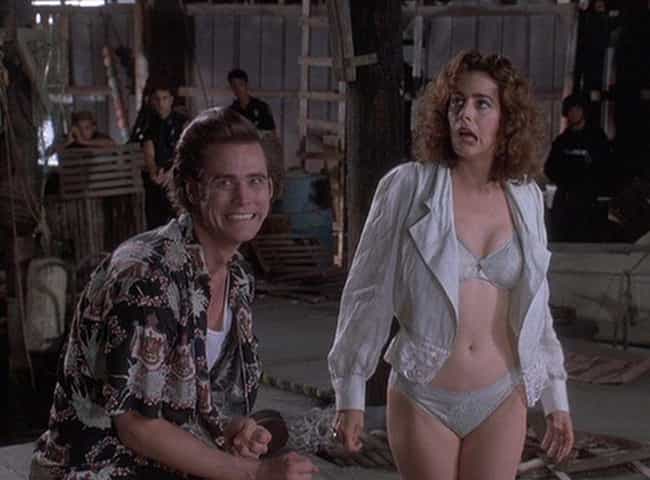 Even at the time of its release, Ace Ventura: Pet Detective was a terribly offensive film. First, there's Snowflake, the pet dolphin kept in a tiny tank that's clearly animal cruelty. Then, a lengthy section of the film features Ventura prancing around a mental institution dressed in a pink tutu and acting out some kind of faux mental illness. He smashes his head into a park bench and crosses his eyes while speaking in a manner even more affected than normal. If you've ever known anyone with a mental illness, or suffer from a mental illness yourself, it's impossible to watch this scene without feeling like the butt of the joke.
Somehow, that's not even the only offensive part of the film. The movie climaxes with Ventura exposing the over-libidinous Lt. Einhorn as a male to female transperson. He first strips her down to her underwear, and then shows everyone in the scene that she has tucked the penis she never wanted between her legs. Everyone begins to vomit in the throws of gay panic. When Ventura flashes back to Einhorn's original life as a man he vomits, brushes his teeth, and uses a plunger on his face to wipe off the perceived stench of the other. It's hard to watch this collection of scenes without getting sick.
Also Ranked
#11 on The Funniest '90s Movies
#20 on The All-Time Greatest Comedy Films
#14 on The Best Movies of 1994
#27 on The Absolute Funniest Movies Of All Time

Is this cringeworthy today?
see more on Ace Ventura: Pet Detective