Entertainment
Horrible Bosses 2 Movie Quotes

Updated November 6, 2017
130 votes
76 voters
39.2k views
11 items
"Horrible Bosses 2" returns to the crew of guys who now have the opportunity to be their own bosses, though their plan to get rich and successful doesn't come without some bumps. The comedy movie, which is a sequel to the 2011 film, was directed by Sean Anders using a screenplay he co-wrote with John Morris. "Horrible Bosses 2" hit theaters on November 26, 2014.
In "Horrible Bosses 2," Nick (Jason Bateman), Kurt (Jason Sudeikis) and Dale (Charlie Day) are back and have started their own business, producing the Shower Buddy. Things are going well and they even get a huge initial order from businessman Burt Hanson (Christoph Waltz).
But when Burt cancels the order and hijacks the product idea, the guys decide to take revenge and, with the help of a friend (Jamie Foxx), kidnap Burt's son, Rex (Chris Pine). The plan doesn't quite go as imagined but it does lead them to some comical interactions with old friends like Nick's old boss David (Kevin Spacey), and Dale's old boss, Dr. Julia (Jennifer Aniston).
"Horrible Bosses 2" has stiff box office competition as it joins other great movies in theaters including
"The Hunger Games: Mockingjay Part 1,"
"Dumb and Dumber To,"
"Foxcatcher,"
"Beyond the Lights,"
"The Homesman,"
"Interstellar,"
"The Theory of Everything,"
"Nightcrawler,"
"Big Hero 6,"
"Before I Go to Sleep,"
"Horns,"
"John Wick,"
"White Bird in a Blizzard,"
"Fury,"
"The Best of Me,"
"The Book of Life,"
"Birdman or (The Unexpected Virtue of Ignorance),"
"The Judge,"
"Alexander and the Terrible, Horrible, No Good, Very Bad Day,"
"St. Vincent,"
and
"Gone Girl."
The Name's Not Official Yet
Mike: "Every week we like to highlight local inventors and entrepreneurs. What is it that inspired three regular Joes to go into business for yourselves?"
Nick: "Well, we were all working at pretty terrible jobs for some awful bosses and we just thought, if we ever got a chance to be our own bosses, that we'd do things differently."
Kurt: "Yeah, we came up with the Shower Buddy."
Dale: "I'm sorry, that name's not official yet. I wanted the Shower Daddy."
Nick: "Shower Daddy is worse on pretty much every level so, yeah."
Dale: "Why would your buddy be in the shower with you?!"
Kurt: "Why would your dad?!"
Nick, Kurt and Dale appear on a local morning show to introduce their product. It seems, though, they are still debating the name for said product, live on television.
Should this be higher or lower?
Group Therapy Members: [in unison] "This sex addiction I cannot change…"
Security Guard: "I found this gentleman loitering out in your hall. Say he knows he's in trouble."
Karen: "We're all in trouble. You don't have to be afraid. You're safe here."
Nick: "Okay"
Dr. Julia Harris: "What's your name, honey?"
Nick: "I am um, I am Blansten."
Group Therapy Members: [in unison] "Hi Blansten."
Nick: "Hi"
Dr. Julia Harris: "Well it's nice to have some fresh blood in the group."
Nick: "Appreciate it"
Dr. Julia Harris: "Fresh, cute blood"
Nick: "Hey"
Karen: "Easy, Julia! Blansten, would you like to share with us what's led you into recovery?"
Nick: "Uh, okay, I do have a very big problem. I've just been hitting it hard. I've been hitting it hard."
Dale: "He thinks he's in an AA meeting."
Nick: "Getting together with the guys, often times just ending up face down, chugging one after the other, sometimes double fisted. You know what I'm talking about."
Dr. Julia Harris: "So your sexual addiction, it's homosexual in nature."
Nick: "My sex addiction, my sex addiction is um, and then what did you say?"
Nick comes upon what he thinks is an alcoholics support group and opens up about hanging out with the guys, chugging all night. When he learns that they are sex addicts there for therapy, things get weird.
Should this be higher or lower?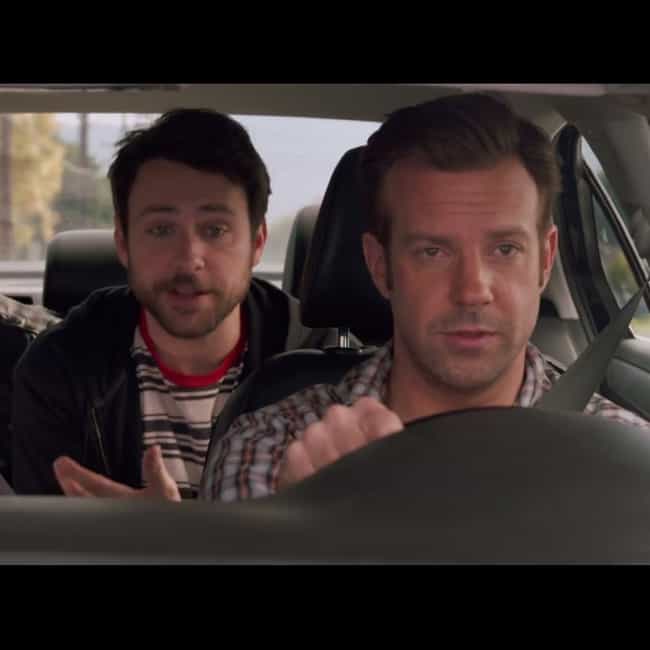 Nick: "Who are you texting?"
Dean MF Jones: "I'm texting my lady. If I don't check in, she goes crazy."
Dale: "Train, train, train, train!"
Kurt: "I didn't know you were seeing someone."
Dean MF Jones: "Yeah"
Kurt: "That's great!"
Driving a car at night at a high rate of speed toward an intersection that a train is about to meet might not be the optimal time for Dean to text his lady but somehow, call it movie magic, it all works out okay in the end.
Should this be higher or lower?
Kurt: "Yeah, my email"
Nick: "Not yours"
Kurt: "It's phatballllz@hotmail.com. It's P-H-A-T-B-A-L-L-L-L-Z."
While Kurt's email address is certainly on the memorable side, it's not very professional, to say the least. With qualities like this, it's hard to understand why these fine men are not incredibly successful in the business world.
Should this be higher or lower?