Graveyard Shift
The Most Flat-Out Horrifying Places And Images You Can Find On Google Street View

Google Street View takes us to the ends of the earth and back - literally. It brings us to the very top of the Ural Mountains all the way through the bustling streets of Tokyo and down the coastal highways of California. There is hardly a place on this planet that's been left unexplored by one of Google's infamous Street View vans (though the places Google can't go are exceedingly creepy).
Though Google's 360 degree cameras have given us more than our fair share of wanderlust, there are definitely some places the crew has explored that we'd never, ever want to go. The world can be a scary place and Google sets out to document every corner of it. Scary sites on Google Street View show a harrowing reality outside of the comfort of our bedrooms (along with a couple of ghost stories and an unexplained phenomenon or two).
Here are some creepy places you can see on Google Street View.
An Abandoned School Filled With Gas Masks In Pripyat, Ukraine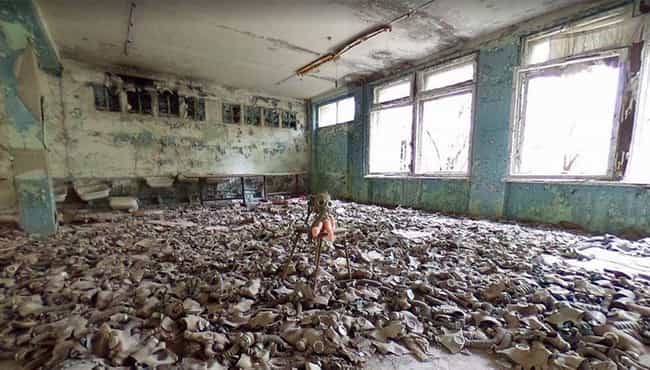 After the catastrophic nuclear disaster at Chernobyl power plant in 1986, the entire city of Pripyat, Ukraine, had to be evacuated. To this day, it remains abandoned – which doesn't stop urban explorers from walking right into the exclusion zone for some haunting pictures.
Right across from the Pripyat post office lays this decrepit building filled with thousands of gas masks (it looks like building could actually be Middle School No. 3 upon further investigation). While you may be inclined to believe one of those rascal urban explorers put a gas mask on this creepy doll for dramatic effect, are you totally sure it didn't put the mask on itself?
Tuol Svay Pray High School, Phnom Penh, Cambodia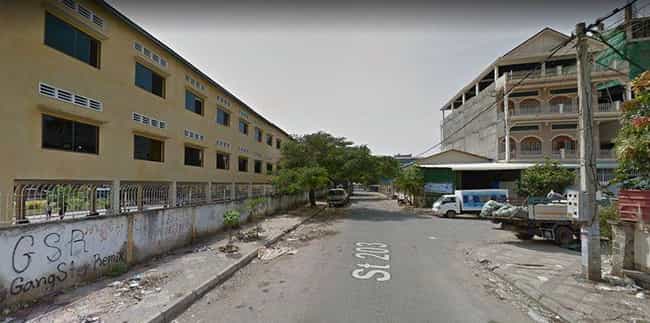 This abandoned high school isn't really known for being a place of learning. In 1976, the Khmer Rouge, Cambodia's communist regime, renamed the high school S-21 and used it as a prison. It was here that they slaughtered, interrogated and tortured approximately 20,000 people. Of the 20,000 people that filtered through the school-turned-prison's grim doors, less than a dozen survived.
Just a short distance, the Khmer Rouge regime forced prisoners who finished interrogation to kneel at the edge of a pit, where they'd be hit behind the head with an iron bar. This mass grave is now known as the Cambodian Killing Fields.
El Bronx, Bogota, Colombia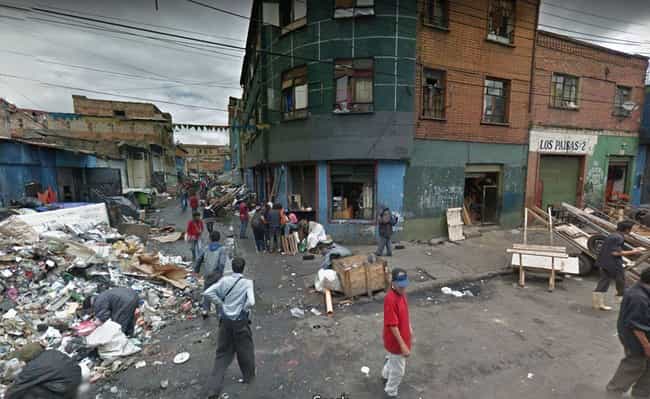 Just a few blocks from Colombia's presidential palace is the Bogota ghetto known as El Bronx. Until it was raided by 2,500 armed forces in 2016, El Bronx was a four block stretch where crime ran rampant. Over 9,000 families were displaced by the drug-trafficking, neo-paramilitary group Los Urabenos between 2012 and 2014, and when riot police finally raided the area, they found a number of "chop houses." It's in these places the cartel would do their dirtiest deeds.
Though the area may be vastly different post militarization, Google Street View still captures an era of harrowing crime.
A Tamagawa-Josui Sidewalk In Tokyo, Japan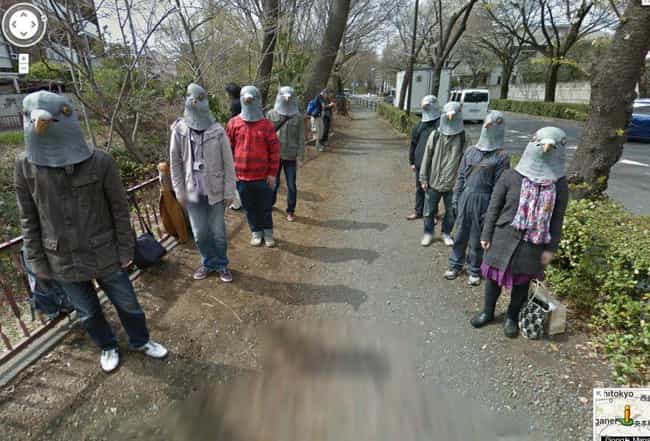 There are only a couple explanations for this undeniably creepy photo from a sidewalk in Japan. Either this group of pigeon-masked people are trolling the Google Street View car or they're having some weird cult meeting. Perhaps they just were really, really into Hatoful Boyfriend (a Japanese pigeon dating sim because that exists) and this is some kind of pigeon-masked swingers club a la Eyes Wide Shut.
Hatoful Boyfriend lets you date up to eight pigeons, and there are nine people here which seems a little too coincidental to ignore. Regardless of the explanation, this image is deeply unsettling on more than one level.