Graveyard Shift
Pretty Good Horror Movies That Make You Fear Going To The Bathroom

69 votes
15 voters
14 items
List Rules Vote up the movies that make you afraid to use the toilet.
Under the wrong circumstances, going to the bathroom can be terrifying. It's one of the places where we're most vulnerable and tend to need peace. Thanks to the horror genre, there are plenty of movies that offer alternative reasons why you should never go to the bathroom, from the supernatural to the all too real. These aren't the best horror movies ever made (though some could make the case for Ghoulies II), but they are a lot of fun, and they'll make you think twice about going to the bathroom.
Whether you're in the mood for a cult classic about people melting into neon-colored goo or a legitimately good slasher flick, these horror movies with terrifying bathroom scenes will freak you out in one way or another, and they'll definitely ruin the concept of public restrooms for the rest of your life.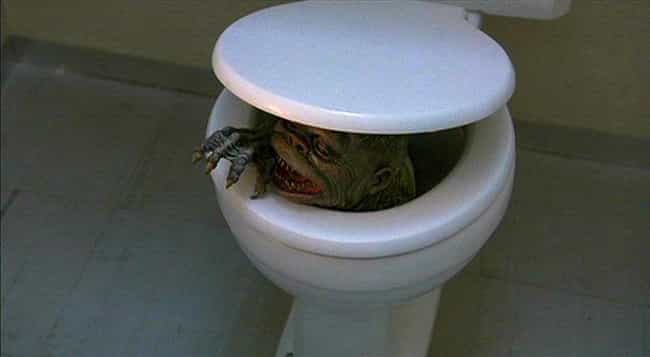 Anyone old enough to have walked the aisles of a video rental store remembers the tattered VHS of at least one Ghoulies tape. Even if your parents didn't let you rent one of these gruesome B-movies, the box art was enough to keep you from going to the bathroom when you made it home. The second film in this splatter-filled franchise follows the titular creatures as they get a job at a carnival; people love them until they realize that they're actually from hell, and then the attraction loses its steam.
The bathroom scene in this film shows the biggest problem with using a portable toilet trailer in the middle of a carnival - the probability that something is waiting in the bowels of the tank. When a man sits down on the toilet, a ghoulie crawls up through the pipes and the film mercifully cuts away as he screams while the creature rips him apart from the inside out.
Actors: Phil Fondacaro, Royal Dano, Damon Martin, Kerry Remsen
Released: 1988
Directed by: Albert Band

Is this terrifying?
see more on Ghoulies II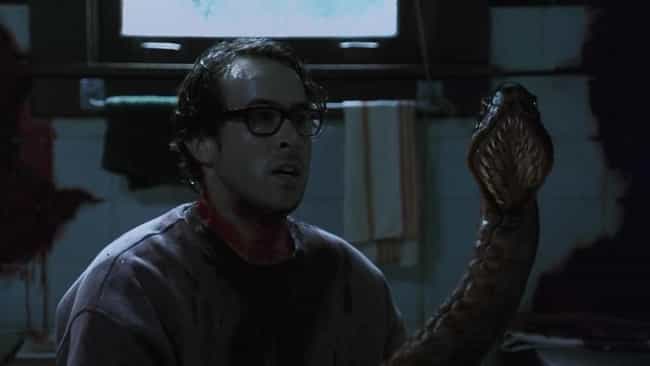 There are some Stephen King adaptations that audiences simply must see; Dreamcatcher is not one of them. That is unless you're a fan of freaky bathroom scenes. The film follows a group of friends on a yearly hunting trip in Maine who run afoul of a creepy alien that has been birthed out of one of the camper's bowels.
An unlucky camper nicknamed "Beaver" sits down on the toilet for a moment of contemplation. When he drops his toothpicks on the floor, he reaches to pick them up as a tentacle creature comes out of the toilet and wraps itself around his legs before throwing him to the floor. The creature bites off his fingers and proceeds to thrash Beaver until it's clear he isn't coming back.
Actors: Morgan Freeman, Timothy Olyphant, Damian Lewis, Tom Sizemore, Thomas Jane, + more
Released: 2003
Directed by: Lawrence Kasdan

Is this terrifying?
see more on Dreamcatcher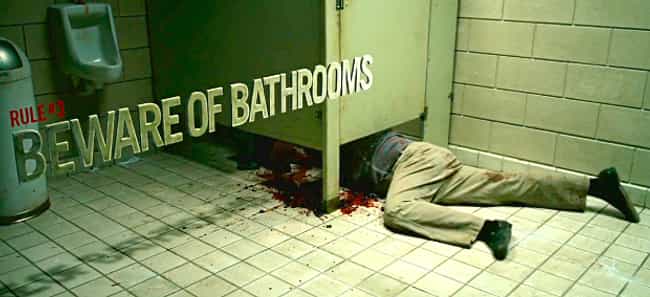 Rule #3: beware of bathrooms. Even if the world of Zombieland didn't have a clear guide on how to keep safe from zombies, it would be wise to avoid enclosed spaces that play host to the flesh-eating creatures. Early on in the film, it's made clear to the audience just why they should avoid public restrooms in the event of a zombie outbreak - if you don't, you're going to get chomped.
While illustrating some of the most important rules for survival in case of a global strike of walkers, a man (played by Mike White, the writer of School of Rock and Nacho Libre) tries to use the bathroom in peace but instead ends up in pieces when a zombie crawls under the stall and has its way with him. Regardless of what kind of supernatural creatures are chasing you, it's always best to use the bathroom before you go out.
Actors: Emma Stone, Amber Heard, Bill Murray, Woody Harrelson, Jesse Eisenberg, + more
Released: 2009
Directed by: Ruben Fleischer

Is this terrifying?
see more on Zombieland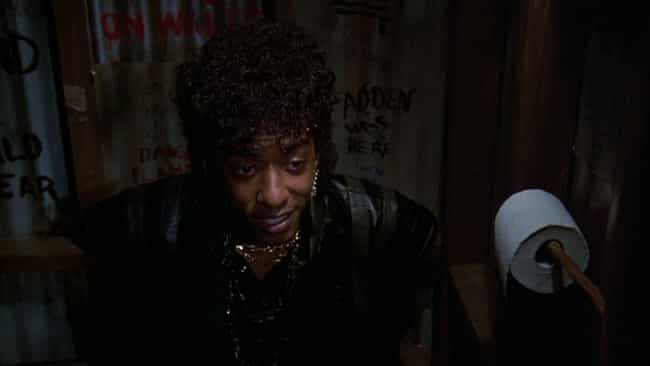 Friday the 13th: The Final Chapter is anything but, although what it lacks in honesty, the film makes up for in absolutely wild slayings. There is a lot to be absorbed from this outhouse slasher scene - that the series has gone to the toilet, that they're out of ideas, and that horror alum Miguel A Nunez Jr. (Return of the Living Dead) can sell any sequence, no matter how ridiculous.
After eating a Mexican food dinner in his van, Nunez's character - Demon - stops off at an outhouse while his girlfriend waits outside. Unfortunately for these two lovebirds, they've stopped outside of Camp Crystal Lake. The thing about this scene is that it's a lot of fun in spite of its trappings. The first jump scare comes when the girlfriend shakes the outhouse before revealing that it's just a joke, but when Demon finishes up, he finds that she's been slain. Demon retreats back into the outhouse before being pierced by a giant piece of rebar by none other than Jason Voorhees himself.
Actors: Corey Feldman, Miguel A. Núñez, Jr., Marco St. John, Richard Lineback, + more
Released: 1985
Directed by: Danny Steinmann

Is this terrifying?
see more on Friday the 13th: A New Beginning