Culture
The Best Horror Movies To Watch Stoned

Updated July 5, 2019
976 votes
260 voters
18.9k views
31 items
List Rules Vote up the best horror movies to watch while high!
Ever been high on Halloween and wondered what horror films to watch stoned? Or maybe, while under the influence, you simply found yourself desiring a good spooky movie. Whatever the case, you've come to the right place! Here, you'll find some of the trippiest horror movies to watch on marijuana. These mind-bending films - full of twists, turns, and stunning visual effects made even more captivating by a little Mary Jane - are certain to satiate any stoned horror cravings.
The scariest movies to watch high include everything from horror classics that don't get nearly enough appreciation (expect perhaps among the stoner crowd). Obscure films like Brain Damage and House will please any high horror junkie. There are also films so inherently disturbing or downright bizarre, you'd almost have to be high to even come up with the ideas. Did a sober person really create the world of Requiem for a Dream, for instance? So fasten your seatbelts, grab some food you'll feel terrible about eating tomorrow, and get ready to check out some of the best high horror movies on the market.
Be sure and cast your vote to help others identify the best scary movies to watch stoned! Also, feel free to add anything you think is missing.
Halloween is a 1978 American independent slasher horror film directed and scored by John Carpenter, co-written with producer Debra Hill, and starring Donald Pleasence and Jamie Lee Curtis in her film debut. The film was the first installment in what has become the Halloween franchise. The plot is set in the fictional Midwestern town of Haddonfield, Illinois. Fifteen years after Halloween night in 1963, Micheal Myers escapes from a psychiatric hospital, returns home, and stalks teenager Laurie Strode and her friends. ...more on Wikipedia
Actors: Jamie Lee Curtis, Kyle Richards, Donald Pleasence, Sandy Johnson, Charles Cyphers, + more
Released: 1978
Directed by: John Carpenter
Would you watch this stoned?
The Shining is a 1980 British-American psychological horror film produced and directed by Stanley Kubrick, co-written with novelist Diane Johnson, and starring Jack Nicholson, Shelley Duvall, Danny Lloyd, and Scatman Crothers. The film is based on Stephen King's 1977 novel of the same name, although the film and novel differ in significant ways. In the film, Jack Torrance, a writer and recovering alcoholic, takes a job as an off-season caretaker at the isolated Overlook Hotel. His young son possesses psychic abilities and is able to see things from the past and future, such as the ghosts who inhabit the hotel. ...more on Wikipedia
Actors: Jack Nicholson, Shelley Duvall, Scatman Crothers, Barry Dennen, Barry Nelson, + more
Released: 1980
Directed by: Stanley Kubrick
Would you watch this stoned?
The Thing is a 1982 American science fiction horror film directed by John Carpenter, written by Bill Lancaster, and starring Kurt Russell. The film's title refers to its primary antagonist: a parasitic extraterrestrial lifeform that assimilates other organisms and in turn imitates them. The Thing infiltrates an Antarctic research station, taking the appearance of the researchers that it absorbs, and paranoia develops within the group. The film is based on John W. Campbell, Jr.'s novella Who Goes There?, which was more loosely adapted by Howard Hawks and Christian Nyby as the 1951 film The Thing from Another World. Carpenter considers The Thing to be the first part of his Apocalypse Trilogy, ...more on Wikipedia
Actors: Kurt Russell, Keith David, John Carpenter, Adrienne Barbeau, Wilford Brimley, + more
Released: 1982
Directed by: John Carpenter
Would you watch this stoned?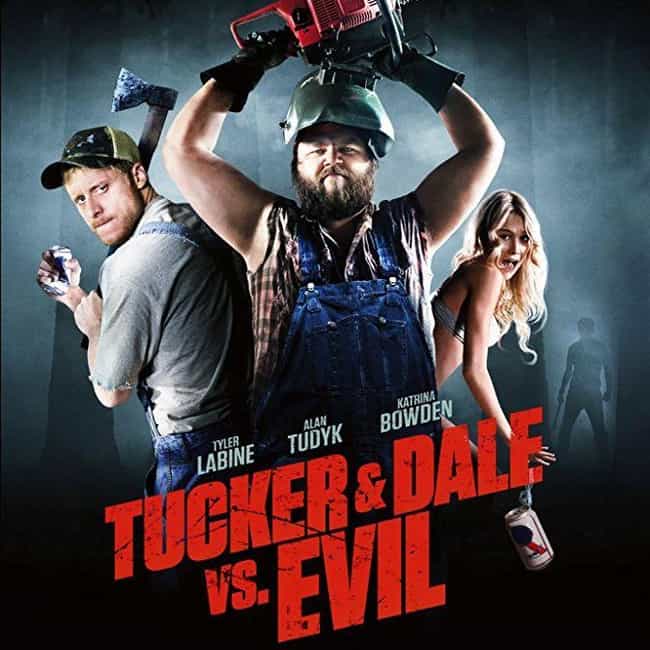 ""The hillbillies from the store captured Alison!" Tucker and Dale, two hillbillies heading to their "fixer-upper" cabin for some relaxin', discover they ain't alone in them woods. They encounter an SUV full of vacationing college kids, and Dale unintentionally creeps them out. But later, as he and Tucker are fishing, Dale rescues one of them—the pretty blond Alison—after she falls into the lake. Assuming she's been captured, the indomitably preppy college kids rally to find her. A comically macabre battle between Izods and overalls, Eli Craig's ingenious send-up of the horror genre recounts a simple misunderstanding gone grotesquely wrong. Our hillbilly psycho killers are actually sweet ...more on Wikipedia
Actors: Katrina Bowden, Alan Tudyk, Chelan Simmons, Brandon Jay McLaren, Sasha Williams, + more
Released: 2010
Directed by: Eli Craig

Would you watch this stoned?