Entertainment
The Sexiest Scenes In Comic Book Movies
9k votes
1.5k voters
92.4k views
23 items
Superhero movies are ripe for sexy scenes. They cast the best looking people in the world and squeeze them into tight-fitting and revealing costumes. It's a formula that practically prints money. However, the movies focus on action, are mostly rated PG-13, and thanks to their bloated budgets, have to appeal to wide audiences who may still suffer from an inexplicable aversion to the filming of female nipples.
Despite these conflicting objectives, filmmakers have managed to offer up plenty of sizzle and you'll find the best of it in this list of the sexiest scenes in superhero movies. There aren't too many overtly sexy comic book movies, but there are plenty of sexy scenes in comic book movies, so we're rounded them up here.
Vote up the hottest scenes from comic book and superhero movies below. Just remember, there's nothing kinky about grown adults slapping each other around in spandex costumes.
Black Widow Stripping in the Back Seat from Iron Man 2
Jon Favreau directed a film that required Scarlett Johansson to grapple him and strip in the back of the car he was driving. You know, for the artistic value.
Agree or disagree?
Scarlett Johansson can fight a bunch of guys while tied to a chair and still look amazing.
Agree or disagree?
see more on The Avengers
Emma Frost Bed Bondage from X-Men: First Class
January Jones is stuck to a bed, but uses her diamond form to foil James McAvoy's Xavier.
Agree or disagree?
Double Lapdance from X-Men: First Class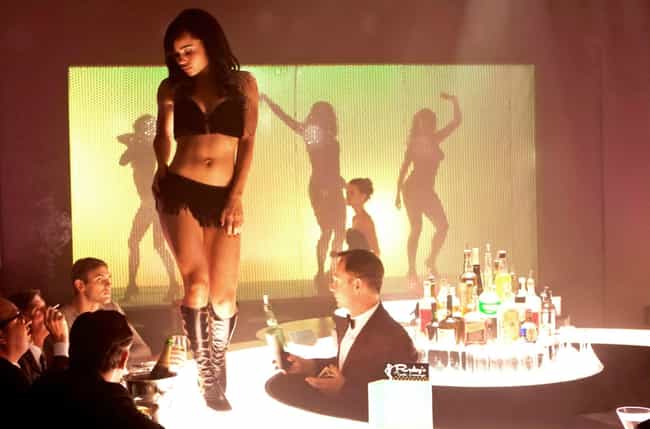 In a twist worthy of the
Price Is Right
trombone, this scene seems like it's about revealing Zoe Kravitz's naked body, but instead it's about revealing her mutant wings. It's a genre dominated by PG-13 movies, so you take what you can get.
Agree or disagree?