Entertainment
Actors Who Portrayed Living People Describe How Hard It Was

Updated January 17, 2020
9.7k views
12 items
Portraying a real person in a movie can create a good amount of pressure for actors, but that pressure can be even more intense when the person they're portraying is watching from the sidelines. While actors portraying figures who have passed have to learn about their subject through books, film, or discussions with those who knew them, actors portraying people still alive can meet them in person. For many, this can be intimidating. Not only may a subject be famous, an idol, or an important part of history, but actors also generally don't want to offend or misrepresent the people they're playing.
Some actors are cast in biopics about living people because there's a physical resemblance, especially when viewed side by side. Others are cast due to their abilities as an actor, dancer, or singer. Portraying a character who's also a real person takes talent as well as guts, and in order to be successful, actors must often observe the subject's mannerisms, way of speaking, and how they might think. Many actors choose to create their own interpretations of real subjects, but in doing so, they realize they must still be respectful of their story. Whether they're portraying music legends, political figures, or sports heroes, recreating a living person who can comment on the performance on screen can be quite a challenge.
In preparation for playing Stephen Hawking in The Theory of Everything, Eddie Redmayne read everything he could about the man. "I thought I'd grown up with an icon, thought I had some knowledge of who he was but realized I knew nothing," he recalled. "There was this extraordinary other story." Redmayne also met with a choreographer to fine tune his movements and worked with specialists to accurately depict the progression of motor neuron disease. When it came time to meet the famous man face to face, Redmayne was understandably intimidated. "It was terrifying," he remembered. "I'd spent six months reading and watching everything, and then you get to meet him, and I just basically ended up vomiting forth information about him, to him."
Redmayne recalled the inspiration he used to create his character:
I kid you not, there's a really sexy quality to him. He has this troop of women around him and he's a virile and funny man. In my trailer I ended up having three images that I referred to. One was Einstein with his tongue out, because there's that similar humor with Hawking. Another was The Joker on a pack of cards who's a puppeteer, because I feel [Stephen] has people in the palm of his hand. And the third was James Dean. And that was what I gained from seeing him: the glint and the humor.
When Hawking viewed the finished film, Redmayne experienced nervousness once again. "When he then went to see the film I saw him beforehand and I said, 'Stephen, I'm very nervous about you seeing it, let me know what you think,'" he recalled. "And he said, 'Yeah I'll let you know what I think, good or otherwise.' I was like, if it's otherwise, will you just say 'Otherwise.'" Luckily, Hawking had nothing but praise for the film and Redmayne's performance. "I thought Eddie Redmayne portrayed me very well," Hawking said. "At times I thought he was me. I think Eddie's commitment will have a big emotional impact."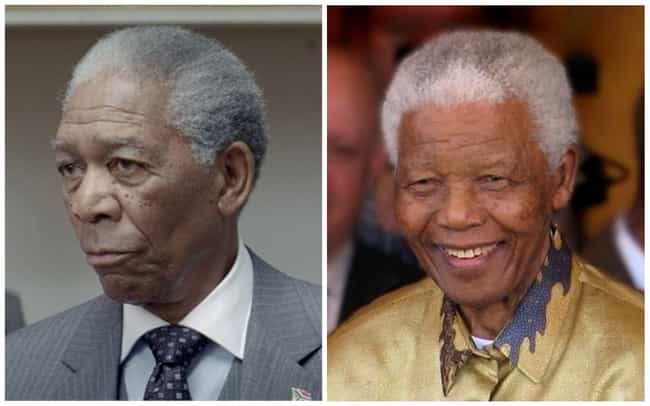 At a 1994 press conference for his memoir, Long Walk to Freedom, Nelson Mandela told reporters he wanted Morgan Freeman to play him if a movie should ever be made. "It sounds arrogant, but my thinking was, 'Of course. Who else?'" Freeman remembered. "And I can do it. I know I can do it." He purchased the film rights to Mandela's book, and proposed they spend time together in order to fully understand him and do the part justice. Unfortunately, they didn't succeed in turning it into a movie. The two men continued to meet, however, and Freeman and Mandela formed a friendship. "When you meet Mandela, you know you are in the presence of greatness," Freeman recalled. "It is something that just emanates from him." Years later, Mandela's story came together as Invictus, and Freeman had his chance to play his friend on screen.
Playing Mandela, however, was no easy task, even for an actor who has played God more than once. "Playing God is not a challenge at all," Freeman said. "And playing the president, who's the president? He's just a guy. Mandela's not just a guy." Luckily, Freeman had his friendship with Mandela to draw from, and watched footage of him interacting with people in public and in private. "You have to have watched him - closely," he remembered. "Walk, talk, nuances of character, things like that." Freeman felt added pressure as he sat beside Mandela when the South African leader watched the movie for the first time. "I was sitting right next to him," Freeman remembered. "He pointed at the screen and said 'I know that fella.' So, yeah, I think he liked it."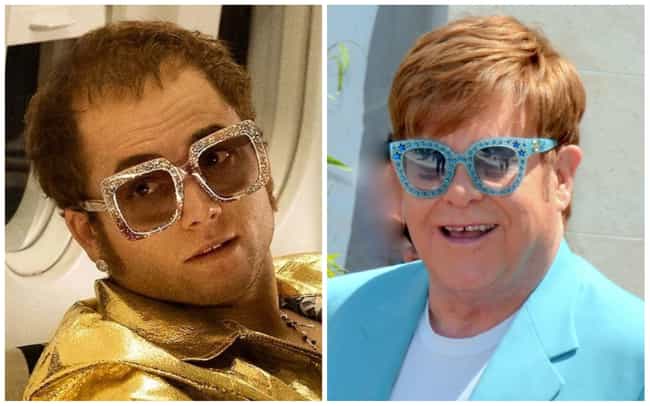 Executive producer Elton John understandably felt concern about who would play him in Rocketman. "I didn't want somebody to be lip syncing," he remembered. Taron Egerton turned out to be a perfect fit. "He's worked double hard," John said. "He's done the singing and he's done the acting... What I've heard, it's quite unreal." Egerton was proud to take on the task of stepping into the shoes of the music legend, but was nervous meeting the man for the first time. Egerton remembered:
Meeting Elton for the first time was intimidating. He is obviously someone who feels a bit like royalty... Until you meet him you kind of forget that he's a real sort of person. He's sort of more of an idea than he is a walking, talking human being... You very quickly realize although he's intimidating at first, it kind of delights him being a little bit provocative and sort of a little bit naughty. He is the kindest, most generous, warm-spirited person, and I don't think that the experience of playing him would have been anywhere near as rewarding and... nourishing and significant in my life if it weren't for that having gone hand in hand with getting to know him and spending time with him. It's been a real privilege. I feel very lucky.
Egerton and John formed a friendship behind the scenes, as John saw a bit of himself in the actor. "I'm obviously a lot older than Taron, but we're very much alike," he said. "My ambition in life now is to make sure he doesn't make the same mistakes I did." For Egerton, becoming friends with John was as rewarding as making the movie. "I have been a fan of Elton for as long as I can remember," he said. "I've fallen in love with him as a person." John helped Egerton through the movie by giving him encouragement. "Elton didn't really give me any advice on how to play him," Egerton recalled. "As a person and as a support, he's been very present... I think he knows you have to give someone their space a little bit in order to get the best out of them... He's given me real license." John even gave Egerton a gift to show his support. "I got my ear pierced for the role, and he gave me a diamond earring as a gift before we started," Egerton remembered.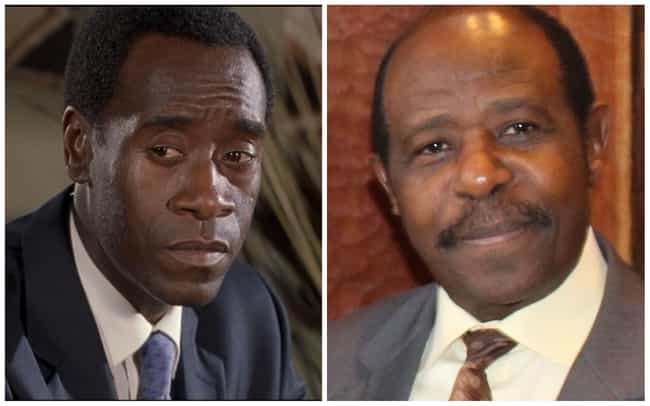 Don Cheadle almost didn't get the part of Paul Rusesabagina in Hotel Rwanda. He remembered director Terry George telling him, "...I want you in it, but honestly, there are some other actors who I may have to make the movie with to make the movie go, to generate the dough." Luckily, Cheadle won the role and, after getting to know one another via email, he flew to South Africa and lived with Rusesabagina for a week. "...Mostly it was just getting a sense of the nature of him and a sense of his spirit and a sense of how he approached the world," Cheadle recalled. "It was just kind of getting a whole picture of who he was, not just the 110 pages of the script or interviews that I'd seen, but really just sitting with him and joking with him and telling stories and him meeting my kids and me meeting his kids, those things, little details would come off of those things..."
Rusesabagina was very selective about who he would allow to tell his story, and after finally agreeing to work with George, he oversaw the filming by serving as an advisor to ensure its accuracy. That meant Rusesabagina was on set every day, and Cheadle had to act knowing the man he was portraying was in the same room, watching. Cheadle remembered:
It's not comfortable. At times it was really daunting and I would say, "Do you have to sit behind the monitor today? Can I come see you in the trailer afterwards?" But, for the most part, knowing that I wasn't trying to do some kind of direct characterization of him. There are definite things about him that I did incorporate, but they were larger things about his comportment and how he dealt with people and how he dealt with his family and what he thought of himself and his place and that situation...
Although he found the finished film sometimes painful to watch, Rusesabagina was grateful. "All of us, we have to see it and at least learn a lesson," he said. "This movie is a message of hope." Rusesabagina claimed he enjoyed Cheadle's performance, and loved that the two of them became close during the filming experience. "His performance is perfect," Rusesabagina said. "He did it properly, sometimes in the Hollywood way, but just perfect."