READ
How To Make A Bong Or Pipe Out Of Pretty Much Anything Lying Around

Right after picking up your dubsack, you realize you have nothing to smoke out of, a smoker's biggest conundrum. Thankfully, a quick run through your household reveals a wealth of objects perfectly suited for you to make your own pipe. A stoner's wild imagination coupled with their determination to toke up leads to a variety of ways to make bongs out of anything; how to make your bong honestly depends on your own preferences and whether or not you've got easy access to certain types of food or children's toys. If you feel especially resourceful, you can reuse retired items like old inhalers or gaming controllers and blow your friends' minds before they've even had a chance to blaze.
Sure, it's not going to be some crazy elaborate bong featuring six chambers and a percolator, and it definitely won't be as sturdy or reliable as some of the more trusted bongs out there. Hell, depending on your munchies, it might even get eaten shortly after using it, but at least it gets the job done! From the simple pop can pipe to the tried-and-true steamroller, check out our easy craft tips for bongs sure to turn you into a true marijuana MacGyver.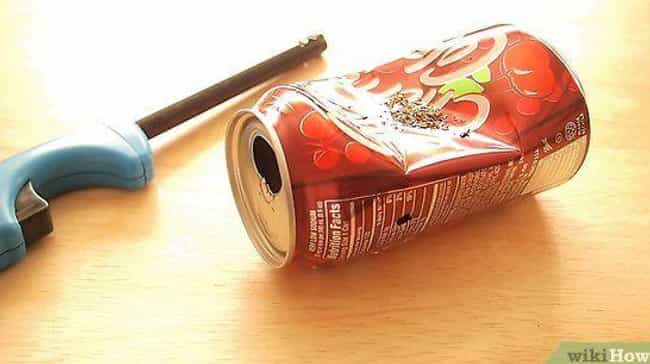 For this method, you'll need a standard aluminum pull-tab soda/pop can, and a sharp object.
First, create a "bowl" in the side of the can by denting it with your thumb. Then use a sharp object to poke 8-12 small holes in the bowl, big enough that air can freely flow through it, but not so big that product gets sucked through when you draw on the mouthpiece.
You can also poke a larger hole on the side of the can for a choke. Talk about recycling!
Please note that smoking out of aluminum cans is widely considered one of the worst and unhealthiest ways to smoke, so only use this method if you're in a real pinch!
Two-Liter Bottle Gravity Bong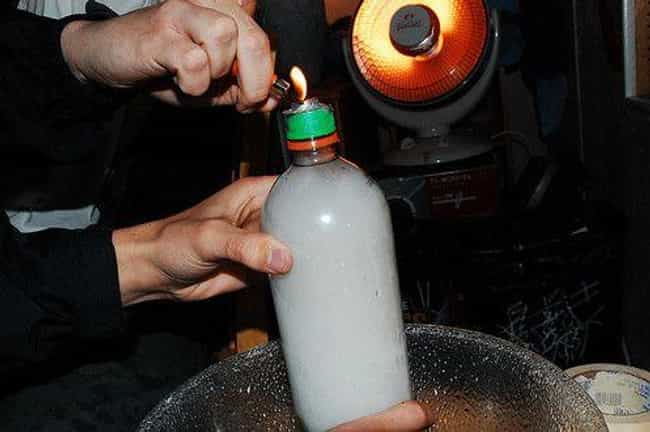 Be careful with this one. Gravity bongs, true to their moniker, hit users heavily if they're not expecting it. For this method, you'll need a plastic two-liter bottle, tin foil, a sharp object, and some water.
First, fashion a small bowl out of tin foil and poke a few holes in it with your sharp object. Next, fill the bottle with water, and secure the tin foil bowl on the mouthpiece.
Finally, light the bowl and punch a hole in the bottom side of the two-liter over a sink. As all of the water drains out of the bottle, it will fill with smoke and cash the bowl. Simply unscrew the cap, and puff-puff-pass from the drain hole until it's clear!
Toilet Paper Roll Steamroller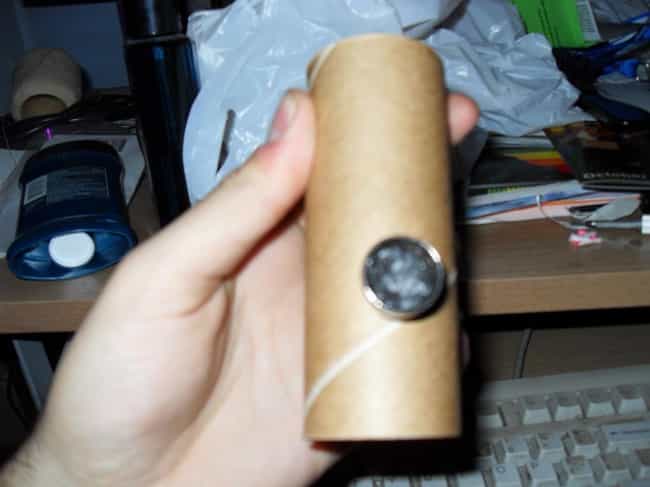 For this method, you'll need a toilet paper roll, tin foil, and a sharp object - preferably a pen.
Start by poking a pen-sized hole two-inches or so from the end of the roll. Then fashion some tin foil into a bowl and place it within the hole. Use your hand to cover the end near the bowl and draw from the opposite side of the roll. Alternatively, you can create an end cap for the roll using more tin foil. Toilet paper rolls also make great sploofs, so file that away under 'useful stoner garbage.'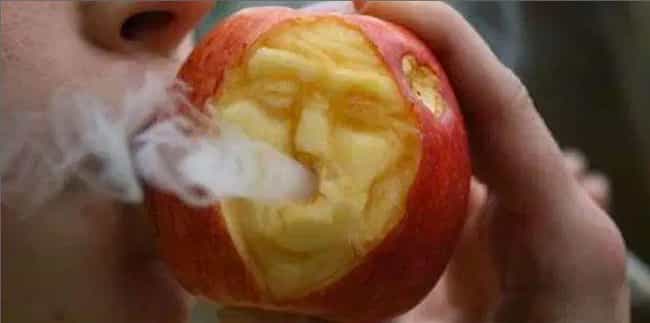 A technique perfect for the highest of high schoolers, this method requires a pen and an apple.
Start by removing the stem of the apple and using a hollow pen to bore into the center of it, no further than the middle.
Next, use the pen to create a mouth piece on the side of the apple that connects to the now hollow core. You can choose to use the pen itself as a stem or mouth piece, or you can create a choke on the opposite side of the fruit.