Culture
20 People Who Quit Their Jobs in the Best Way Possible

55k votes
10.6k voters
5.6M views
20 items
A list of some of
the most memorable
ways employees have ever quit their jobs. Have you ever spent a bad day at work fantasizing of all the clever, confrontational, and classic ways to say "take this job and shove it?" Have you ever daydreamed about the look on your boss's face if only you could deliver the quitting speech of your dreams? Well get ready to live vicariously through a group of folks who actually did what most disgruntled workers only dream of.
Whether they spelled it out in an incendiary public announcement or hired a full band to accompany their speech, each of these employees reached their breaking point and embraced it. We've got resignation letters written on cakes, farewells built into
video games
, and even musical performances by folks who said farewell with flair. Not every ex-employee you'll see here was so polite however, so beware the occasional F-bomb or naked goodbye as you wade through these remarkable examples of bridge-burning.
You may even be looking for your own ideas on
how to
quit your job. You won't be disappointed as you witness some of the best resignations ever carried out by workers who've had enough. The vast majority of these are probably bad ideas in practice, they're great ideas in theory, so vote for the most outrageous mic-dropping employment exit.
Living up to Inconsistency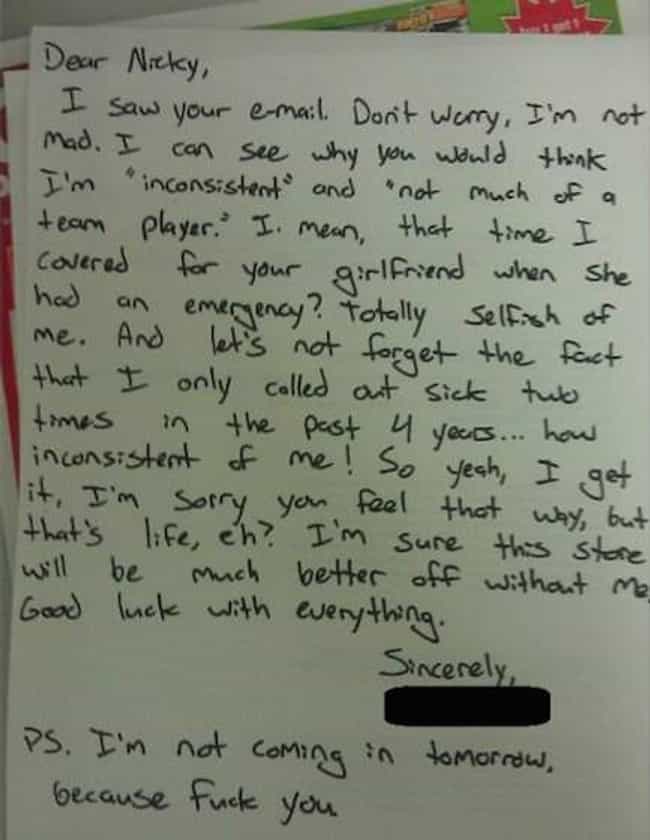 Though their name's been redacted, this anonymous employee lives on as a hero to disgruntled employees everywhere. After receiving what they felt was unfair feedback, this person decided to give their boss a little feedback of their own.
The postscript is especially priceless, as the rest of the letter's subtext finally just becomes text.

Is this inspiring?
When is a BRB Sign Not a BRB Sign?
As you can see from the sign they left behind, this was not the day to mess with this employee. Unfortunately, the corners their boss attempted to cut do not appear to have been worth it. Let this be a lesson to frugal business owners everywhere.

Is this inspiring?
This Tech Guy Showed His Bosses the Error of Their Ways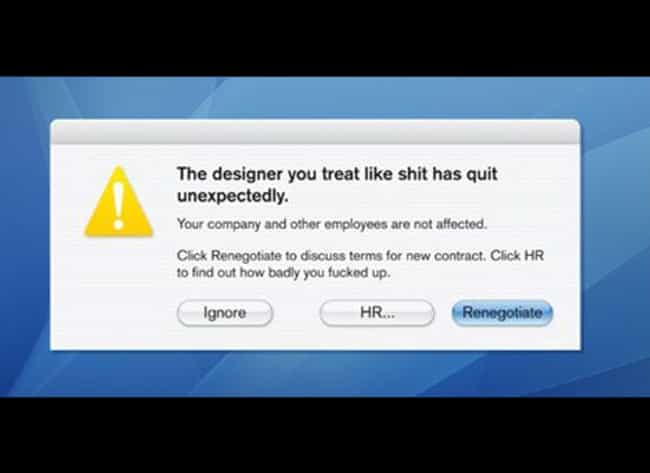 Though unidentified, the tech guy who created this error message will doubtless go down in history for his epic resignation. After finally decided he'd had enough, the witty web designer put his skills to good use, even giving his employers a tongue in cheek second chance with a "renegotiate" button.



Is this inspiring?
Literally the Sweetest Resignation Letter Ever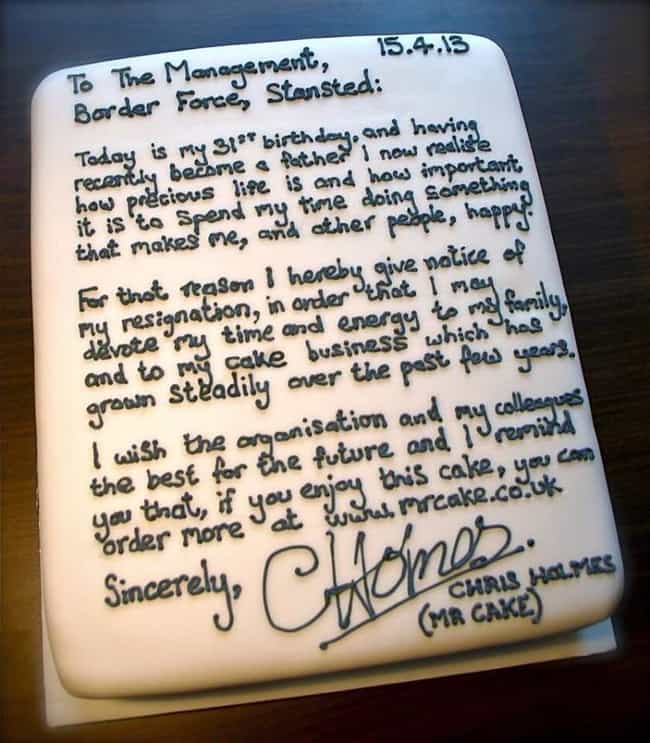 Chris Holmes may have written the tastiest resignation letter of all time when he quit his job as a border agent at Stansted Airport to pursue his dream job of owning a bakery. The aspiring baker delivered the tasteful and tasty treat to management, who then quite possibly became the only bosses in the world to respond to a resignation letter by eating it.

Is this inspiring?