Weird Nature
The Very Specific Conditions It Takes For You To See a Fire Rainbow

April 4, 2017
20.4k views
9 items
A fire rainbow - more scientifically known as a circumhorizontal arc - is one of the rarest occurring optical phenomena on earth. Their rarity is only matched with their beauty, as people lucky enough to see it need to be in the right place and the right time.
What is a fire rainbow, and how exactly do you see one? These amazing fire rainbows need the perfect conditions to be seen, and when they are, they are fantastic. While they're not technically a weather phenomenon, it requires exact weather conditions in order to appear. If you're not lucky enough to see one in person, check out these facts and pictures of fire rainbows. Maybe one day you'll be lucky enough to see one.
Fire Rainbows Are One Of The Rarest Optical Phenomena Known To Man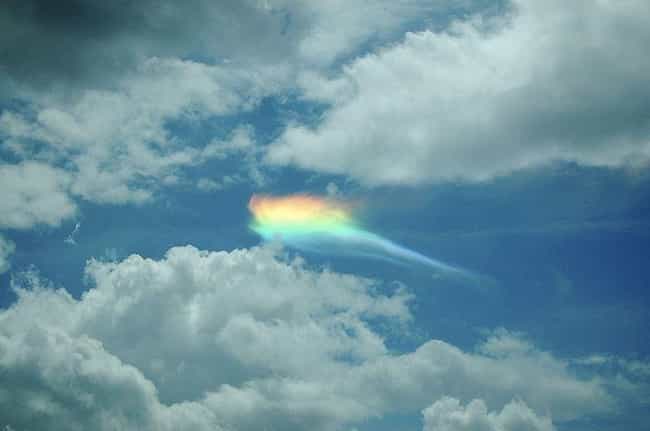 A fire rainbow is the common name for one of the rarest optical phenomena, scientifically known as a circumhorizontal arc. The beautiful display occurs when light from the sun or moon reflects off ice crystals suspended in the atmosphere. While "fire rainbow" is what it is commonly called, it is a somewhat misleading name as they have nothing to do with fire or rainbows.
They Can Only Occur In Two Types Of Clouds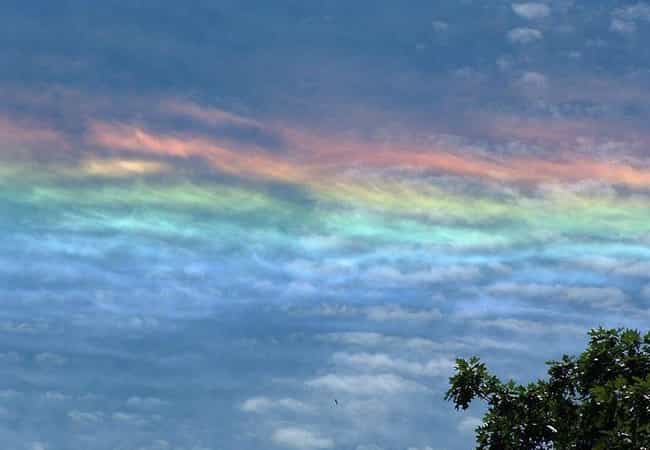 Fire rainbows can only occur in cirrus or cirrostratus clouds. These cloud types both occur in high altitudes, and are made up of thin, wispy strands. Cirrus clouds can occur anywhere between 16,500 and 45,000 feet, and cirrostratus occur between 18,000 and 21,000 feet.
Interestingly, cirrus clouds form on planets other than Earth, including Mars, Jupiter, Saturn, Uranus, and possibly Neptune. This means fire rainbows may also exist on alien planets.
Light Has To Hit Ice Crystals At The Perfect Angle To Make A Fire Rainbow Appear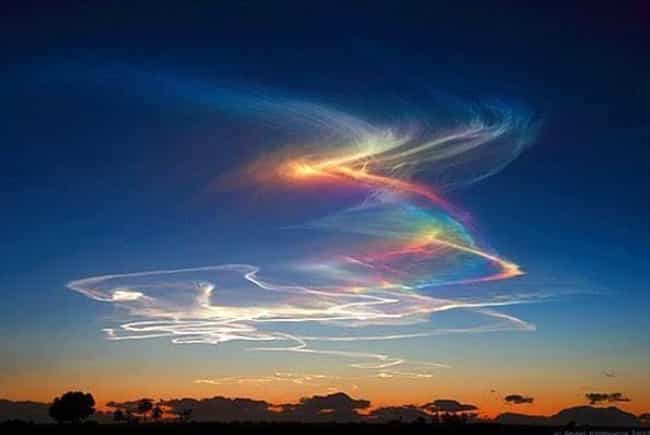 A fire rainbow is formed when light enters horizontally-oriented, flat, hexagonal ice crystals vertically and leaves through them horizontally. The 90 degree shift from the light rays' entrance and exit forces the separation of the spectral colors. The ice halos occur only when the sun is at least 58 degrees above the horizon.
Fire Rainbows Are More Frequent At Certain Latitudes And Longitudes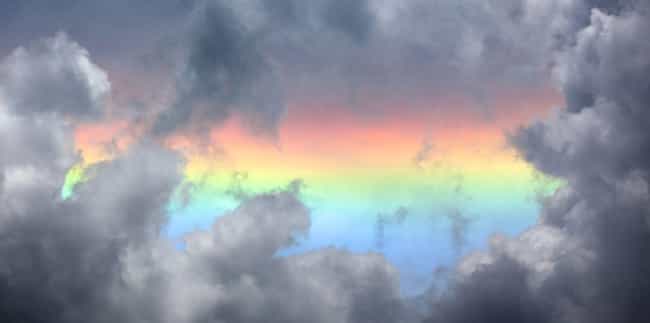 The frequency of fire rainbows depends entirely on the location and latitude of the observer. While fire rainbows are relatively common throughout the United States, they are rare in northern Europe for several reasons.
Not only do the ice crystal-containing clouds need to be in the right position in the sky, the halo requires the light source must be at an elevation of 58 degrees or higher. In London, England the sun is only high enough for 140 hours per year, between mid-May and late July. In contrast, in Los Angeles the sun is high enough for 670 hours per year, between late March and late September.