Unspeakable Times
13 Human Trafficking Survivors Tell Their Heartbreaking Stories

Across the world, as many as 30 million people are currently being held captive, moved from location to location as victims in the global human trafficking trade. As many as 17,500 victims are moved into the US each year. California is home to three of the FBI's most notorious trafficking areas - San Francisco, L.A., and San Diego - while the Dallas-Ft. Worth region in Texas is home to 15 percent of the total calls sent to the National Human Trafficking Hotline. The average age of those forced into this illegal trade is 12 to 14 years old.
Global authorities have identified Russia, China, Iran, Belarus, and Venezuela as some of the top countries known for a high percentage of trafficking-related crimes. This underground black market destroys the lives of thousands of people, even as it pads the pockets of criminals with more than $32 billion each year. The following are real stories from real victims, and many use false names out of fear of reprisal.

back to page 1
Loreta Was Forced Into Sex Work As A Teenager
According to Equality Now, social workers removed Loreta and her 13 brothers and sisters from a negligent home environment. At a young age, she and her siblings were shipped off to Lithuanian state homes across the country, and she lost track of her family.
Soon after she arrived at the state home, a man posing as her godfather visited Loreta. He began visiting her repeatedly. The other kids told her she was fortunate, and she initially agreed, until her "godfather" assaulted her at the age of 13. At 15, the state sent her to live with him.
A young madam named Dana, posing as Loreta's sister, courted the 16-year-old. The 21-year-old befriended the teen with promises of fun before luring Loreta and her friends into a life of forced prostitution. For two years, Loreta lived with Dana before the madam sold her to a pimp in Ravenna, Italy.
In Italy, she was forced to have sex with clients in the public restrooms within a 15-minute window. It wasn't until she happened to have a client that spoke Lithuanian that Loreta dared beg for help. The john took Loreta and some of her friends to the Italian police. They helped get her some documentation and return back home.

Cristopher Paid $5,000 Only To Be Sold Into Indentured Servitude
"Cristopher" grew up in the Philippines but wanted to live and work in the United States. When a recruiter proposed an opening at a hotel in the Appalachians, Cristopher happily paid $5,000 for the opportunity to travel to the US and live his dream.
According to the Polaris Project, Christopher quickly discovered that the job opportunity was a farce after he arrived. He was bused to a Gulf State against his will - a three-day journey without food or water. Once at his destination, he was forced to work 18-hour days cleaning hotels for a pittance.
Concerned that the recruiter would retaliate against his family back in the Philippines for the initial debt, Christopher sought assistance from the non-profit.

After Being Arrested For Teenage Prostitution, Erica Was Never Once Asked If She Was In Trouble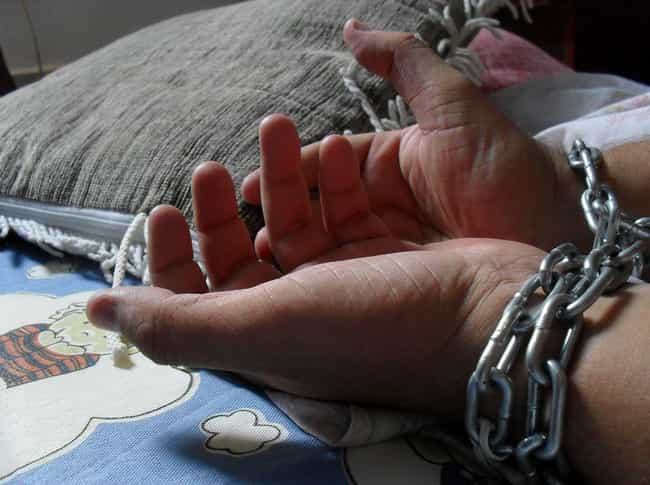 Forced into the world of prostitution at age 14, "Erica" says that human trafficking is shockingly common near the border. Erica maintains having had several interactions with police, but that officials never asked her if she was "a victim." According to KTSM, the National Human Trafficking Hotline reported 2,000 calls from Texas in just the first three months of 2017.
Erica adamantly describes trafficking as problem evident across the county, and not just in El Paso:
You would never know how many guys are out picking up girls. Girls you might just see walking on the sidewalks, a 14-year-old girl can be out prostituting and you would not know that.
These days, Erica is working to correct that institutional problem. She believes that if police were more sympathetic to certain "offenders," authorities could shine a light on human trafficking in the Texas area.

Natalia Wanted An American Education But Ended Up A Slave
A family living in a remote Ghana village struggled to make the money needed to send their daughter "Natalia" to school. A New Jersey man offered to have Natalia educated in the United States, and her family agreed, happy to send her overseas for the opportunity.
According to the Polaris Project, Natalia was imprisoned upon her arrival. Over the course of the next six years, she was repeatedly abused, both physically and sexually. She was forced to work 18-hour days cooking and cleaning for her "host" parents and their three children. Not only did the family not enroll Natalia in school, but they refused to even allow her outside.
Natalia eventually escaped and exposed the goings on to a neighbor, who called the authorities. A month after connecting with Polaris, Natalia was finally able to attend school.